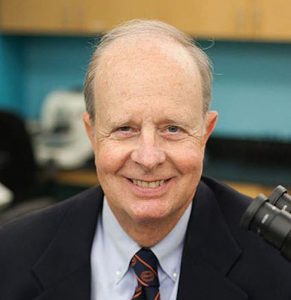 James W. Patterson, M'72, H'76
For 18 years, James W. Patterson, M'72, H'76, called the MCV Campus home: first earning his medical degree and completing his residency, and later serving for a decade on the faculty. Now his career-long contributions have been honored at the annual meeting of the American Society of Dermatopathology in Chicago.
Patterson accepted the 2018 Founders' Award on Nov. 9 in recognition of his outstanding original and significant contributions to the field of dermatopathology. The next day, he delivered the Elson B. Helwig Memorial Lecture that carries the name of his teacher and mentor.
Patterson was named to the Helwig Memorial Lectureship in recognition of his excellence in the field of diagnostic dermatopathology and for his significant contribution to the literature and to the education of fellows and colleagues. At the annual meeting he presented on Problematic Dermatopathology: What the Textbooks Don't Teach, and discussed challenges that impact decision-making and patient care.
"The challenges presented by dermatopathology are not always in the realm of straightforward differential diagnosis," Patterson says. "Mixed-up specimens, misleading clinical information, deficiencies in specimens or the manner in which they are handled, and confounding historical and laboratory data, occur all too frequently."
Patterson has been a director of the American Board of Dermatology and served as its president in 2015. He also has served on the ACGME's residency review committees for dermatology and dermatopathology. A past-president of the American Society of Dermatopathology and the Virginia Dermatological Society, he has authored or co-authored more than 250 scientific papers as well as six books, most recently the fourth edition of Weedon's Skin Pathology, the leading textbook in the field. He is past editor-in-chief and now editor emeritus of the Journal of Cutaneous Pathology and has been a member of the editorial boards of numerous other journals.
After medical school and residency, Patterson served at Keller Army Hospital at the U.S. Military Academy in West Point, New York, and then trained at the Armed Forces Institute of Pathology in Washington, D.C., as a fellow in dermatopathology under the tutelage of Elson B. Helwig, M.D., and James H. Graham, M.D.
After serving at Fitzsimmons Army Medical Center in Aurora, Colorado, where he also was a clinical instructor in dermatology at the University of Colorado, Patterson returned in 1982 to his alma mater for his first faculty appointment in pathology and dermatology. He became a tenured professor and was the director of dermatopathology.
Patterson joined Dermatology Associates of Virginia in Richmond as a private-practice dermatologist and dermatopathologist in 1992 and, from 1996 to 2016, served as professor of pathology and dermatology and director of dermatopathology at the University of Virginia. He retired in 2016 and is now professor emeritus of pathology and co-owner of PRW Laboratories in Charlottesville, Virginia, where he works part-time as a dermatopathologist. He remains active in teaching and writing on topics in dermatopathology.