Prestigious NIH grant sets up neuroscience Ph.D. student for continued success
Martina Hernandez is the first VCU graduate student to receive a Diversity Specialized Predoctoral to Postdoctoral Advancement in Neuroscience Award, which will fund the remainder of her Ph.D. training and up to four years of postdoctoral research.
---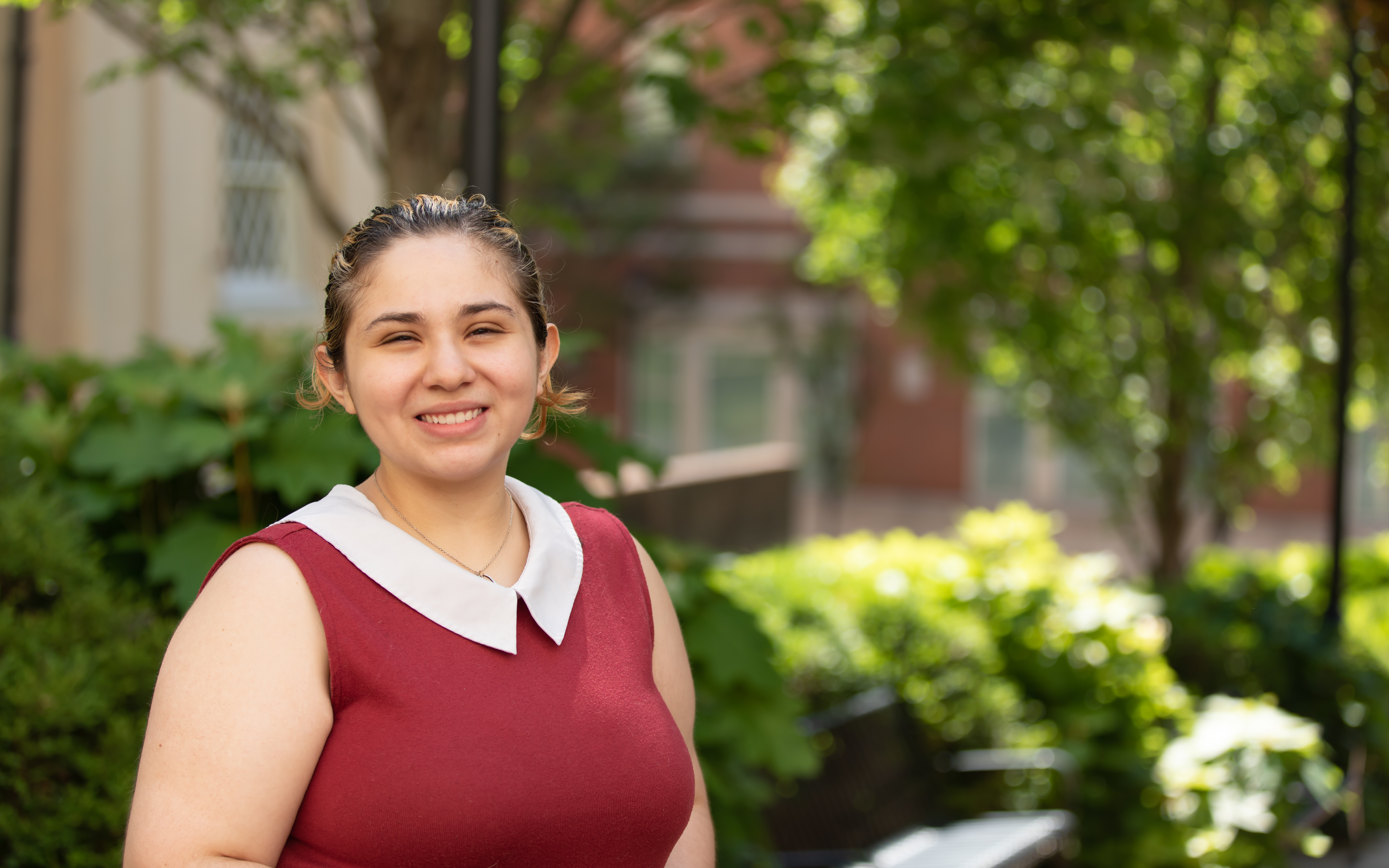 ---
Martina Hernandez learned via text message that she had been awarded a prestigious grant. She was in the lab when the official email from the NIH landed in her inbox, and it was a congratulatory text from her faculty advisor that broke the good news when Hernandez had a chance to check her phone.
"I was kind of stunned," said Hernandez, a neuroscience Ph.D. student in the Department of Anatomy and Neurobiology who uses the pronouns she/her and they/them. "I wasn't anticipating it, considering how competitive of a grant it is."
Hernandez is one of only 20 students across the U.S. to receive the 2022 Diversity Specialized Predoctoral to Postdoctoral Advancement in Neuroscience, or D-SPAN, Award. The two-phase award, which supports graduate students from groups that are underrepresented in neuroscience, facilitates the completion of a doctoral degree and the transition into a research postdoctoral position. For Hernandez, that means funding for the remainder of her Ph.D. at VCU School of Medicine and up to four more years as she pursues a career investigating the mechanics and comorbidities of migraines.
"We are extremely proud of Martina and the hard work and commitment that led to her selection for this prestigious grant," said David Chelmow, M.D., interim dean of the School of Medicine. "With this tremendous early career support, we are excited to see the contributions and discoveries she will make as her career advances."
Finding herself in science
Driven by a complex family medical history — her mother's multiple sclerosis and chronic migraines, her father's epilepsy and her own mental health conditions and migraines — Hernandez has always been intrigued by the human brain. A high school anatomy lesson on the central nervous system, which coincided with an MS relapse for her mother, solidified her interest in biochemical and molecular biology, and she went on to earn a bachelor's degree in chemistry with a minor in biology from VCU.
Now in her sixth year as a Ph.D. student, Hernandez has found her place in neuroscience.
Audrey Lafrenaye, Ph.D., an assistant professor in the Department of Anatomy and Neurobiology and Hernandez's faculty advisor, described her as determined, dependable and "a joy to have in the lab."
"Martina has a great set of lab hands, can pick things up quickly, and has a great humanity to her," Lafrenaye said. "She has always had the abilities, and her growing self-confidence has really enhanced what she's doing."
Building confidence in academia has been a work in progress for Hernandez. Growing up, she experienced bullying for being Latinx and, until partway through graduate school, hid her queer identity. Living at the intersection of identities underrepresented in science — while also navigating anxiety, depression and migraines that at times converged to become debilitating — often made Hernandez question whether a research career was the right fit.
"There were times when I didn't necessarily feel like I belonged in science, for various reasons, some pertaining to my mental health," Hernandez said. "But when I started realizing that the support system that I have is there for me, I began to have more confidence in myself."
As she settled into graduate school, Hernandez said she discovered unprecedented support and camaraderie within her program. In addition to mentorship from faculty, she became close friends and eventually partners with another student, who graduated from the neuroscience program two years ago.
"They just made me feel like I could be myself," Hernandez said. "Also, my lab is a very welcoming and open space, where I didn't feel like I was too weird or too eccentric to be myself in the work environment."
According to her mentor, that is by design. Lafrenaye has had candid discussions with Hernandez and other students about imposter syndrome and mental health issues in an effort to make those experiences less isolating.
"We're pretty open about as much as we can be, to whatever degree the trainees in the lab are comfortable with," Lafrenaye said. "Martina is really starting to see herself as a potential mentor and guide for other students, and I think she is going to continue being a strong presence in the field of neuroscience."