Dan Johnson, M'65, never expected to find anything of value as he cleaned out the attic of his Atlanta home.
Imagine his surprise when he came across a dusty box containing two surgical kits, one used for suturing and the other for dissection long before Johnson was born.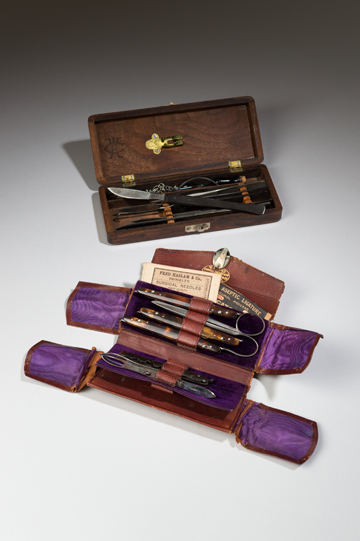 Dan Johnson, M'65, was surprised to find two surgical kits in his attic, including (top) a dissection kit used in cadaver labs before the turn of the century. Bottom: This leather-bound suturing kit from the late 1800s proclaimed a physician's competence with its soft velvet lining and tortoise-shell handles. But since it could not stand up to sterilization, it fell out of use with the acceptance of germ theory.
"I thought it looked important, so I made some calls," Johnson said.
He donated the items to the Health Sciences Library on the MCV Campus, and with help from Johnson, the staff uncovered as much as they could about the pieces.
"It is important to save these items because they help us document the changes in medicine that have taken place throughout our history," said Andrew Bain, who manages the medical artifact collection at the library.
The suturing kit, manufactured between 1870 and 1881 in New York, offers a clear picture of a time before physicians saw patients in an office. Instead, they made house calls and used the knives, probes, tweezers and needles from their suturing kits to extract foreign objects from wounds and suture common cuts.
It was important for these physicians to convey a feeling of competence to patients, Bain said, so their instruments sported expensive tortoise-shell handles. The leather-bound kits were lined with soft velvet.
"While lovely, the tools were not very sanitary," he said. "They couldn't boil the instruments because the handles would crack."
With the discovery of germ theory around the turn of the century, physicians opened offices where they could better control the environment, and the popularity of these kits faded.
The other kit Johnson discovered in his attic was typical of the kind used by medical students in cadaver labs in the late 1800s. Spotting the name of Glasgow Armstrong inscribed on the bottom of the wooden case, Bain investigated and learned Armstrong graduated in 1900 from New York University and later practiced in Staunton, Va.
"A lot of students threw their dissection kits away, so it's wonderful to receive a donation like this one," Bain said. "We are so grateful for every donation we receive."
Of the 6,000 items in the library's collection, more than half were donated by alumni, Bain said.
For Johnson, parting with the surgical kits was an easy call.
"I don't think a lot of people realize how primitive medicine once was," he said.
It is unclear how Johnson's father-in-law, Walter Glenn Hardt, M'37, came to own both kits. He served in the Navy before opening a family practice in Bedford, Va. After his
passing in the 1970s, Johnson's wife, Lucy Hardy, packed up her father's belongings.
"For 30 years these boxes have been sitting here," Johnson said. "When my wife passed away, I began cleaning things out. I never imagined I'd come across this, though. I guess
it just proves you never know what you might find in an old box in the attic."
By Janet Showalter
This story first appeared in the fall 2016 issue of the medical school's alumni magazine, 12th & Marshall. You can flip through the whole issue online.