In a memorable start to medical school, Abdul Halim walked into an examining room and found his first patient on the floor, unconscious.
"We saw him on the floor and a few people panicked, tried to figure out best way to approach this." Trying to play it cool, Halim looked anxiously to fellow students for help. "It was very overwhelming."
And that's exactly the way he was supposed to react, says Ted Carter, M.F.A. Halim had just encountered one of the School of Medicine's standardized patients.
Carter had helped design the scenario for M1s in the School of Medicine's boot camp week on the MCV Campus. He is coordinator of the simulation program in the medical school's Center for Human Simulation and Patient Safety.
That "patient" is one of more than 40 Richmond-area actors, hired by the School of Medicine to train students and others on best practices in patient care. The actors' job is to help students learn everything from modest draping to how to make a diagnosis to breaking bad news.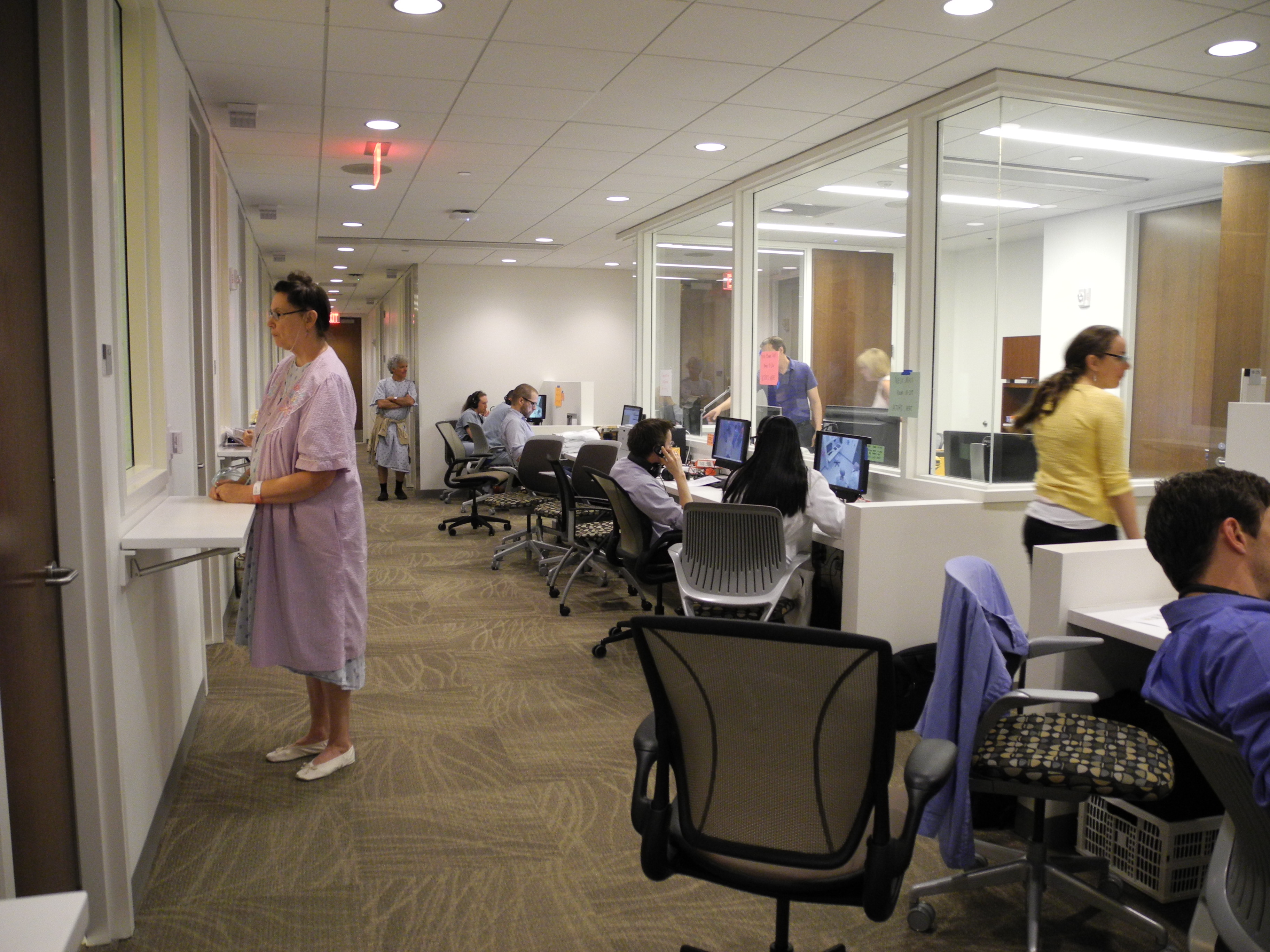 A troupe of more than 40 Richmond-area actors are the standardized patients who help students learn everything from modest draping to how to make a diagnosis to breaking bad news.
The standardized patient (SP) program is an integral part of the curriculum. It's housed in a 25,000 square foot facility in the McGlothlin Medical Education Center and features 16 examination rooms with two-way mirrors and separate entryways for students and SPs to maintain the illusion that the scenarios are real.
The goal: to prepare students for anything that can happen, be it a power outage during a procedure, psychotic episodes or what Halim encountered, a patient who can't describe his condition.
For newer students, the SP program is a chance to learn to communicate while trying out basic skills, said Carter. "It's such a demanding process to get into medical school, and so much preparation just to apply. They think they're ready. And then they go through the first orientation, and the comment that we get more than anything else is, 'I have so much more I need to learn.'
"That's what we want: a little bit of a shock."
He accomplished that, said Halim, and more. "It is very humbling, and it opens your eyes that medicine is about way more than tests and books."
VCU's SP program, now in its sixth year, sprung from a collaboration between the School of Medicine and the School of the Arts. Several dozen local actors (theater students, professional thespians and non-actors with an interest in medical education) are trained in a variety of scenarios developed by faculty and simulation center staff.
"We can create a lot of typical scenarios that you will probably see in hospital," said Steven Bishop, H'13, an assistant professor of internal medicine who currently works with third-year medical students. "We can assess students and residents on how they will handle things. This is a way to see how they react in a structured setting and we are looking for the ability to communicate with patients and colleagues, perform appropriate physical exams and react to feedback."
It also can seem pretty realistic, he noted. "I was once observing a student perform an examination on an SP who was instructed to be dizzy. During the process of examining him, the student tried to get the SP to sit up a couple of times. Each time, the SP was so wobbly I thought he would fall off the examination table. The second time this happened, I actually reacted myself and moved to support the "patient," who caught himself just before I got out of my chair.
"As the SP, he was fine of course, but I think this speaks to the level of realism SPs can bring to these encounters."
Another thing that's great about the SP program, said Bishop, is it gives students a chance to get things wrong.
"It's not so much about learning to deal with a particular situation, it's about learning to communicate and work through any kind of non-standard issue," said Bishop. "You have to learn how to react and control the way that you feel and the way you communicate.
Otherwise you and everybody you work with can get confused and the situation can become unmanageable. That's been the biggest thing I've learned from this."
Richmond actress Terry Menefee Gau likens her SP role to part of a rehearsal process for physicians-to-be. "We never laugh at the students. It is a safe environment for them. They make mistakes. They're going to mess up, and we'd rather have them mess up with us than with real patients."
The actors are encouraged to offer feedback to the students, about medical procedures and communication skills, but also about subtle opinions that may creep in.
"We try to be firm but gentle," said Gau. "I can tell them, 'you really can't do that.' You can't raise an eyebrow if I tell you I'm smoking. That's an immediate judgment moment. And then I'm never going to tell you I shoot heroin or something like that. Because if you raise that eyebrow, I'm never going to tell you anything else."
Another important part of the SP program is learning to deliver difficult news to a patient, an inevitable but often uncomfortable part of being a physician. It can be challenging for actors, too, said Gau, even for those who can cry on command like she does. In one scenario, Gau portrays a woman who must be told cancer has returned and she won't live to see her son get married. "The doctor has to deliver that information to me. A lot of them had difficulty with it. They get caught up in your emotion, in your pain — and they forget there are tissues in the room and you're sitting there with goo running down your
face."
People enter medical school to help others, but they have to learn to step back, Gau noted. "They need to allow the pain to be there and the emotion to be there, but they can't take it on themselves."
While medical students — especially M1 and M2s — make up the lion's share of what's happening in the SP program, it's also used in many other areas, including the Objective Structured Clinical Examination, or OSCE.
Third-year students experience OSCEs as part of the end-of-clerkship assessment in some clerkships and as part of the orientation in others; fourth-years interact with the SPs for surgical electives and capstone courses. Interns and residents, as well as students from VCU's Schools of Nursing, Dentistry and Social Work take part
in scenarios, too.
In a given month, the simulation center will accommodate over 250 different learners in over 200 hours of educational sessions, said Carter. "We will frequently host over a dozen different kinds of learning, from undergraduate and graduate medical education as well as providers from VCU Health and nursing students participating in interprofessional education."
In addition to SPs, the simulation center also has several lifelike models of body parts — known as task trainers — that allow learners to become proficient in a variety of technical clinical procedures.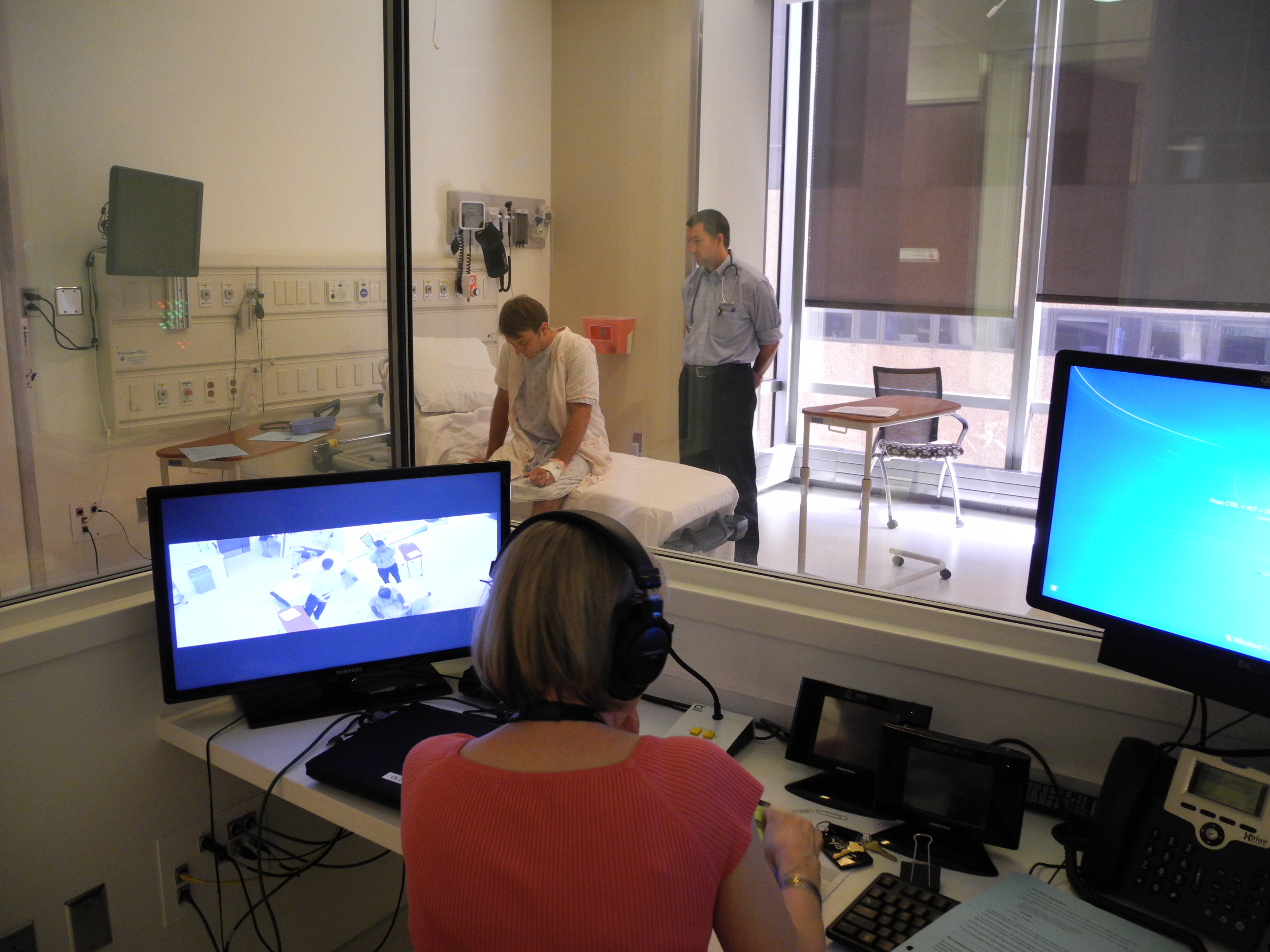 "It's not so much about learning to deal with a particular situation, it's about learning to communicate and work through any kind of non-standard issue."
"These trainers typically represent only the portion of the body relevant to the procedure," said Carter. "For example, you might have an arm that allows you to practice IV insertion, or a chest and head that allows you to practice central line placement." At times, the trainers can work in a hybrid simulation with an SP, so the learner can practice a procedure while also interacting with the patient and practicing communication skills.
"Older alumni might wonder why we aren't teaching this on the wards like they used to," said Bishop. "But it's challenging to let total novices do procedures and manage patients without any prior supervised experience. It's the reality of the world we live in now."
SPs are not new in medical schools. In 1963, neurologist and medical educator Howard S. Barrows, M.D., created the first standardized patient program for a third-year neurology clerkship at the University of Southern California. As he and others observed medical students working up patients from beginning to end, they realized that a number of skills were being incorrectly performed because students were unaware of the inaccuracy. They brought in a "patient" who was trained to teach them correct skills.
When the medical school was developing its SP program, it sought to make it unique and to take advantage of the wealth of talent in the Richmond area, said Carter. "A lot of SP programs are run by educators who don't have experience working with actors. We wanted to use really good actors, and for them, we're providing work that pays well and is flexible. You'll see a lot of our 'patients' in commercials, in shows and playhouses in the area.
"We ask a lot more of our standardized patients than other programs. Not all programs allow their patients to provide feedback but we do. We allow them to grade students. And we set a high bar of professionalism." That's part of the appeal for Gau, an actress who once considered a career as a physician herself. She sees herself as more of an educator than actor in the SP role.
"This is somebody who is going to be learning from me and I'm testing what they're doing. That's a big deal to me. I don't want to crush anybody's spirit but I want to make sure they're the best they can possibly be. That's the hardest part.
"Grading can be hard sometimes, because you see how far people have come, how they've progressed, and still you're instructed to find something to critique. We're instructed to be very picky."
However, says the Class of 2019's Halim, the students appreciate what they learn from the SPs, no matter how picky. "You can be in the classroom for hours and hours, study all the books, look at pictures, know diagnosis, but you never get a chance to practice our communication skills. It's important to learn to talk to patients, let them know what's going on, try to figure out ways to empathize with them — something that doesn't come naturally to a lot of people."
Gau believes that the program ultimately benefits not only physicians but also patients. "This gives students a vital skill they will always have, and the more skills we give these students, the better doctors they'll be."
Story by LIsa Crutchfield
Photography by Ted Carter, M.F.A.