Tom Eichler, M'87, H'92, auditioned for the play "Music Man" on a lark.
By the end of his first performance, there was no turning back.
"I remember delivering my lines and the audience roared," he says. "I was thinking, 'Hey, I'm funny!' I was hooked."
This story first appeared in the fall 2017 issue of the medical school's alumni magazine, 12th & Marshall. You can flip through the whole issue online.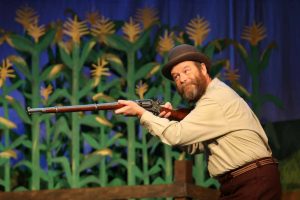 Tom Eichler, M'87, H'92, as the character of Andrew Carnes in a production of "Oklahoma!"
Since that first performance with St. Michael Theatre Group in 2007, Eichler has appeared in several other theatrical productions around the Richmond, Virginia, area. He's taken on a wide variety of roles, including Kris Kringle in "Miracle On 34th Street" and Andrew Carnes in "Oklahoma!"
"People think you just go out there and say a few lines and make a few faces," says Eichler, who has also appeared in five radio productions. "But it's so much more than that. It requires a lot of discipline. You really have to think on your feet. It's the same with medicine. Every patient is different and you have to respond to that."
Eichler, a radiation oncologist with Virginia Radiation Oncology Associates, sees other parallels between acting and medicine. Both, for example, are pressure-packed.
"Every patient expects you to be on your game every day," Eichler says. "On stage, the actors around you expect you to be at your best as well. Obviously, the stakes are higher with medicine. But in theater, no one wants to be the one who forgets a line. No one wants to lay an egg on stage."
A graduate of the University of Notre Dame with a degree in American Studies, Eichler worked as an orderly before taking pre-med classes at Le Moyne College. After failing to gain admission to medical school, he accepted a friend's offer to serve as the stage manager for First Street Theater in Dayton, Ohio. He later relocated to Northern Virginia with his future wife, Alison, and worked at the Folger Theatre as the box office manager.
One night, his parents and future in-laws joined him for dinner.
"I got up to use the restroom, and when I returned they had decided I was going to be a cardiologist," Eichler says. "It got me thinking."
He applied again to medical school and this time was accepted to Virginia Commonwealth University.
"I just love the whole process of medicine," he says. "Being responsible for helping people, along with the rigor and discipline involved, really excites me."
Despite working 12-hour days and serving on the board of directors for the American Society for Radiation Oncology, Eichler continues to carve out time for theater. Sometimes he works with his wife who serves as costume mistress and producer for several Richmond-area theater companies.
"Everyone has something they do that provides a release," he says. "It might be riding a motorcycle or mountain climbing. For me, it's theater."
Eichler, who plans to retire from his practice later this year, hopes to continue acting for years to come.
"Usually I'm the oldest person at auditions," the 65-year-old says. "And that's OK. I have a lot of life experiences that I can pull from. You may be called upon to play a happy role or a sad one. I can get there by remembering the best day of my life or the worst day. I get such a rush from standing on stage and hearing the applause from the crowd. Everyone wants to be loved."
By Janet Showalter