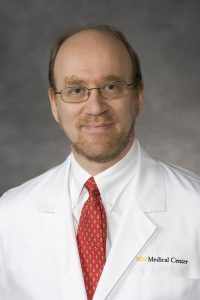 Kenneth A. Ellenbogen, M.D.
The American College of Cardiology has recognized Kenneth Ellenbogen, M.D., for his contributions to its flagship journal.
Ellenbogen was honored with the 2018 Simon Dack Award for Outstanding Scholarship at the Journal of the American College of Cardiology editorial board meeting held in conjunction with the ACC's 67th Annual Scientific Session March 10-12 in Orlando.
A leader in VCU's Pauley Heart Center, Ellenbogen is chair of the Division of Cardiology and director of clinical cardiac electrophysiology and pacing on the MCV Campus. He holds the Martha M. and Harold W. Kimmerling, M.D. Chair in Cardiology.
The Journal of the American College of Cardiology ranks first among cardiovascular journals in the world for its scientific impact. The Simon Dack Award honors the JACC's founding editor and recognizes the contributions and accomplishments of outstanding peer reviewers who assist the journal in its mission of publishing important new clinical information. Ellenbogen was honored with four fellow reviewers from University of California, Irvine; Hospital Universitario Clinico San Carlos in Madrid, Spain; Johns Hopkins Medicine; and Mayo Clinic.
"Improving patient care depends upon developing a better understanding of health and disease, and then applying those findings," says Peter F. Buckley, M.D., dean of the School of Medicine. "Dr. Ellenbogen has a remarkable track record in doing that, and he's known internationally for advancing the cardiology field through his research and teaching. I'm proud to see him recognized for his contributions."
Ellenbogen's academic, clinical and research efforts include developing new types of pacemakers and exploring the role of pacemakers in treating congestive heart failure and atrial fibrillation. He also is involved in developing more effective ways to perform ablation to treat atrial fibrillation.
The editor or co-editor of five textbooks of cardiac electrophysiology, he has served as principal investigator on more than 100 funded grants and contracts and has published more than 250 original scientific reports and more than 140 book chapters, editorials and review articles. Ellenbogen serves on the editorial boards of seven specialty journals including the JACC. A fellow of the ACC, he is co-editor for the ACC's Electrophysiology Self-Assessment Program.
Ellenbogen has served as chair of the American Heart Association's Committee on Electrocardiography and Arrhythmias as well as on the steering committee for two important National Institutes of Health trials, AFFIRM and MOST. Ellenbogen has been an invited lecturer and speaker all over the world and has given over 300 talks at major national meetings.
A member of the School of Medicine faculty since 1986, Ellenbogen earned his medical degree from Johns Hopkins University, where he also did his residency training in internal medicine. He received his cardiology fellowship training at Duke University Medical Center.
By Erin Lucero