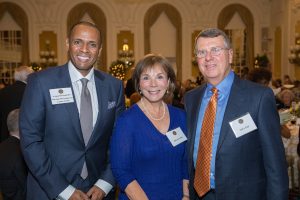 Endowed professorships and chairs represent the highest academic honor a university can bestow on a faculty member. They aim to help universities recruit and retain the brightest teachers, research-ers and clinicians, enriching the academic and clinical environment for students and patients alike.
In September 2018, the VCU School of Medicine honored 34 faculty members who have recently been awarded endowed professorship and chair positions. They, along with other faculty across the university, were formally invested and presented with medallions during an Investiture Dinner.
"It's truly an honor to see this remarkable group of colleagues recognized for their work to advance our missions of education, patient care and discovery," says Dean of Medicine Peter F. Buckley, M.D., who presided over the ceremony along with School of Business Dean Ed Grier.
"We wouldn't be able to provide such outstanding recognition of our faculty's work without the support of our donors," Buckley says. "An endowed professorship or chair serves as a lasting tribute to the donor who established it, and their generosity will be felt on the MCV Campus — and in the lives of students and patients — for many years to come."
The School of Medicine celebrated a milestone year for philanthropy during fiscal year 2018, benefiting from more than $42 million in philanthropic giving that put the medical school 80 percent of the way toward its goal in its ongoing $300 million fundraising campaign.
"A successful campaign translates to great things for the students, faculty and programs in our school," Buckley says. "It is vital to sustaining our core values of cultivating a life-changing learning experience for students and trainees, exceptional care for the sick, and a curiosity for medical research and discovery."
Congratulations to the newest incumbents of the following endowed professorships and chairs:
Hamid I. Akbarali, Harvey B. and Gladys V. Haag Professorship
Douglas W. Arthur, Florence and Hyman Meyers Endowed Chair in Radiation Oncology
Charles E. Bagwell, Arnold M. Salzberg Professorship in Pediatric Surgery
Gonzalo M. Bearman, Richard P. Wenzel, M.D., M.Sc. Professorship of Internal Medicine
Vikram S. Brar, Riffenburgh Professorship Endowment
Francesco S. Celi, William G. Blackard Chair in Endocrinology
Daniel H. Coelho, G. Douglas Hayden Professorship in Otology
Alan W. Dow, Seymour and Ruth Perlin Professorship in Health Administration and Internal Medicine
Kenneth A. Ellenbogen, Martha M. and Harold W. Kimmerling, MD Chair in Cardiology at MCV/VCU
Michael J. Feldman, James C. Roberts, Esq. Professorship in Cardiology at MCV-VCU
Zachary M. Gertz, Hermes A. Kontos, MD Professorship in Cardiology at MCV-VCU
Gregory J. Golladay, Allison D. and J. Abbott Byrd, III Chair in Orthopaedic Surgery
Daniel C. Grinnan, Dianne Harris Wright Professorship in Pulmonology
Amy D. Harper, Shirley Van Epps Waple Professorship
Robin, Gene N. Peterson, M.D. Professorship in Safety, Quality and Service
W. Gregory Hundley George W. Vetrovec Chair
Vigneshwar Kasirajan, Stuart McGuire Chair of Surgery Fund
Stephen L. Kates, John A. Cardea M.D. Chair in Orthopaedic Surgery
John F. Kuemmerle, Caravati Chair in Gastroenterology Fund
Victoria G. Kuester, Beverley Boyden Clary Chair in Pediatric Orthopaedics
James L. Levenson, Rhona L. Arenstein Professorship in Psychiatry
Marlon F. Levy, David Hume Endowed Chair
Mark M. Levy, H. M. Lee Professorship in Transplant Surgery
John McCarty, G. Watson James Professorship
Frederick G. Moeller, C. Kenneth and Dianne Wright Distinguished Chair in Clinical and Translational Research: Addiction Science
Lawrence D. Morton, John M. Pellock Professorship in Child Neurology
Guilherme M. Rocha Campos, Paul J. Nutter, MD Professorship in General Surgery
Fadi N. Salloum, Natalie N. and John R. Congdon Sr. Endowed Chair in the VCU Pauley Heart Center
Arun J. Sanyal, Z. Reno Vlahcevic Research Professorship in Gastroenterology
Keyar Shah, David E. Tolman, MD Professorship in Heart Failure
A. Gordon Smith, C. Kenneth and Dianne Wright Distinguished Chair in Clinical and Translational Research: Neurology
Wally R. Smith, Florence Neal Cooper Smith Professorship in Sickle Cell Disease Research
Daniel G. Tang, Richard R. Lower, MD Professorship in Cardiovascular Surgery
Steven H. Woolf, C. Kenneth and Dianne Wright Distinguished Chair in Clinical and Translational Research: Population Health and Health Equity