As the nation grapples with how to treat children with mental health illnesses, the Commonwealth of Virginia and the Department of Psychiatry invest in a future that's inspirational, not institutional.
One in five children nationwide will experience a serious mental health issue. Yet 75 percent of them will not receive the care they need, according to the National Institute of Mental Health.
Access is the biggest barrier — waiting six months for treatment or living in a remote area nowhere near a practicing psychiatrist. With increasing demand and retiring specialists, an escalating psychiatrist shortage further complicates the issue.
The new VTCC will double its faculty and staff, quadruple its research space and build a pipeline of child and adolescent psychiatrists for Virginia and the nation.
In Virginia, the mental health needs of children and adolescents took center stage in the aftermath of the 2007 Virginia Tech mass shooting.
"After Virginia Tech, we asked ourselves, 'how are we helping to advance the national conversation on mental health?'" says Joel Silverman, M.D., H'73, chair of the School of Medicine's Department of Psychiatry.
Part of the answer came in the form of $56 million in funding from the Virginia General Assembly to build a state-of-the-art child psychiatric facility on Children's Hospital of Richmond at VCU's Brook Road Campus. Authorized in 2013, the new Virginia Treatment Center for Children opened this spring, replacing the 50-year-old cinderblock facility on the outskirts of the MCV Campus that some alumni may remember.
"It's so important to start with children because so much of mental illness, when we look back — when we see them at 22 and 23 — there were signs at 11 and 12 that we missed and we had the opportunity to grow a healthier child," Virginia's then-Secretary of Health and Human Resources William Hazel Jr., M.D., said at the facility's November ribbon-cutting ceremony.
The 119,000-square-foot facility will triple the number of outpatient visits at the VTCC over the next three yea
rs to 21,000 a year. In-patient rooms will increase from 24 to 32, expanding access for children who come from all corners of the state.
Along with improving access, the new VTCC will double its faculty and staff, quadruple its research space and build a pipeline of child and adolescent psychiatrists for Virginia and the nation. In addition to increasing the number of medical students and residents who complete clinical rotations at the center, the number of child and adolescent psychiatry fellows will rise from four to six.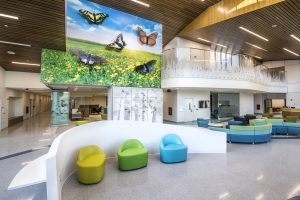 At the heart of the new VTCC is an opportunity to show the community and future psychiatrists what a caring treatment philosophy looks like in physical form.
Ross Yaple , M.D., H'09, remembers when word came through that the General Assembly had approved the funding for the new VTCC. He had just been named the division's new fellowship program training director. "I hit the floor," he says. "A brand new facility just for child psychiatry, with that level of funding, is unheard of."
As work began to design an accessible, family-friendly facility, Yaple envisioned a new curriculum that could take advantage of the benefits of the new space and provide an unparalleled training experience for medical students, residents and fellows.
"It was a chance to up our game," he says.
'NOTHING SHORT OF REMARKABLE'
The beauty of the new VTCC is that it doesn't feel like a child psychiatric facility at all. Filled with natural light, glass walls, green spaces, bright colors and home-like furnishings, its in-patient rooms include chalk walls and overnight accommodations for family members to stay with children throughout their treatment.
The center has long emphasized family involvement throughout the treatment process, encouraging parents or guardians to be present as much as possible during their child's hospitalization and providing them with 24-hour visitation access.
A therapy mall offers occupational, recreational, art, music and play therapy, while a half-court gym and outside areas give patients space to play, all while providing the highest level of safety. The final product is the result of input from doctors, nurses and families, led by Silverman and VTCC Executive Director Alxandria Lewis, Ed.D.
"The level of community engagement, collaboration and creativity that comes together in this state-of-the-art facility is nothing short of remarkable," says School of Medicine Dean Peter F. Buckley, M.D. "We are most grateful to Dr. Silverman, Dr. Lewis and their entire team for their dedication and innovation here."
Buckley, a psychiatrist and schizophrenia expert, is no stranger to the impact a facility can make on patient care and education. At his previous position as dean of the Medical College of Georgia, Buckley led a multiyear evaluation of all of Georgia's public health facilities that resulted in statewide improvements in quality of care as well as new collaboration between the public facilities in Augusta and MCG. Prior to that, he served as medical director for Ohio's Northcoast Behavioral Healthcare system, where under his leadership the hospital became the best-rated psychiatric hospital in the state.
"I can say with absolute certainty that the VTCC is setting the standard for children's psychiatric care on a national level," Buckley says. "We wanted a facility better than anything we had ever seen and that's exactly what we have built for the citizens of Richmond and the Commonwealth of Virginia."
A NEW VISION
For his two-year child psychiatry fellowship on the MCV Campus, Yaple recalls a small program with superb training and faculty. Despite the facility's physical limitations, the staff delivered compassionate and innovative care, for example implementing a no-seclusion policy in 2006.
But Wi-Fi was hit or miss among the cinderblock walls, keeping learners and physicians at their desktops and limiting collaboration. Lecture-style learning was the norm. The building's one lackluster observation room was hardly used, leaving attending physicians to observe residents and fellows in the exam room with patients.
At the new VTCC, all of that changes. "I looked at the entire building from the perspective of teaching," Yaple says.
To start, teaching and learning can happen from anywhere. Multiscreen learning modules dot the new building, providing teachers and learners easy access to impromptu learning spaces. "Sometimes all you need is a 15-20 minute debrief and you can get back to seeing patients," Yaple says. "You don't have to walk halfway across the building to find a conference room with Wi-Fi."
Two observation suites give trainees more autonomy and one-on-one interaction with patients while supervisors monitor the patient care; meanwhile, learners can observe attending physicians perform forensic evaluations, a skill they previously couldn't observe firsthand.
The observation rooms carry a benefit for families, too. Therapists can watch parents interact with their children and even coach their behavior through an ear piece, setting the stage for parents to return home with their children with the tools they
need.
Outpatient rooms will increase from 12 to 20 and be outfitted with complete audio/video capabilities so faculty can record sessions, letting them observe students without being in the room — allowing for a less disruptive experience for patients.
As Yaple envisioned a shift to a more technology-driven, active-learning curriculum, he realized he didn't want to wait for the building's 2018 opening to begin implementation. Research in adult-learning theory showed added technology and active learning could improve retention and lead to higher marks on board exams.
So in 2016, with the help of the medical school's technology team, the program partnered with the Department of Psychology to launch the country's first fully integrated online didactic curriculum for child and adolescent mental health. It serves as a permanent repository for all curriculum resources, flips the classroom and emphasizes a multidisciplinary approach.
Take a lesson on brain circuits, for example. Instead of Yaple spending 60 minutes describing each circuit in depth, the students download and watch a video on fear and panic. Together, they map out the brain and then each pick a brain circuit to research and teach to one another. "They're really engaged," Yaple says.
'NOW WE CAN MAKE IT REALLY SHINE'
The facility's advanced technological capabilities also provide more opportunities for telemedicine and video-conferencing, expanding treatment and education to patients and physicians across the state, particularly in rural Southwest Virginia where few psychiatric resources exist. Now Yaple talks by phone to many providers but soon he hopes to video chat with them and possibly even see patients on screen.
"Many pediatricians in rural areas are seeing patients who also could benefit from a psychiatrist's care," Yaple says. He'd like to offer these pediatricians access to online conferences to grow their knowledge of children's mental health.
At the heart of the new VTCC is an opportunity to show the community and future psychiatrists what a caring treatment philosophy looks like in physical form.
"We've actually built a structure out of our treatment philosophy," Yaple says. "It's a testament to the center's success that we could translate that to a design that enhances patient care. It complements what we're already doing and now we can make it really shine."
According to the American Association of Medical Colleges, a top factor in medical students choosing psychiatry is providing a high-quality medical school psychiatry clinical rotation. The new facility opens doors to more experiences for medical students along with residents and fellows.
"It's an opportunity they're not going to find anywhere else," Yaple says.
It's also Virginia's answer to a call for more comprehensive child psychiatry throughout the state and beyond by increasing access to care today and building a pipeline of psychiatrists for the future.
By Polly Roberts