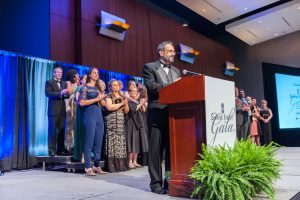 Virginia Gov. Ralph S. Northam recently reappointed VCU Trauma Center Medical Director Michel Aboutanos, M.D., M.P.H., F.A.C.S., to the state's EMS Advisory Board. Here, Aboutanos is pictured at the Shining Knight Gala, an annual event honoring first-responders, nurses, doctors and others who save trauma patients' lives.
When coordinated trauma care succeeds, it's like a symphony, says VCU Trauma Center Medical Director Michel Aboutanos, M.D., M.P.H., F.A.C.S.
It takes every member of the care team coming together — perfecting their skills and hitting their notes — to save lives.
"We need everyone working together for that patient who's facing impossible injuries to survive," says Aboutanos, a 2000 housestaff alumnus.
A symphony also needs the right conductor. And what Aboutanos has helped create at VCU, he's been asked to expand to a statewide level.
Virginia Gov. Ralph S. Northam recently tapped Aboutanos for a second three-year term on the state's EMS Advisory Board, where he will continue to lead the Trauma System Oversight and Management Committee. The reappointment gives him the chance to oversee implementation of the plan for a statewide trauma system that the committee developed during his first term.
"Our ultimate purpose is to make sure the injured patient receives appropriate care across the commonwealth," says Aboutanos, who notes that currently protocols for treating injured patients may differ across the state's five Level 1 trauma centers. "Second, we have not collectively looked at our top trauma problems and how we're going to tackle them under one coordinated effort."
A Level 1 trauma center designation recognizes hospitals across the nation that deliver the highest quality care within and beyond hospital walls through teaching and research, as well as injury and violence prevention programs.
"VCU Medical Center was the first trauma center designated in Virginia," Aboutanos says. "We have 30 years of experience so it's extremely important that we continue to show that commitment and leadership to the commonwealth."
Gary Brown, director of the Virginia Department of Health's Office of Emergency Medical Services, says that's one of the many reasons Aboutanos is most qualified to chair the committee.
"Dr. Aboutanos was the only clear, objective and logical pathway to navigate the commonwealth's complex facets and components of trauma care and mold it into an integrated vision and trauma system plan for all Virginians," says Brown, whose office manages the EMS Advisory Board.
Brown saw the success of VCU's trauma center when Aboutanos invited him to the Shining Knight Gala. The annual VCU Health event honors all members of the trauma team from emergency medicine first-responders to doctors, nurses and others who save trauma patients' lives and put them on the road to recovery. The event raises funds for VCU Trauma Center's Injury and Violence Prevention Program.
"Trauma care must be structured around the patient's needs and delivering optimal outcomes along a continuum of care," Brown says "The Shining Knight Gala represented and demonstrated every aspect and component that defines a comprehensive, coordinated, efficient and effective Level 1 trauma care program."
Similarly, as chair of the EMS Advisory Board's Trauma System Oversight and Management Committee, Aboutanos created a task force comprised of all the players and stakeholders who influence a patient's care from before the point of injury to pre-hospital and hospital care to rehabilitation and reentry into the community.
The task force's seven sub-groups met more than 100 times over three years, first reviewing recommendations from the American College of Surgeons and then determining how to incorporate those recommendations into a statewide trauma system plan.
"We always say it's not the plan that matters, it's the planning that matters more," Aboutanos says. "People who haven't worked together collectively are now at the same table and learning from one another."
For Aboutanos, giving the appropriate time and effort to the committee would not be possible without the support of VCU leadership and his Fletcher Emory Ammons Professorship in Surgery.
"This professorship financially supports and protects time on my schedule," he says. "With it, I can provide this level of service to the commonwealth. It's what an institution of our caliber should be doing, and I am incredibly thankful that I hold an endowed position. I wish I could have every member of my division in endowed positions so that we could do the work we have to do."
In October 2018, Gov. Northam approved the proposed trauma system plan. Now the task force will reconvene to begin implementation — including seeking funding from the General Assembly for a sustainable trauma fund that would support the Virginia trauma system plan, including a robust data system to gather trauma data across the state, identify the top causes of mortality and tackle those issues.
Then, the symphony can begin.
By Polly Roberts
About the Fletcher Ammons Professorship in Surgery
Endowed professorships and chairs represent the highest academic honor a university can bestow on a faculty member. They aim to help universities recruit and retain the brightest teachers, researchers and clinicians, enriching the academic and clinical environment for students and patients alike.
An endowed professorship or chair also serves as a lasting tribute to the donor who established it. Mary H. Ammons, wife of Col. Fletcher E. Ammons, M'26, established the professorship in surgery that bears his name after her husband's death in 1978.
Col. Ammons served in the U.S. Army Air Corps, retiring in 1946 with the rank of Colonel. His last duty station was as hospital commander at Langley Air Force Base.