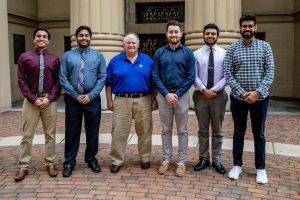 The Class of 1979's Richard Williams (third from left), former chief health and medical officer for NASA, returned to the MCV Campus at the invitation of the newly formed Aerospace Medicine Student Interest Group.
Space travel grabbed the public's attention in the 1960s, and it seemed every little boy wanted to be a NASA astronaut. But Richard S. Williams had a different dream. He aimed to be a pilot.
But though being diagnosed with below-standard eyesight for military pilots kept him from training when he was young, Williams eventually held an even rarer title: "There's only one NASA chief health and medical officer in the world." He was just the second person to hold the position, beginning in 2002 and bridging the end of the space shuttle program and the start of the International Space Station era.
A 1979 VCU School of Medicine alumnus, Williams recently returned to Richmond to speak to medical students in the newly formed Aerospace Medicine Student Interest Group about what it's like to work in the aerospace field, including some of the unusual physical effects of space flight on the body. Astronauts have higher exposure to radiation than any other occupation, he said, and risks include cancer, cataracts, and acute radiation sickness.
During his time as chief health and medical officer, NASA optometry experts noticed increased farsightedness with optic nerve swelling that occurs only after returning from space. Known as Spaceflight Associated Neuro-Ocular Syndrome, or SANS, "It can possibly progress to blindness if not treated," Williams says, and it affects male astronauts more often than female. "We think this is associated with high intracranial pressure, but the true cause has not yet been determined."
Williams also was there when the Columbia Shuttle broke up during re-entry in February 2003, a "devastating tragedy," he says.
"As a group, they understood the risk," Williams says of the seven lost astronauts. And the other qualified astronauts on the ground — then, about 130 people — "They grieved, they understood."
Williams, who grew up around the world as part of an Air Force family, graduated from the College of William & Mary. As an Explorer Scout in the early 1970s in Hampton, Virginia, he visited the MCV Campus' Sanger Hall and recalls being fascinated by the anatomy lab and facilities. Then he saw the movie "M*A*S*H" about wartime surgeons and their hijinks, and he decided he wanted to be a physician.
Entering medical school in 1975 was a "very humbling experience for me," Williams says. "I went from fairly accomplished to fairly mediocre." But as he got his footing as a medical student, his experience improved. That drew him back to VCU, when he returned to get a master's degree in public health in 1996. "The faculty here was just outstanding."
Medical student Nilan Vaghjiani, who started the aerospace medicine interest group, grew up in California's Antelope Valley, where Boeing, Lockheed Martin's Skunk Works, NASA's Dryden Flight Research Center and the Edwards Air Force Base have manufacturing plants and test facilities. He was thrilled when Williams was available to talk to him and his classmates about his experiences, and hopes that they'll be able to schedule an astronaut to speak to the group sometime in the future.
"The feedback was great," Vaghjiani says. "Some students really didn't know that aerospace medicine was a field." Now, though, he and a few other students are looking into a rotation in Houston that specializes in spaceflight medicine.
After finishing medical school 40 years ago, Williams completed a general surgery residency, working 120 hours per week. He served as a general surgeon and a flight surgeon in the U.S. Air Force, commanding a field hospital during the first Gulf War in 1990.
"That toughened me up," says Williams of his war experience. "It prepared me to succeed everywhere I went."
It also led to some unexpected opportunities. He spent time on network morning shows discussing the medical care of soldiers, and received fan mail and even a marriage proposal.
He joined NASA on detail from the U.S. Air Force as the director of the Office of Health Affairs, and was selected as NASA's chief health and medical officer when he retired four years later.
After 15 years of studying and treating astronauts' medical issues and advocating for health care for retired astronauts, Williams retired in 2017. He remains active as a senior aviation medical examiner for the Federal Aviation Administration and as director of the Three Rivers Health District for the Virginia Department of Health, a return to his interest in public health.
Working in eastern Virginia not far from the Langley Research Center in Hampton, Williams oversees health care for at-risk populations in the Three Rivers district. His staff of health care workers, he says, "reminds me a lot of NASA — very selfless."
By Kate Andrews