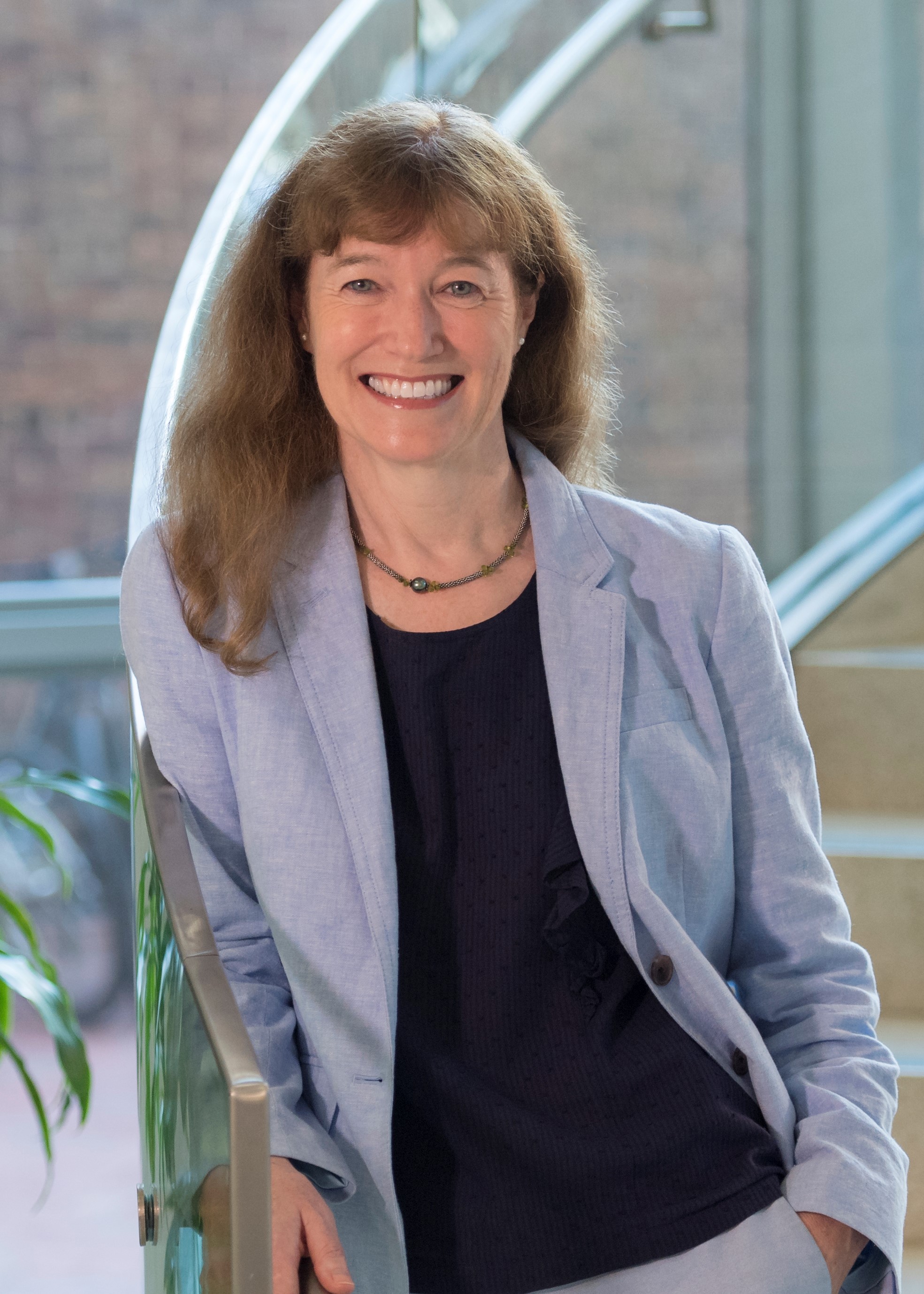 Growing up in Perth, Scotland, Patricia Sime, M.D., was always looking to discover how things worked and why they sometimes went wrong.
Motivated by compassion and longing to make an impact, she set her sights on becoming a physician.
"I wanted to be a clinician," she says. "I wanted to help patients, get to know them and their families, and improve their care."
If not for a few mentors, she never would have branched out to become a researcher as well.
"If not for them, their inspiration and generosity, I don't know where I would be," Sime says with a warm Scottish accent. "Mentorship and role models are vital no matter the stage of your career."
A new chapter in Sime's journey has led her to the MCV Campus. She was named the William Branch Porter Chair of the VCU School of Medicine's Department of Internal Medicine this past summer, becoming the first woman to fill the role. Sime spent the last 20 years at the University of Rochester, where she most recently served as the division chief of pulmonary and critical care and vice chair for research in the Department of Medicine.
"She is a great fit for our university," says School of Medicine Dean Peter Buckley, M.D. "When we looked at her credentials, she immediately rose to the top of the pack. You could see she was someone who was always destined to do great things."
Sime is known internationally for her expertise in the care of patients with fibrotic lung disease and inflammation [see information box]. She directed the Interstitial Lung Disease Clinic at the University of Rochester and was co-director of the university's Pulmonary Fibrosis Foundation Care Center Network. These initiatives have grown into regional centers devoted to the care of patients and their families. She has opened a similar outpatient clinic in Richmond that will serve patients with lung fibrosis.
William Branch Porter, M'1911, was easy to recognize as he walked around the MCV Campus. The flower that adorned his white coat lapel gave him away every time.
Porter, who specialized in the field of cardiovascular disease, was a beloved teacher. His students described him as a brilliant clinician with a flair for the dramatic when he would review a patient's history and physical that led to a diagnosis. As he used to say, with an adopted Oxford accent, "The laboratory studies were largely confirmatory."
MCV President William T. Sanger, Ph.D., appointed Porter as the first full-time professor of medicine in 1927. Porter was the Department of Medicine's inaugural chairman and remained so for nearly 30 years, recruiting physician colleagues devoted to teaching and research.
To keep up with the knowledge explosion of the day, he divided medical service into appropriate subspecialty areas with qualified personnel in charge of each one. That served as the foundation for the present-day organization of the medical center.
Porter's legacy lived – and lives – on. Before he died, the school created the William Branch Porter Chair. After his death in 1960, a bequest from his estate was directed in support of the Porter Chair, which still carries his name today in the Department of Internal Medicine.
"This is a huge academic honor," says Patricia Sime, M.D., on being appointed to the Porter Chair. "Philanthropy is so incredibly important because it supports and advances the mission of the university. I hope to add to our endowed chairs as we continue to look to the future."
Funded by the National Institutes of Health since 2001, Sime leads a team of researchers devoted to identifying and developing new therapeutic treatments for patients suffering from lung disease.
With more than 150 articles in peer-reviewed journals as well as numerous book chapters to her credit, she also holds patents for her discoveries in genetic biomarkers and potential new pathways to treat lung disease.
"I think working in research and simultaneously as a physician in a hospital setting provides both great motivation and perspective," Sime says. "It helps to work in the trenches with your colleagues across many disciplines, and there is so much to be learned about the needs of the patient and their families by being at their sides."
The compassion Sime feels for her patients made it difficult for her to leave Rochester, New York. Patients gave her notes with pictures of their families, thanking her and her team for giving them more time to spend with loved ones.
"I truly enjoyed taking care of my patients and living in Rochester," she says. "But I was ready for the next phase of my career. There is a strong sense of mission, collegiality and opportunity here at VCU, and that resonated deeply with me."
She is proud to become the first female chair of the School of Medicine's largest department. The school, which is made up of 26 departments, now has six women chairs. According to the Association of American Medical Colleges, women account for 18 percent of department chairs nationwide.
"I am honored and excited to be a woman who has been offered this opportunity," Sime says. "I would love to see more women in these roles. There is no shortage of talent."
While approximately 50 percent of the students enrolled in the School of Medicine are women, Buckley says, there is proportionally less representations of women at faculty and leadership levels.
"It is important in an academic environment because we are doing such mentorship. Our students need to see female leadership at all levels," Buckley says.
Sime has directed training grants that will help develop the next generation of young physicians and researchers. She has mentored more than 50 research trainees, including graduate students, clinical trainees and junior faculty, and has won awards for her mentorship.
"It is so rewarding to see other people succeed and fulfill their goals," she says. "They will go on to be our doctors, educators and researchers. To know you had a hand in that is an incredible honor."
Pulmonary fibrosis is a lung disease that occurs when lung tissue becomes damaged and scarred. This thickened, stiff tissue makes it more difficult for lungs to work properly. The scarring associated with pulmonary fibrosis can be caused by multiple factors, including long-term exposure to certain toxins, certain medical conditions, radiation therapy and some medications. In many cases, doctors can't pinpoint the exact cause. Affecting more than 200,000 people in the United States, about 50,000 new cases are diagnosed each year.
As the new chair, Sime will continue her focus on mentoring. She also will strive to build clinical programs and centers of excellence while increasing federal funding for basic research, growing clinical trials, expanding educational programs and building collaborations throughout VCU and the community.
"We have an immensely strong faculty and staff, which is the crucial building block for success," she says.
Sime earned her medical degree at the University of Edinburgh Medical School in Scotland in 1988. She planned on devoting her medical career to seeing patients until a pulmonary rotation during her Edinburgh residency began to change her mind.
"As a junior trainee, I somehow thought we had more cures for common diseases than we do," she says. "But every day I helped care for patients suffering from relatively common diseases such as asthma and COPD – diseases that have no cure."
Her colleagues encouraged her to become a researcher in addition to seeing patients. She was awarded a research fellowship and traveled to McMaster University in Ontario, Canada, in 1993 for research training in inflammatory and scarring lung diseases.
"Scarring – or fibrosis – is a common pathway to organ failure," Sime says. "I began to understand the importance of collaboration with those who think differently and have unique skill sets because if we can develop a therapy in one organ, it may well be applicable to other organs.
"I've worked with engineers, biologists, clinicians and other specialists. We all want the same outcome – to improve health. Working together has definitely helped speed discovery and its dissemination."
After completing her McMaster University fellowship in 1998 and a Royal Infirmary of Edinburgh lectureship in 1999, Sime moved to New York, where she was named an assistant professor of medicine at the University of Rochester School of Medicine and Dentistry. She continued to serve the university as a physician, educator and researcher for two decades and was elected a fellow of the Royal College of Physicians in 2000.
"Richmond is a great community and I am enjoying getting to know the people and the city, but it is a bit different from Rochester," Sime says with a laugh. "It was so very hot when I arrived here over the summer, and there were a couple of times I thought I might just keel over after trying to run in the heat."
Now that she is settling into a new city with her husband, Richard Phipps, PHD'81 (MICR), and two children, she is concentrating on the future and the best ways to serve her patients, students and colleagues.
"Because of the complexity of clinical care and research, no one person has all the answers," Sime says. "You can't be an expert in everything. It is so fun to be part of a team that is working hard to meet the same goal."
Sime is careful never to take any of it for granted.
"Boy, do we have an incredible privileged life that we can care for patients," she says. "It's easy to be passionate about your career when that's what you get to do every day."