This story was published in the winter 2020-21 issue of 12th & Marshall. You can find the current and past issues online.

As the winter 2020-21 issue of 12th & Marshall magazine went to press, the MCV Campus – like communities across the country – was grappling with the third coronavirus surge. Following a brief pause in January 2021, third- and fourth-year medical students have returned toclinical inpatient rotations as valuable team members, and a safe start for second-year students' clinical rotations is planned for April. This story provides a window into the past 11 months and a look at what changes may prove to be long-lasting.
With a reputation for excellence in training future physicians, the School of Medicine prides itself in an innovative and ever-evolving curriculum designed to meet the needs of student doctors.

Last March, when the onset of COVID-19 forced a statewide shutdown of businesses and educational institutions, the medical school quickly pivoted to launch new and additional coursework for its students. While modifications to medical education happen every year, what isn't typical was the sense of urgency.
In the fall semester, first-year students in the Practice of Clinical Medicine course worked in pairs to practice physical exam skills. Photography by Tom Kojcsich, VCU University Relations
"The curriculum has always changed," says Christopher Woleben, M'97, H'01, interim senior associate dean for medical education and student affairs. "That's something that is a positive of our school. We are fond of feedback, and we are constantly in flux and redesign to create a better experience."

The School of Medicine, like medical schools across the country, received permission from the Liaison Committee on Medical Education to modify its curriculum due to the pandemic. A task force comprising students, clerkship directors, clerkship coordinators and dean's office staff met to design the new curriculum and employ it within a matter of a few weeks.

"It was a lot of work," Woleben says. "But we did get flexibility from the LCME for us to make necessary changes, and we took everything to Curriculum Council for review and approval before we implemented anything."

Transitioning coursework to an online format sparked creativity and ingenuity on the part of faculty members. In first-year anatomy, for example, faculty created videos featuring prosections that students normally would have completed in the laboratory.

"The videos were very well done, and the practical exam that the students completed — where they had to identify different anatomical structures — was perhaps much clearer than in past years," Woleben says.

Students generally welcomed the curriculum modifications and responded positively, with the exception of the social isolation many faced. Anatomy continued to be delivered primarily as a virtual experience in the new academic year. To give students hands-on dissection opportunities, new elective experiences are in the works for third- and fourth-year students who want additional anatomy experience, especially those interested in pursuing surgery.

Danny Walden, a member of the Class of 2023, appreciated the efforts of the school to move everything remotely as the virus surged.

"So much of that time was stressful, but the administration did a great job," he says. "To put it all together in a short time was certainly not an easy feat. In addition, the school's leadership clearly communicated fair policies and expectations around COVID. They listened to students and accommodated the curriculum to student needs."

At the height of the pandemic's shutdown, due to safety concerns about the virus, third- and fourth-year students were no longer allowed on the MCV Campus to participate in clinical care clerkships. A number of virtual nonclinical electives were created — including topics such as Core ICU Concepts, Surgical Ethics Online and Bridge to Emergency Medicine — keeping students on track to meet graduation requirements. Once students were allowed to return to the hospitals, they resumed their in-person clinical experiences.

"We had to rerun the lottery to make sure all of our students got all the different clerkships and preferably in the order in which they wanted to complete them," Woleben says. "It was a monumental task, for sure."

In addition — to prepare for the return to the clinics — third-year students took a one-week crash course on COVID-19, studying the physiology, pharmacology and research associated with the virus.
Telehealth's expanding reach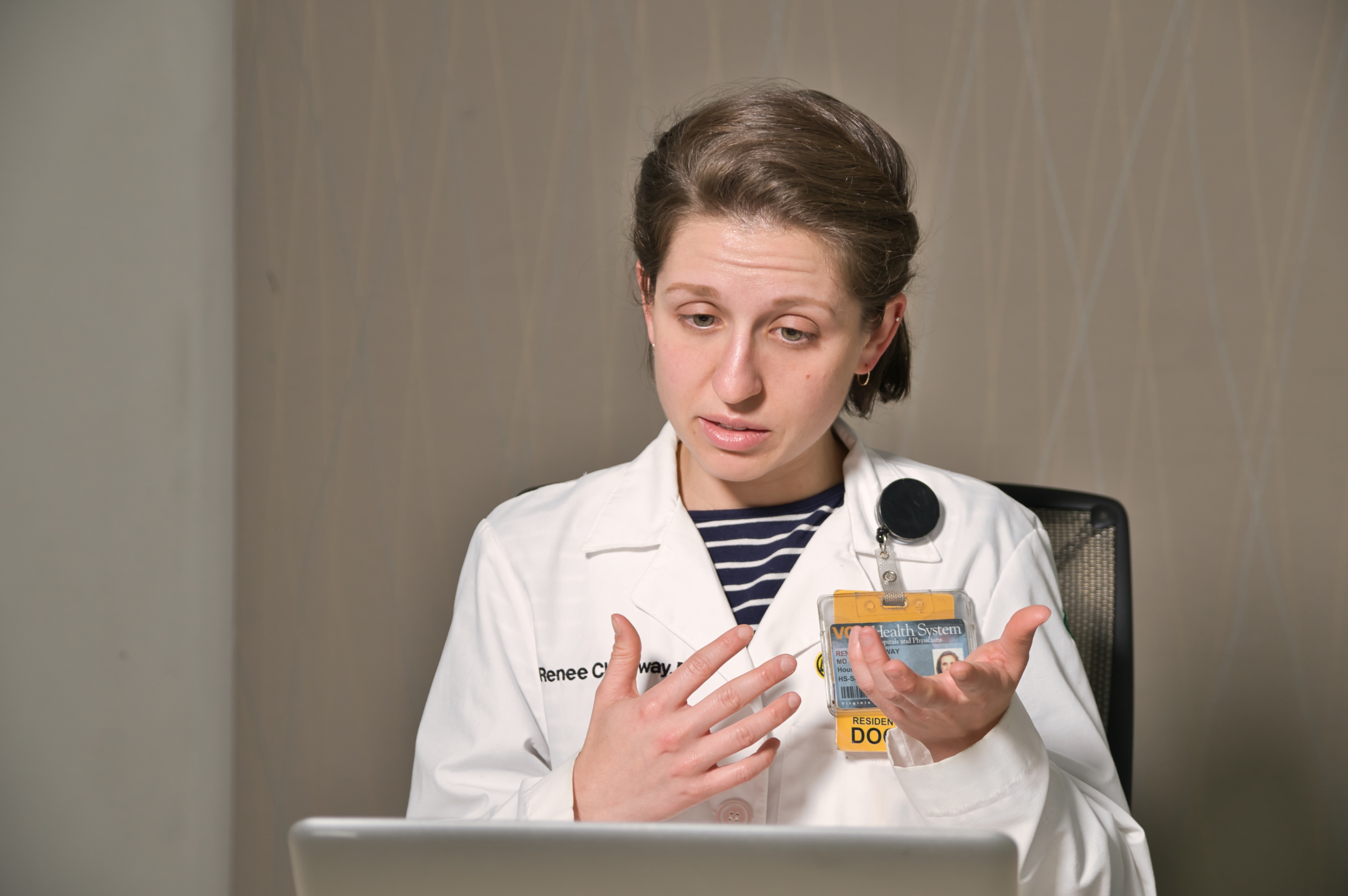 Surgery resident Renee Cholyway, M.D., is co-investigator on an American Medical Association grant that supports a telehealth course, "Breaking Bad News." The class helps students conceptualize different ways of providing comfort when having a difficult conversation through a screen, as well as tips and tricks to consider. Photography by Joseph V. Morris
One dramatic shift to the curriculum involved a concentrated emphasis on telehealth, the remote delivery of health care using electronic communications such as phone or video. When COVID-19 hit, the importance of telemedicine became evident, as VCU Health experienced a 7,000 percent increase in virtual patient visits, with more than 100,000 as of September.

For about a decade, the medical school has offered a telehealth elective for M4 students. But faculty realized the immediate need to require the topic for M3s.

"The question became, 'How do we teach our next generation to be adept at telehealth?'" says Vimal Mishra, M.D., H'11, associate professor and medical director of the VCU Health Office of Telemedicine. "This is going to continue to be part of our health care delivery."

Mishra, who also serves as director of digital health for the American Medical Association, was tasked with designing the new two-week, content-rich telehealth course for M3 students.

"This was pretty fast-track," Mishra says. "We were making a plane while flying it."

Week 1 began with an introduction of telemedicine: What are the definitions? What are the modalities? What value does it offer? In Week 2, Mishra created a lab for students during which they took turns role-playing as health care providers and patients to apply what they had learned. Students practiced potential conversations as well as how to monitor patients and perform physical examinations.

"We really wanted to engage the learners in not only giving them critical frameworks but also building their confidence," he says.

The course received rave reviews from students. Mishra credits the support and teamwork from the office of School of Medicine Dean Peter F. Buckley, M.D., for making it happen.

"There was a wonderful camaraderie," Mishra says. "Everyone was on board."

Going forward, the course will be required for M3 students so that they will be equipped to perform telemedicine once they graduate, Woleben says.

"Telemedicine increased access for some patients who had challenges, specifically with not being able to come to campus," he says. "It definitely is something that will make an impact on patient care universally."

Mishra also recognizes the potential to expand telehealth, now considered a core skill, to M2 students.

"I see this as a foundational study," he says. "Having this backbone so that the students can really integrate themselves and not only be physicians who can navigate technology and be good at it but feel comfortable that they can deliver care at a high quality through distance."

Regardless of COVID-19's prevalence, telemedicine will remain a vital part of health care delivery, Mishra says.

"Telemedicine will be basic like a stethoscope; you will learn to use it to be a doctor," he says. "I don't think we'll go back to everything in person."
Communicationg compassionately — even via video
Fourth-year medical students took part in a "Breaking Bad News" telehealth course taught by Emily Rivet, M.D., assistant professor of surgery. She has previously taught the M4 capstone course in person but moved the class online out of necessity.

Rivet holds an American Medical Association grant, "The Future of Patient Communication is Now: Innovative Telehealth Skills Program for Delivering Bad News," along with Renee Cholyway, M.D., surgery resident; Susan Haynes, M.Ed., surgical simulation administrator; Sally Santen, M.D., Ph.D., senior associate dean, assessment, evaluation and studies; Cherie Edwards, Ph.D., assistant professor and co-principal investigator; and Moshe Feldman, Ph.D., assistant director for research and evaluation, Center for Human Simulation and Patient Safety.

"Teaching communication has been something that's really important to me as part of communicating with seriously ill patients and trying to improve skills amongst all levels of potential learners," Rivet says.

In the class, Rivet and students conceptualized different ways of providing comfort when having a difficult conversation through a screen, as well as tips and tricks to consider.

"You might say to someone, 'Would you like me to sit here and wait while you get a tissue? Or a glass of water?'" she says, "and just be willing to be present with them while they take a moment to compose themselves."

Rivet also encouraged her students to move or nod their heads during conversations so a patient would not be concerned about a frozen screen or other technology failure. Teaching the class resulted in a video library of best-practice examples of these virtual conversations with patients — which is quite a shift in thinking, she says.

"In the past, communicating using technology was kind of frowned upon," Rivet says. "But now with COVID, it has become necessary, so we had to transform the way we think about medical communication.

"Emotionally laden conversations are a core part of being a doctor," she continues. "The better we can be at having these difficult conversations and communicate sensitively and compassionately can lead to better outcomes for patients and families."
Going virtual for medical school and residency interviews
National guidance impacts MCV Campus

The School of Medicine admission process, like many other elements within the school, pivoted in response to COVID-19.

As are medical schools nationwide, "We're doing everything virtual," says Michelle Whitehurst-Cook, M'79, H'82, senior associate dean for admissions and associate professor of family medicine and population health.

Beginning in August, she and her staff began the process of conducting 700 remote interviews with potential students selected from 7,000 applications. The four-hour interview blocks included an interactive campus tour created by School of Medicine students as well as a question-and-answer session with current students.

"This allows candidates to see our buildings and meet with our students personally," Whitehurst-Cook says. "Hopefully, we don't lose anything because the interview is not on-site."

So far, the process, which ends in February, has worked well for applicants.

"I think they've been impressed with how we've been able to get the interviews done in a timely manner and how they are able to interact with us and our students," she says.

Because prospective students cannot travel to interview sites this year and may apply to more programs than they previously would have, combing through applications for those with the right fit is paramount.

Prospective students who will make up the eventual class of 184 receive regular communications from the School of Medicine, including a quarterly email newsletter.

"We want to keep them updated on what's happening on campus from the clinical aspect and in research," Whitehurst-Cook says. "It's a very exciting time to be at VCU."

Similarly, the virus forced the residency match application process for fourth-year medical students to go remote this year.

"The 2021 match is different from any other that I've ever worked with," says Christopher Woleben, M'97, H'01, interim senior associate dean for medical education and student affairs.

With students not allowed back in the hospitals until June 2020 due to safety concerns at that time, the School of Medicine created a series of two-week nonclinical electives and redesigned students' schedules to ensure they still could complete the clinical experiences they needed.

Across the country for students planning to graduate in 2021, a six-week delay meant residency application season kicked off on Oct. 21, and all interviews moved to a virtual format. Students no doubt saved money because they didn't travel to residency programs for in-person interviews, but Woleben expects there could be a downside.

"Since they were not able to physically visit other programs, I am concerned that many students across the country will have applied to way too many programs, and programs are going to have a hard time sorting through all of the applications."

To remedy that, the School of Medicine encouraged its fourth-year students to think about staying on the MCV Campus for their residencies and have provided additional support through this year's match process.

"Our programs will know them better and they will know the faculty that they'd be working with better," Woleben says.

As the winter 2020-21 issue of 12th & Marshall magazine went to press, the U.S. was grappling with the third coronavirus surge. Following a brief pause in January 2021, third- and fourth-year students returned to inpatient clinical rotations at the beginning of February.

Having availed themselves of COVID-19 vaccinations, many students also have volunteered with the Virginia Department of Health to serve at COVID-19 vaccination events in the community.

Match Day 2020 was the first in history to take place online rather than in person, and Match Day 2021 likely will follow that model on the third Friday of March.

"Despite all the challenges the COVID-19 pandemic has brought to bear, we are excited about Match Day 2021 and the future for our students, who will take all that they have learned from attending medical school during these unprecedented times into their residencies and into their practice as physicians."
The increased emphasis on telemedicine does not diminish the prominence of hands-on training, which remains the cornerstone of the medical school, Woleben says.

"It's definitely been different this year," he notes, "but one thing that we preserve as much as possible is clinical experience and direct patient contact. The clinical experiences our students get are still really, really strong. That's been what I appreciated the most from my experience as a student here at the medical school."
Challenged to improve
As COVID-19 continued to dominate the landscape, Richmond, like many other cities across the nation, experienced massive social unrest last spring and summer. Black Lives Matter protests took place throughout the city, condemning systemic racism, police brutality and the deaths of George Floyd, Breonna Taylor, Ahmaud Arbery, Marcus-David Peters and many others.

To address concerns about racism, the School of Medicine created a series of work groups, consisting of faculty, students and staff, to examine various areas where changes might be needed. One group has been tasked to look at the curriculum through the lens of anti-racism and bias to identify specific aspects that could be better taught.

"Our students have really been at the forefront of challenging us to make sure that we're doing a good job of delivering a curriculum that is free of bias, that talks about anti-racism and really embraces the values of equity, diversity and inclusion," Woleben says.

This ongoing work ultimately will lead to better preparation for future physicians.

"In order to take good care of your patients, you need to understand the community, the situation they come from," Woleben says. "So having a better understanding of their background and the unique issues they face is going to make you a more empathic care provider."

(Learn about crucial conversations in the medical school.)

Focusing on well-being
To ensure the social and emotional well-being of students amid COVID-19's impacts, the ongoing protests and the shift to virtual learning, the medical school has placed added emphasis on maintaining the camaraderie its student body has been known for. The revamped Transition to Medical School orientation program included several virtual town hall meetings for incoming matriculants to get to know current students even before they arrived on the MCV Campus.

"The medical student government did a great job connecting with students and did question-and-answer sessions with them," says Michelle Whitehurst-Cook, M'79, H'82, senior associate dean for admissions and associate professor of family medicine and population health.

Once on campus, students took part in online activities, such as trivia nights and a virtual escape room, as well as small, socially distant in-person gatherings at a local park. The School of Medicine also designed other virtual experiences, including ramped-up tutoring programs, to encourage students to network with classmates. Several classes involve in-person study groups, in which teams of three to eight students meet regularly to build connections.

The Project HEART Student Wellness initiative (HEART being a reminder to heal with empathy, acceptance, respect and integrity) is one of several programs housed in the Office of Student Affairs. It assigns students to groups that meet eight times in their first year and then throughout their medical school career. With guidance from faculty members, students receive help navigating the demands of medical school and balancing their personal and professional lives.

"The groups often become a core set of friends, and they have soaked up the chances to work together," Woleben says. "We've had a number of opportunities for students to get to know each other, but that in-person experience is hard to replicate. We've tried to provide students with resources and do some fun things, too."
Envisioning the future
COVID-19 underscores the reality that the medical school must remain agile. As new illnesses and treatments arise, faculty respond with relevant changes to the curriculum to equip students for what might lie ahead.
"Medicine is a changing field," Whitehurst-Cook says. "You have to keep up."

From research that reveals new treatments, to telemedicine that brings new ways to deliver care, the onset of COVID-19 flipped a switch. Mishra says visionary thinking and collaboration are thriving in these challenging times.

"A lot of folks have been talking about how telehealth will be the way of the future," he says. "We want to create a way to train our students to be capable of doing this and actually lead the nation as to what digital health could look like. That is my vision."

The curricular changes the medical school implemented because of global events may not have been foreseen prior to last March, but they prompted the creation of noticeable improvements.

"One of the things we learned is that some of what we changed actually worked better," Woleben says.

Students and faculty alike look forward to a sense of normalcy.

But even then, "There will be a blend of what we have done in the past and what we've done in the past few months," Woleben says. "There are some lessons that we've learned that will stick. And that's a good thing."