This story was published in the winter 2020-21 issue of 12th & Marshall. You can find the current and past issues online.

Last spring and summer, in addition to the outbreak of COVID-19, the city of Richmond experienced major social unrest as Black Lives Matter protests criticizing police brutality and the killings of numerous Black Americans nationwide took place.

Incoming students – who arrived amid the protests – took part in a Transition to Medical School orientation program that included several crucial conversations to discuss the complex history of Richmond, its evolving present and the legacy of racism. Requested by students in light of the protests, the series of discussions also focused on the School of Medicine, the East Marshall Street Well Project and health equity in the community. Speakers included VCU administrators, staff members and medical students as well as community leaders.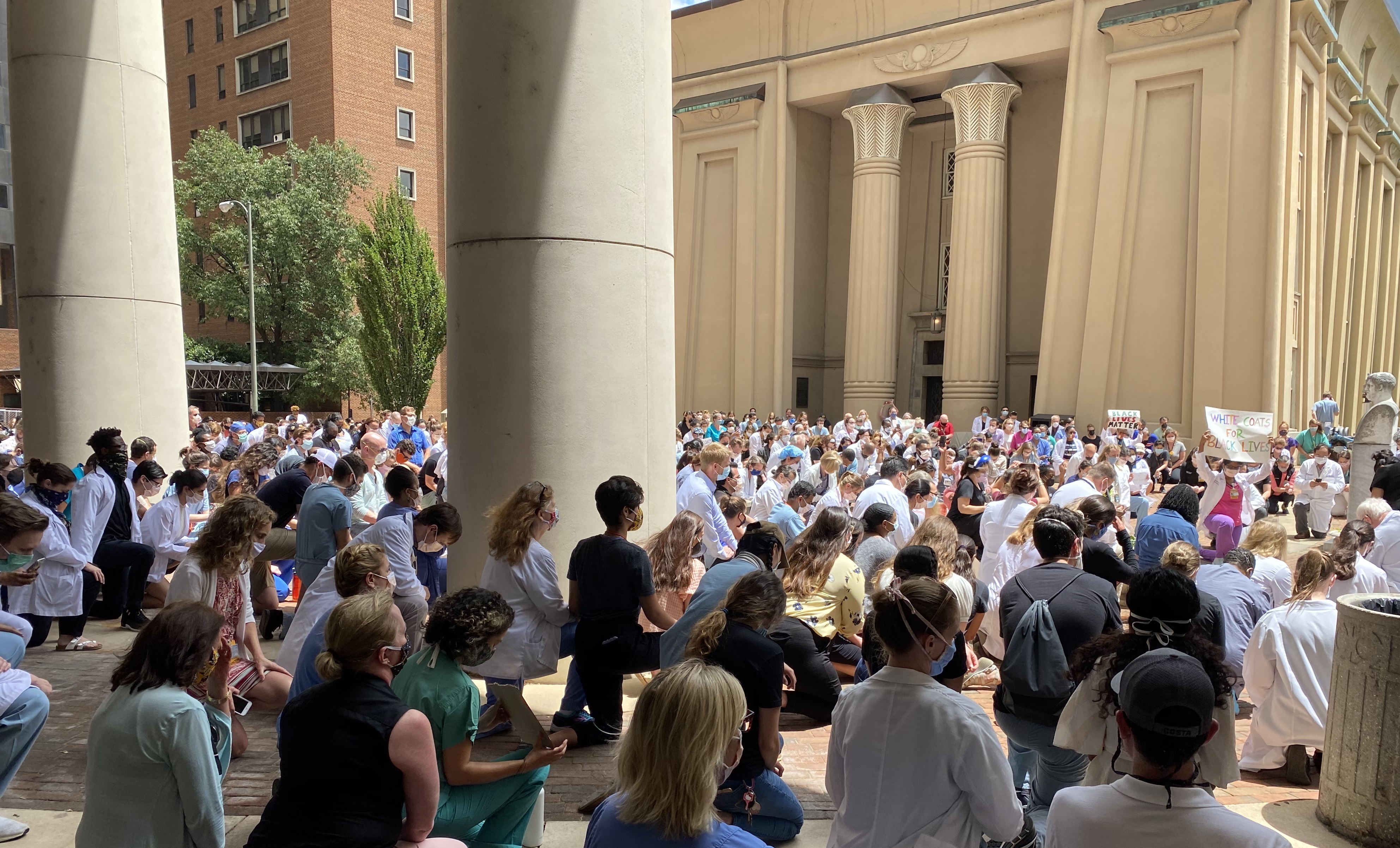 In June 2020, students, faculty and VCU Health clinicians joined health care professionals across the country by taking part in #whitecoatsforblacklives and kneeling in silent reflection on systemic racism and violence against people of color.
"We wanted to give – particularly our incoming students – an overview of the history of Richmond and the unique challenges that our hospitals face with regard to patient care and access issues for some of our patients," says Christopher Woleben, M'97, H'01, interim senior associate dean for medical education and student affairs. "We wanted them to be aware that some of the School of Medicine's history with the community hasn't always been positive."

Initially, only M1 students were slated to attend the conversations, but ultimately all medical school students were required to participate. The mandate was well-received.

"The students' response was positive, particularly the fact that we made it a requirement for all four years so that everyone could have a better understanding of the community in which they live," Woleben says. "The conversations have challenged some students to reconsider how they interact with patients of different backgrounds."

Future conversations will take place as part of first-year orientation, as well as intermittently throughout the academic year, Woleben says, "to continue to engage our students and connect them with our community."

For more information on the East Marshall Street Well Project referenced in this story: The spring 2020 issue of 12th & Marshall included a first-person essay by the Class of 2023's Miles McConner, who served as a pallbearer for human remains that were discarded in an abandoned well, studied at the Smithsonian's National Museum of Natural History and returned to Richmond in 2019.