Derek Sheen, M'20, was barely in elementary school when he remembers holding a stethoscope to his brother's head in an attempt to cure him of autism.
"I told my mom I was going to fix him," Sheen says. "From that time on, I knew I wanted to be a doctor."
But getting there has been a challenge. Growing up in Jackson Heights, N.Y., Sheen and his family sometimes had difficulty accessing medical care due to cultural and language barriers, as well as financial constraints. He knew affording medical school would be difficult.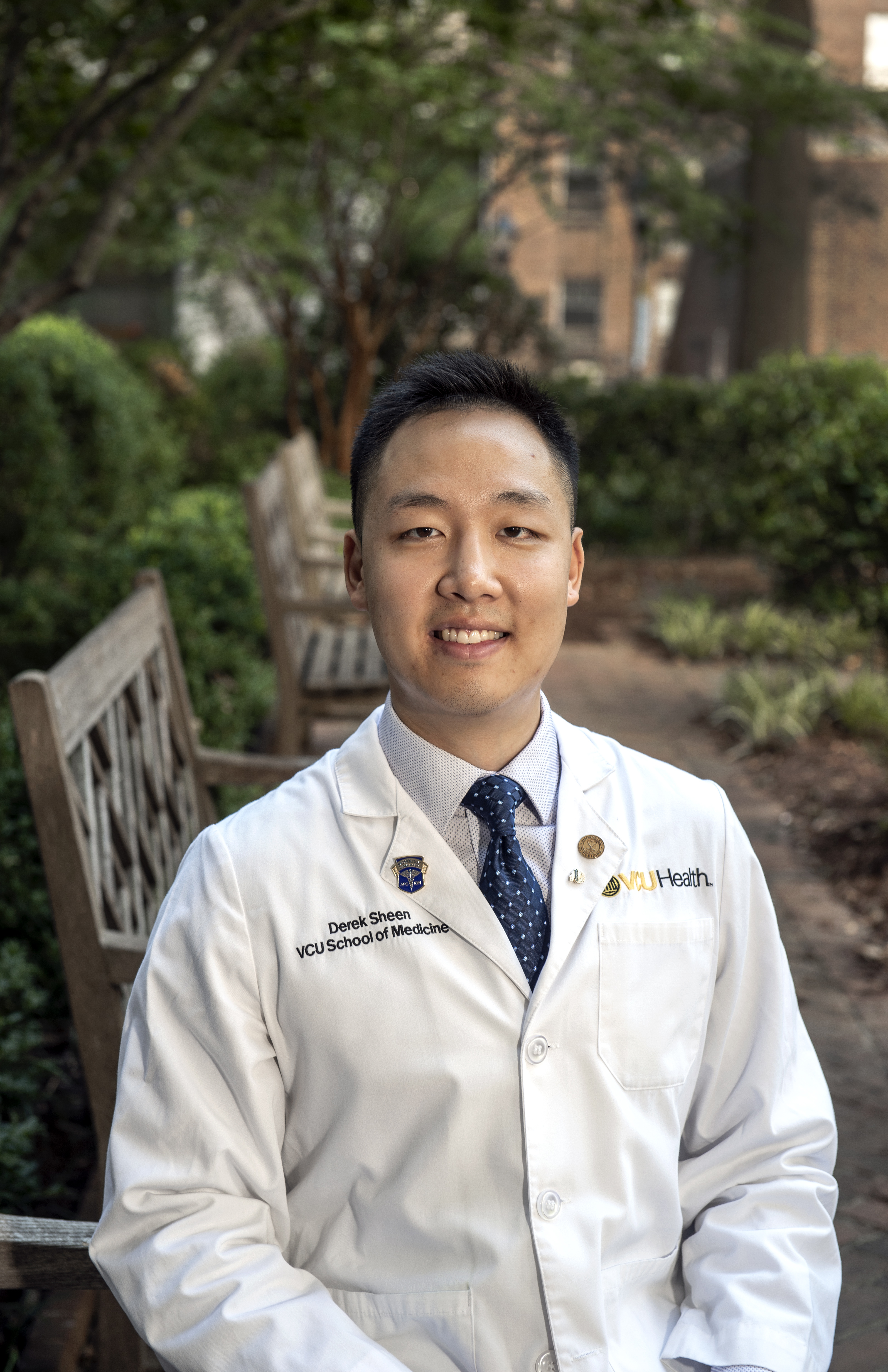 The Class of 2020's Derek Sheen. Photography by Kevin Morley, VCU University Relations

"I just knew I wanted to help people," says Sheen, whose family immigrated to the U.S. from Taiwan. "Growing up, I understood what it was like to be in an underserved area. I had family members who were suffering from things like hypertension and diabetes who couldn't afford the care they needed. I wanted to grow up and be someone who could help."
After graduating from Boston College in 2015 with a degree in biology, Sheen worked for a year in research and as a medical scribe before moving to Richmond to begin medical school. His parents tried to help out financially when they could, but Sheen has relied mostly on student loans.
"It's been a strain financially," he says.
But as he prepared for his fourth year, Sheen got a phone call that changed everything. He broke down in tears as the caller told him he had been awarded the philanthropically funded Mary Joanne Devine Rust Scholarship, which will cover Sheen's full tuition for his final year of medical school.
"I thought it was a mistake," he says. "The first thing I thought of was my parents and how this would help take the worry from them. I feel like this great weight has been lifted."
The scholarship will not only fund Sheen's tuition, but will allow him to complete away rotations to such places as Mount Sinai Hospital in New York and the University of California San Francisco Medical Center. These rotations provide the connections and experience he needs to be competitive for next spring's residency match.
"It allows me to explore my options and not stress over the financial part of things," Sheen says. "I am so grateful. I think scholarships like this one instill in us the importance of giving back. I know because someone before me set an example, I will one day do the same."
During his third-year rotations, Sheen found his passion in otolaryngology, a surgical subspecialty that deals with conditions of the ears, nose and throat and related structures of the head and neck. ENT surgeons may help sleep apnea patients breathe more easily by removing enlarged tonsils or other upper airway obstructions; they also perform other sub-specialized procedures like facial plastic and reconstructive surgery, head and neck cancer surgery, rhinology, pediatric, laryngology, otology, or skull base surgery.
"Derek is able to grasp complex concepts very quickly," says Thomas S. Lee, M.D., F.A.C.S., associate professor for the Department of Otolaryngology and director of the Facial Reconstruction and Trauma Surgery Division. "He is always one of those people who goes above and beyond. That's just his personality."
Working closely around the head and neck area is very personal, Sheen says, so he takes great care to earn a patient's trust.
"It's amazing the transformation that takes place," he says. "You are helping give patients their quality of life back. You see the healing process on so many levels. That is an awesome feeling."