Martin Johnson, H'80, working with the nonprofit Esperanca on a surgical mission in Nicaragua
Martin Johnson, H'80, had it all.
A loving family, a close-knit group of friends and a comfortable career. For 30 years he owned one of the largest and most successful plastic surgery practices in the Southwest.
"I loved being a plastic surgeon," he says. "I loved going to work every day. I got paid to have fun. My work was a big part of my identity."
But in January 2010, Johnson began feeling ill. After a battery of tests and surgery, doctors found a tumor pushing against his pancreas. He was diagnosed with non-Hodgkin's lymphoma and prepared himself for battle.
The doctor had become the patient.
"You can certainly appreciate things much more being on the other side of the aisle," says Johnson, who was 59 when he was diagnosed. "You realize just how short life is. You begin to appreciate everything."
One of the things he valued most in his life – his career – was in jeopardy. Johnson endured more than three months of intensive chemotherapy and another two years of quarterly treatments. The drugs put the cancer into remission, but damaged the nerves in his hands, feet and vocal cords. Johnson's balance was also affected.
"I loved what I was doing, and I was pretty good at it," he says. "But I realized I had no choice but to close my practice."
There were no tears, no feeling sorry for himself. Cancer may have taken his profession as a plastic surgeon, but it could not rob him of his resilience. Today, Johnson serves as the director of wound care at the Mayo Clinic in Phoenix.
"I have no regrets," he says. "I loved what I did before, but I love what I am doing now. Before, I was dealing with healthy patients. Now, I'm seeing patients with health issues. My own experience helps me relate to them better. It has made me more empathetic to their needs and concerns. I am a different doctor."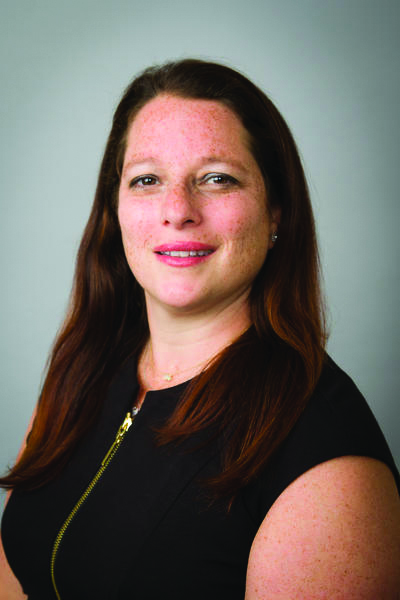 Dana Holwitt, M'00, H'07
Like Johnson, Dana Holwitt, M'00, H'07, has gained a new perspective as a physician since experiencing her own medical crisis. A breast surgeon with Atlantic Breast Associates in Rockaway, New Jersey, Holwitt was 36 when she underwent her first mammogram in October 2009. She was shocked when she saw the mass in her right breast.
"I diagnosed myself," she says. "I switched into survivor mode."
In November 2009, Holwitt underwent a double mastectomy, followed by six months of chemotherapy.
"You have two choices," she says. "You can either feel sorry for yourself or prepare yourself for what's ahead. I'm no quitter."
She continued working while undergoing treatment. Whenever she felt weak or frustrated, she found renewed strength in her patients.
"They were an inspiration," Holwitt says. "There are some things you can't learn from a medical book. My patients had been through the same diagnosis and treatment, and they helped me through mine. It was an incredibly humbling experience."
Her patients shared tips, like using saline drops to combat dry eyes brought on by chemotherapy, as well as taking ginger capsules to help with nausea. Holwitt kept a tip sheet, which she continues to hand out to her new patients.
"I try to be a positive influence," she says.
But it is more than that. A personal medical crisis can impact a physician's entire approach to medicine.
"The experience changed me on many, many levels," Holwitt says. "As a physician, I feel much more connected to my patients. I am more in tune to the subtleties of what a diagnosis means to the family as a whole – the process they go through, the whole grieving process. It has made me a more understanding, more compassionate doctor."
Holwitt recalls a time when she would grow frustrated with patients who took their time making a decision regarding their treatment, ask an incredible number of questions or call daily to check on biopsy results.
"I think you can get hardened or jaded," she says. "But after you go through your own experience and face your own mortality, you realize there is no such thing as a little thing. To the patient, everything is a big deal. I understand that now."
She never rushes a patient through an appointment, spending as much time with them as they need.
"When you hear the word 'cancer,' you tend to shut down," she says. "I want to be there for them no matter how many questions they have."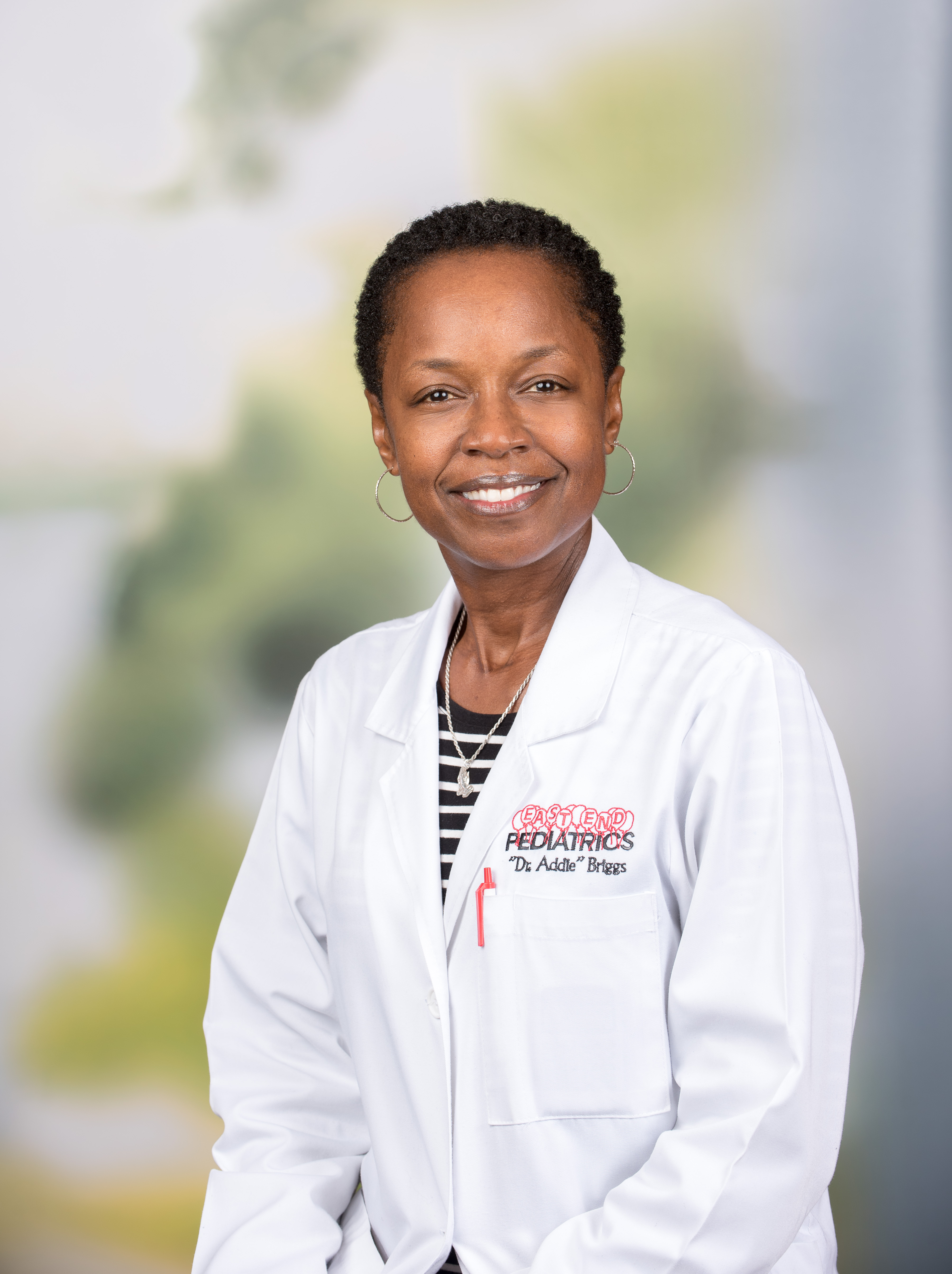 Addie Briggs, M'97
Addie Briggs, M'97, also was transformed after her own medical crisis nearly forced her to quit medical school. She was in her second year when she was diagnosed with Hodgkin's Lymphoma in 1995. Nine months of chemotherapy left her feeling so sick she could barely get out of bed on some days.
"They wanted me to take a leave of absence from school, but what was I going to do, sit at home feeling sorry for myself?" she says. "No, I wanted to stay in school."
She graduated on time and went on to open East End Pediatrics in Richmond in 2001.
"My history is part of my practice," she says. "It is part of who I am as a physician."
One of the most frustrating things Briggs experienced as a patient was someone else making her decisions for her.
"I didn't appreciate it," she says. "I felt I had no control. As a physician, I am honest with my patients and I don't hold back any information. It is important to include the parents and children in the decision-making process."
Briggs never doubted she would beat cancer, and she stresses the importance of optimism to all her patients.
"I knew I wasn't going to die because God wanted me to become a doctor," she says. "I knew I would get through it. The whole experience made me stronger. It gave me perseverance. I don't let anything in life hold me back now. I knew if I could get through this, I could get through anything."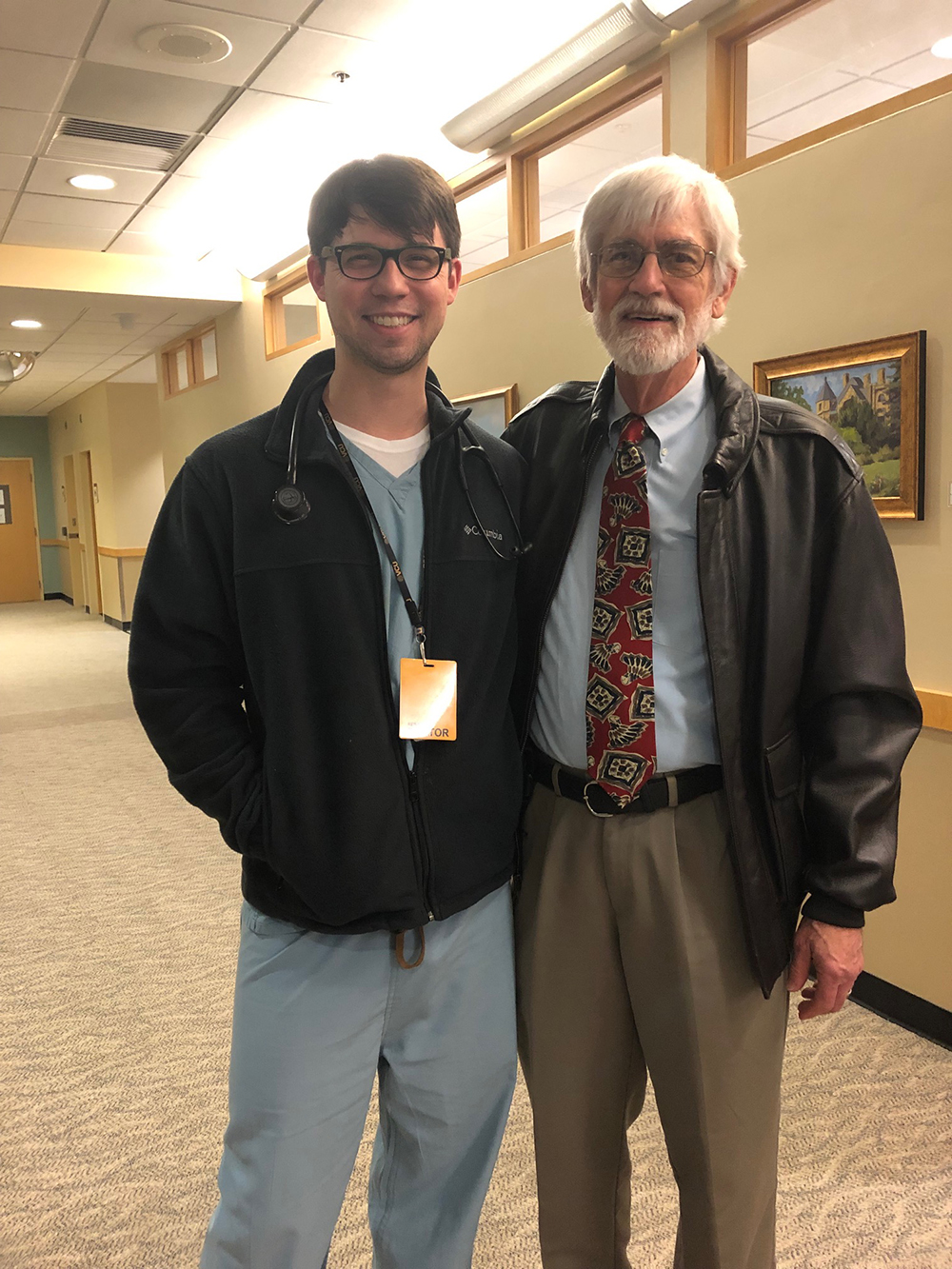 Gaylord Ray, M'76, H'79, with his son Chris Ray, M'15
For Gaylord Ray, M'76, H'79, that lesson came in threes.
Ray – who had earned a degree from the School of Pharmacy before entering medical school – was working as an emergency medicine physician at several hospitals in Reedville, Virginia, when he suffered a heart attack in November 2003 at the age of 57. He and a few friends were at his home cleaning up wood from downed trees after Hurricane Irene when Ray became short of breath.
"By the time I got to my Suburban, I couldn't stand up," he says.
He underwent a balloon pump and five-vessel bypass surgery. He surprised everyone by pulling through, but his heart was so weakened he had to retire from his practice and its 12-hour shifts.
"I knew it was serious and found myself making all these deals with God," he says. "It made me appreciate all that I had. I didn't want to leave it. I didn't want to leave my family."
His second scare came in 2015 when he suffered ventricular tachycardia. His longtime friend and classmate Thomas Young, M'76, may have saved his life when he performed CPR. Ray continues to wear a combination pacemaker and defibrillator.
Scare number three was an ATV accident last summer. Ray was knocked unconscious and later experienced confusion and weakness. Doctors discovered he had some bleeding on the brain.
"It has made me go back and reflect on the patients I saw and wonder if I missed anything," he says. "It made me realize if you can't put your finger on something, keep looking."
He also understands just how lucky he was to be surrounded by top-notch doctors and people who cared.
"I knew the people who treated me because I worked with them for so long," he says. "That gave me a lot of confidence and brought great comfort. I am so grateful to my colleagues."
While he may no longer be practicing, Ray continues to have an impact on the medical community. His son, Chris Ray, M'15, chief resident in the internal medicine-pediatrics residency program on the MCV Campus, asked him to give a suturing lesson to his fellow residents last year. And for several years, Ray has served as a physician for Camp Trident, a summer camp for teenage boys. He also has taken several medical mission trips to Honduras.
"I was so blessed for so long to be able to practice medicine and do what I loved to do," Ray says. "Perhaps I didn't do it for as long as I would have liked, but I have no complaints. I am still making a difference in this world, and there is no better feeling."