The world will have one less Top Chef, one less pilot, one less ballerina.
Instead, we'll have family medicine physicians, surgeons and dermatologists.
For Match Day 2015, the fourth-year medical students chose the theme: What Would You Be if You Weren't an M.D.? The answers to that question ran a wide gamut.
But the truly pressing question was "Where are you going?" Match Day is the annual rite of passage for graduating medical students. At noon on March 20, medical students around the country learned where they're headed for residency training in their chosen specialties.
At the conclusion of the Match process, 97.4 percent of our 192 participating students had matched into a residency position.
76 students matched into primary care fields including Internal Medicine (37), Pediatrics (13), Family Medicine (21)

and Medicine-Pediatrics (5)

.
20 matched to Anesthesiology;
19 to Ob-Gyn;
14 each to General Surgery and Emergency Medicine;
8 into Diagnostic Radiology;
6 into Psychiatry;
5 each into Dermatology and combined Medicine-Pediatrics;
4 each into Orthopedic Surgery and Otolaryngology;
3 each into Neurosurgery, Pathology, and Neurology;
2 into Radiation Oncology; and
1 into Integrated Plastic Surgery.
Twenty-two students will stay at VCU Health System to complete residency training, and several more will complete preliminary training here in Internal Medicine or General Surgery.
"Combined with our early match results in which 100 percent of our current and former students matched into Ophthalmology and Urology, the 2015 match results are simply superb," said Chris Woleben, M.D., associate dean for student affairs.
"Even though our students have been successful in the increasingly competitive residency Match process, we are continuing to enhance career advising programs to assure our students will continue to match into the residency training programs of their choice in the future," Woleben said. "In addition, our new curriculum allows students to enter the core clerkships earlier and have access to elective opportunities to explore specialties not commonly seen during the M3 year. That will give them a competitive edge over other medical students participating in the Match."
According to the Association of American Medical Colleges, nearly 35,000 U.S. and international students applied for one of the more than 27,000 first-year residency positions offered in this year's main residency Match.
Match Day at the VCU Health System
From as far away as Israel and Ireland, and as close as our own VCU School of Medicine, about 125 men and women learned today that they have matched to the VCU Health System's residency programs.
"The latest group of new residents boasts an astounding array of professional and personal accomplishments," said Mary-Alice O'Donnell, Ph.D., associate dean for graduate medical education. "The VCUHS cadre of trainees grows stronger as such diverse talent joins the ranks.
"Graduate Medical Education has always been a priority at VCUHS and the cornerstone of any GME program is the strength of its residents and fellows. Add to this, the expertise and passion of the VCUHS program directors, educators and support professionals, and the VCUHS training experience remains one of the best in the nation. We welcome our newest residents and look forward to training a new generation of doctors to provide the best medical care available."
O'Donnell describes how program directors, coordinators and current residents and fellows are excited to finally know who their incoming first-year residents will be. Already names are being matched with photos that will be distributed throughout the training programs so that the new arrivals can be welcomed when they start in July.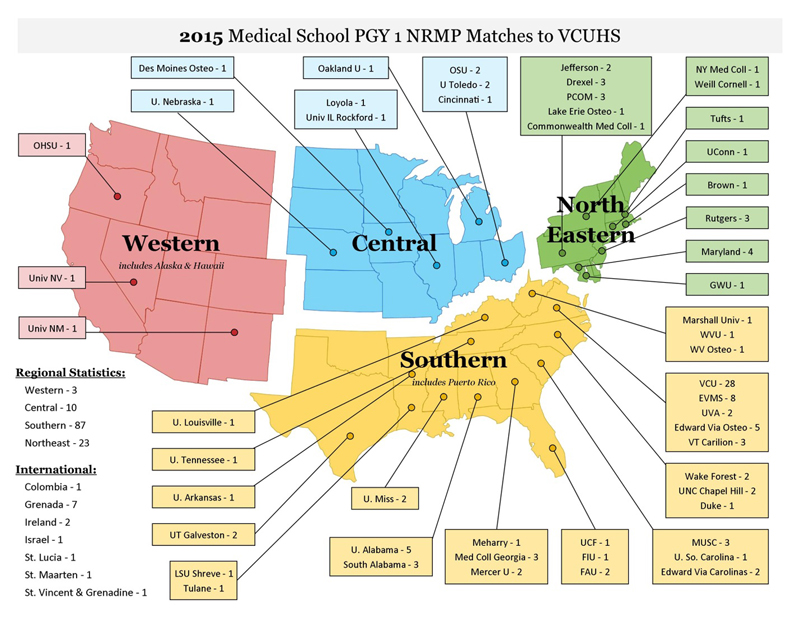 ‌
Read more about Match Day
Match Day 2015
Match Day 2015