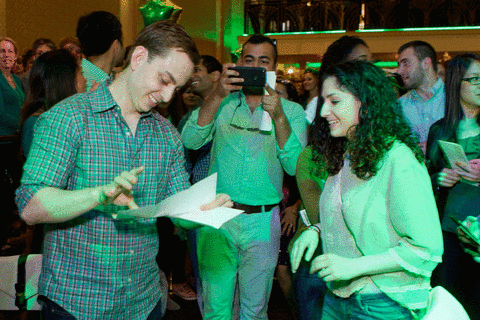 It's their lucky day
The luck of the Match — and the luck of the Irish — was with the Class of 2017 this St. Patrick's Day. March 17 pulled double duty as Match Day, an annual rite of passage when fourth-year medical students around the country learn their residency training destinations.
School of Medicine Dean Peter F. Buckley, M.D., originally from Ireland, couldn't have been more pleased with the timing.
"Imagine how happy I am to see St. Patrick recognized today and to have the match on St. Patrick's Day," he says. "The students didn't need the luck of the Irish but they probably got it as well. We're very excited for them and very proud of each and every one of them."
Picking this year's theme, Luck o' the Match, came naturally, says Class of 2017 President Yeri Park. "It fits with how lucky we are to be at this point and completing four years of medical school and finding out where we're going next," says Park, a multi-scholarship recipient who matched in family medicine at Greater Lawrence Family Health Center in Massachusetts — her first choice.
Aditi Sharma and Julia Vileisis embraced the theme, wearing matching green dresses along with two other Class of 2017 students, bought when the four women traveled to Ireland together in early March.
"I wasn't even with them when they found the dresses but they know me so well, they picked out the size and it still fit," Sharma says. That's just what one might expect from these friends who have been together since their first days on the MCV Campus.
"We lived in the same building, we've studied together, we've done everything together," says Vileisis, giving her friend a tearful hug.
Emotions run high on Match Day as students reflect on four years of hard work, friendship and much more.
"This is not a day to miss," Buckley says. "The students are just extremely excited and they're also excited for each other. They've got a bond as friends, as colleagues, as career colleagues, that's going to last them decades into the future."
2017 Match Results
VCU School of Medicine is pleased to announce the results of the 2017 Main Residency Match. This year, 95.3% of our students eligible for graduation matched into a PGY-1 position prior to the Supplemental Offer and Acceptance Program (SOAP), higher than the national average of 94.3%. At the conclusion of SOAP, over 99% of our graduating seniors have obtained a position in a residency training program.
Our highly competitive students will be contributing to many specialties across medicine.
65 students (34%) matched into primary care specialties: 25 in Family Medicine; 20 in Internal Medicine; 17 in Pediatrics; and 3 in Internal Medicine/Pediatrics;
18 of our students matched into Anesthesiology;
17 into General Surgery;
16 into OB-GYN;
13 into Emergency Medicine;
10 into Psychiatry;
8 into Orthopedic Surgery;
6 into Radiation Oncology;
4 into Dermatology;
3 each into Diagnostic Radiology, Interventional Radiology and Physical Medicine and Rehabilitation;
2 each into Neurology and Otolaryngology; and
1 each into Child Neurology, Pathology and integrated Plastic Surgery and Internal Medicine/Emergency Medicine.
Twenty-three students will be staying at VCU Health System (including VCU-affiliated Family Medicine residency programs) for the duration of their residency training, with 12 students completing preliminary training here in either Internal Medicine or General Surgery.
When including early match results with five students matching into Urology, two into Ophthalmology and three into military programs, the Class of 2017 achieved exceptional outcomes in the increasingly competitive residency match process.
The Class of 2017 is the first class to graduate under the new C3 Curriculum at VCU School of Medicine. The C3 curriculum is more patient focused in the pre-clinical years where students assume more responsibility for learning through participation in integrated case studies, and students are given more opportunities to explore specialties in medicine with increased time for elective experiences during the clinical phase of the curriculum. The success of our graduating students in the residency match confirms that the new curriculum ensures our students are well prepared for this increasingly competitive process. We would like to thank all of our faculty advisors for the time and energy they have spent helping our medical students attain their career goals.
We are immensely proud of our medical students. Whether they remain at VCU, train elsewhere within the Commonwealth or at many other great institutions all across America, they will continue to make us proud.
Match Day 2017
When Match Day falls on St. Patrick's Day - it's your lucky day! At noon on March 17, medical students along with their faculty, families and friends gathered for Match Day, the annual rite of passage when fourth-year medical students learn where they will go for residency training in their chosen specialties. Photos by Cabay Fine Photography.