Ever since Orientation Week's Roll Call in the Egyptian Building nearly four years ago, the Class of 2020 has circled another milestone on their calendar: Match Day, the annual rite of passage where fourth-year students gather together with friends, family and faculty on the third Friday of March to learn their residency training destinations.
For months, class officers planned an event worthy of celebrating the culmination of four years of hard work, complete with a Roaring '20s theme. What they couldn't have planned for was the onset of the COVID-19 pandemic that would upend their daily lives and impact the health care profession they are about to join.
As CDC and government guidelines changed in the week leading up to Match Day, the 2020 class officers worked with SOM administration to set up a celebratory livestream video with faculty and classmates at 11:55 a.m. on Friday, March 20, moments before the National Resident Matching Program distributed residency results electronically nationwide at noon. High-fives, hugs, confetti and the donning of T-shirts representing residency destinations soon followed.
"Much of the class tuned in to watch and, although we were separated, I still felt connected to my classmates in that moment," says Class of 2020 President Alper Dincer, who learned he will complete his residency training at Tufts Medical Center in neurosurgery. "Although we did not celebrate in person, we still feel the immensity of this moment. We still felt the anticipation, anxiety and excitement of matching. The goal of becoming a physician finally feels real and near."
Students also used the hashtag #VCUSOMMatchDay2020 to share their residency news on social media with their classmates as well as with far-flung networks around the country and around the world.
"Although we are celebrating Match Day virtually this year, the excitement and spirit for this major milestone of our medical training remains high," says Avanthi Jayaweera, who will complete her residency at the University of North Carolina in family medicine (underserved track). "I received many heartfelt emails and messages from our faculty and staff, filled with words of encouragement and hope. I couldn't be any more thankful for our school continuing to make this day so special for us under these unexpected circumstances."
Jayaweera attended three virtual celebrations and served cheesecake to a small gathering of friends and loved ones in her home; while Jay Pham, who will stay on the MCV Campus to train in radiology at VCU Health, shared a special meal with his wife and five children to honor the occasion, and FaceTimed with family and classmates.
"In every sense, it is not a traditional Match that we all know but a chaotic and ever-changing one," Pham says. "However, this is what we were trained for over the past four years, to be dynamic, flexible and adaptable when faced with a health crisis of this magnitude. In a way, I wish I were already 'essential' personnel so that I could be on the front lines."
School of Medicine Dean Peter F. Buckley, M.D., praised the students for their willingness to roll with the punches through the rapid changes leading up to Match Day. "You are continuing the tradition of this great medical school," Buckley told the students during the livestream video before Match results were delivered.
"You've got great results — like last year, you're once again above the national average, and we had the privilege to tell Virginia Gov. Ralph Northam today that 25 percent of our students are staying in the commonwealth to train. The other three-quarters who are going elsewhere will carry the flag of our medical school across the country, giving exceptional care to patients. We are really proud of you. Even during this challenging moment, there is great anticipation and great joy."
The Class of 2020 is up to the challenge for both — finding ways to celebrate and soon, doing their part to serve patients in the midst of a global public health crisis.
"The pandemic reminds me of why I wanted to become a doctor in the fist place: to be a healer and gatekeeper of health," Pham says. "On Match Day, I solemnly celebrate my achievement but also for those who can't celebrate because they are affected by COVID-19 or working overtime to keep the public healthy … Although this Match Day is different from previous years, it is the only Match Day for me."
---
2020 Match Results
VCU School of Medicine is pleased to announce the results of the 2020 Main Residency Match. 95.3 percent of our graduating students matched into a PGY-1 position prior to the Supplemental Offer and Acceptance Program (SOAP), above the national average of 94.6 percent.
75 students (35%) matched into primary care specialties: 26 in Internal Medicine; 26 in Family Medicine; 19 in Pediatrics;
22 of our students matched into Anesthesiology;
16 into Emergency Medicine;
14 each into Obstetrics/Gynecology and Psychiatry;
10 into Orthopedic Surgery;
nine into Diagnostic Radiology;
six each into Neurology, Neurological Surgery, and Physical Medicine and Rehabilitation;
five into General Surgery;
four into Dermatology;
three each into Otolaryngology and Combined Internal Medicine/Pediatrics;
one each into Pathology, Radiation Oncology, Integrated Vascular Surgery, Integrated Plastic Surgery and Combined Internal Medicine/Emergency Medicine.
When including early match results with two students matching into Ophthalmology and four into military programs, the Class of 2020 performed exceptionally well in this year's match.
Our students matched into top residency programs across the country, including 35 (16%) students who will be staying at VCU Health (including VCU-affiliated Family Medicine residency programs) for the duration of their residency training, with an additional eight students completing preliminary training here in either Internal Medicine or General Surgery. 52 students (25%) will be completing all or part of their residency training in the commonwealth of Virginia.
"Although we were not able to host our traditional Match Day event, we were able to virtually join many of our students as they were informed of their match results on the NRMP website," says Christopher M. Woleben, M'97, H'01, interim senior associate dean for medical education and student affairs.
"From the reaction on their faces and streams of confetti we saw, it seemed to be a joyous celebration for many of our students. We would like to thank all of the faculty advisors, coaches, and mentors who have worked closely with our students to assure they will become exceptional residents in the training programs they join across the country!"
More Match Day Coverage:
The medical school moved its Match Day celebration online via a video conference call. Class President Alper Dincer (pictured on video screen) was one of the dozens of students around the region who joined in to hear Interim Senior Associate Dean Chris Woleben, M'97 (on left), and Dean of Medicine Peter Buckley, M.D. (center), offer congratulations on the milestone day.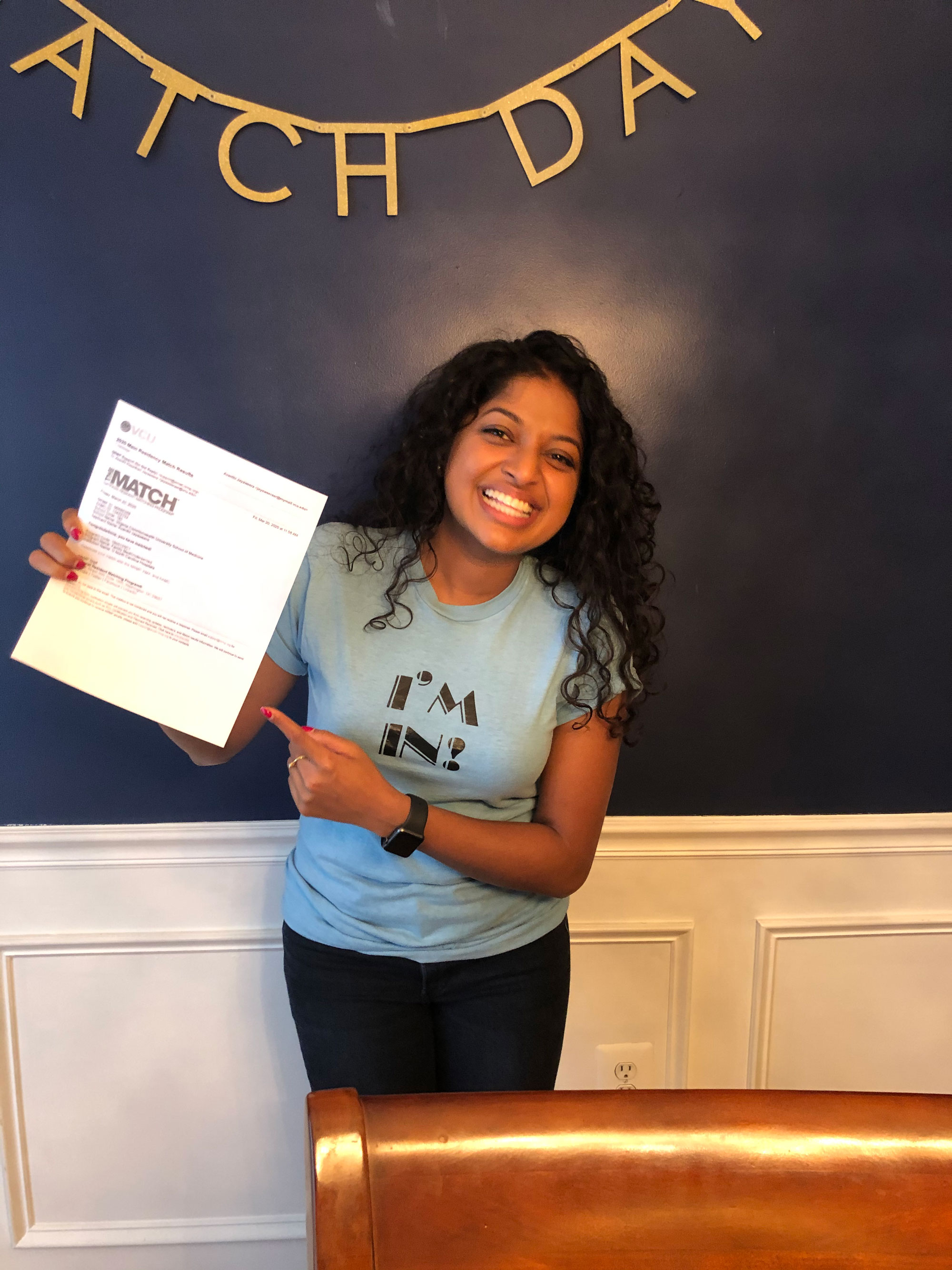 Fourth-year Avanthi Jayaweera says her excitement and spirit for Match Day remained high, even during the Class of 2020's virtual celebration. "I couldn't be any more thankful for our school continuing to make this day so special for us under these unexpected circumstances."
The Class of 2020's Jay Pham shared a special meal with his wife and five children to celebrate Match Day. He says the ever-changing day reminded him of what he and his classmates were trained for: "to be dynamic, flexible and adaptable when faced with a health crisis of this magnitude. In a way, I wish I were already 'essential' personnel so that I could be on the front lines."