It wasn't the Match Day they were anticipating when they donned their white coats for the first time four years ago. But, then again, no one in the Class of 2021 could have imagined they would be completing their final year of medical school during a global pandemic.
COVID-19 has presented many challenges for this year's graduating medical students. In-person clerkship experiences were cut short as students in the Class of 2021 were pulled from the clinical setting last spring, and the start of their M4 year was delayed until June when it was deemed safe for the students to reenter the clinical environment, according to Christopher M. Woleben, M'97, H'01, interim senior associate dean for medical education and student affairs.
"Away rotations, typically a requirement for students entering the more traditionally competitive specialties, were not allowed," Woleben added. "The residency application season started late, placing pressure on programs to select candidates for interviews in a narrowed time frame. And interviews were conducted virtually for the first time ever, making it challenging for students to experience all that residency programs have to offer."
Matching in the time of COVID
According to M4 Lindsay Sterling, although the virtual interview experience was a little "weird" at first and the virtual happy hours with current residents could be "awkward," it got better over time.
"I think people were worried that they wouldn't be able to get a feel for the program over Zoom, but I think as it went on, you realized that you can still connect with people over Zoom – surprisingly so. Overall, it ended up being not as bad as I had expected," said Sterling, who matched into the anesthesiology residency program at Emory University in Atlanta – her first choice.
With the entire residency recruitment season taking place online, it came as no great surprise to the Class of 2021 that their Match Day would be virtual as well.
"It wasn't ideal that we couldn't be with each other to experience this iconic moment together, but the class was understanding that given the current guidelines and being as safe as possible, Match Day would be virtual," said class president Dhruv Sethi, who made an early match into ophthalmology at Henry Ford Hospital in Detroit, Michigan.
Since everyone couldn't be together, the class officers tried to make the experience as celebratory as possible by creating a Match Day kit for each student.
"The idea behind it was that it would be a 'party in a box,'" said Sterling, who was instrumental in their development. The boxes were filled with party favors, decorations, balloons, banners, snacks, T-shirts, VCU memorabilia and congratulatory letters from alumni.
A time for celebration
At noon on March 19, donning their class T-shirts and surrounded by black and gold decorations in their homes, M4 students received their results electronically from the National Resident Matching Program. For many, the stress and uncertainty of the past year turned to relief and celebration.
Alex Pais actually received the official NRMP email a few minutes early, but he managed to hold off until the School of Medicine's livestreamed remarks ended before revealing his match. With his wife by his side and two phones open to FaceTime with his dad and in-laws, he learned that he'll soon begin training in neurosurgery at the Mayo Clinic.
"I am absolutely beside myself; it was my top choice," he said on the afternoon of Match Day, before venturing out to a local brewery with his family and friends.
As thrilled as he is for this next step, leaving the city he's called home for many years is bittersweet.
"I'm actually pretty sad to leave Richmond, so that's always kind of tugged at the heartstrings," he said. "I have had a tremendous time at VCU. My classmates, the faculty, the community – it's all been wonderful and helped me get to the Mayo Clinic."
For Medjine Jarbath, matching means returning home. After graduation she'll move to Florida for her internal medicine residency at Naples Community Hospital, about two hours from her family and many of her friends.
"I'm really psyched to have that social support system and be so close to my mom, who influenced me to pursue medicine in the first place," said Jarbath, whose mother was an OB-GYN in Haiti before the family moved to Florida when she was 9.
It's also a major step toward her long-term goal of pursuing international medicine and traveling back to Haiti on medical service trips.
"Being in south Florida, where a lot of immigrants are located, they cater to a Haitian population, which is part of why I ranked Naples so highly," she said of the program. "I'm really excited to be able to treat underserved populations, which is something I've always been committed to."
'Ready for anything'
Whether students matched into internal medicine, surgery, ophthalmology or any of the other specialties, the lessons they learned throughout their medical education in combination with the adaptability, perseverance and resilience they developed during these unprecedented times will serve them well into the future, according to School of Medicine Dean Peter F. Buckley, M.D.
"Our school has been open since 1838, and so many fourth years have come through the corridors of this school but no class has had the experience that you have," Buckley told students during his livestreamed remarks. "We are immensely proud and grateful of you … As you are at this formative moment, please know that these four years have you ready for anything."
2021 Match Results
Overall Matches
94.1% of the Class of 2021 matched into a PGY-1 position prior to the Supplemental Offer and Acceptance Program (SOAP), close to the national average of 94.8%. After SOAP, more than 99% of our students matched into a PGY-1 position.
Matches by Specialty
Primary care: 71 students (35%) – 30 internal medicine, 21 family medicine, 18 pediatrics and 2 combined internal medicine/pediatrics
Anesthesiology: 16 students
General surgery: 13 students
Obstetrics and gynecology: 11 students
Psychiatry: 11 students, including one student who had an early match into a military psychiatry program
Diagnostic radiology: 9 students
Emergency medicine: 9 students
Ophthalmology: 7 students (early match)
Physical medicine and rehabilitation: 6 students
Dermatology: 5 students
Orthopedic surgery: 5 students
Neurological surgery: 4 students
Otolaryngology: 4 students
Neurology: 3 students
Pathology: 3 students
Urology: 3 students (early match)
Interventional radiology: 2 students
Plastic surgery: 2 students
Radiation oncology: 1 student
Vascular surgery: 1 student
Where Our Students Are Headed
Our students matched into top programs across the country, including 36 students (18%) who will be staying at VCU Health (including VCU-affiliated family medicine residencies) for the duration of their residency training. An additional eight students will complete preliminary training here at VCU in either internal medicine or general surgery. Fifty-four students (27%) will complete at least part of their residency training in the Commonwealth of Virginia.
More from Match Day
Interim Senior Associate Dean for Medical Education and Student Affairs Christopher Woleben, M.D., held up the match list during his livestreamed remarks, just minutes before the Class of 2021 received their individual results electronically from the National Resident Matching Program.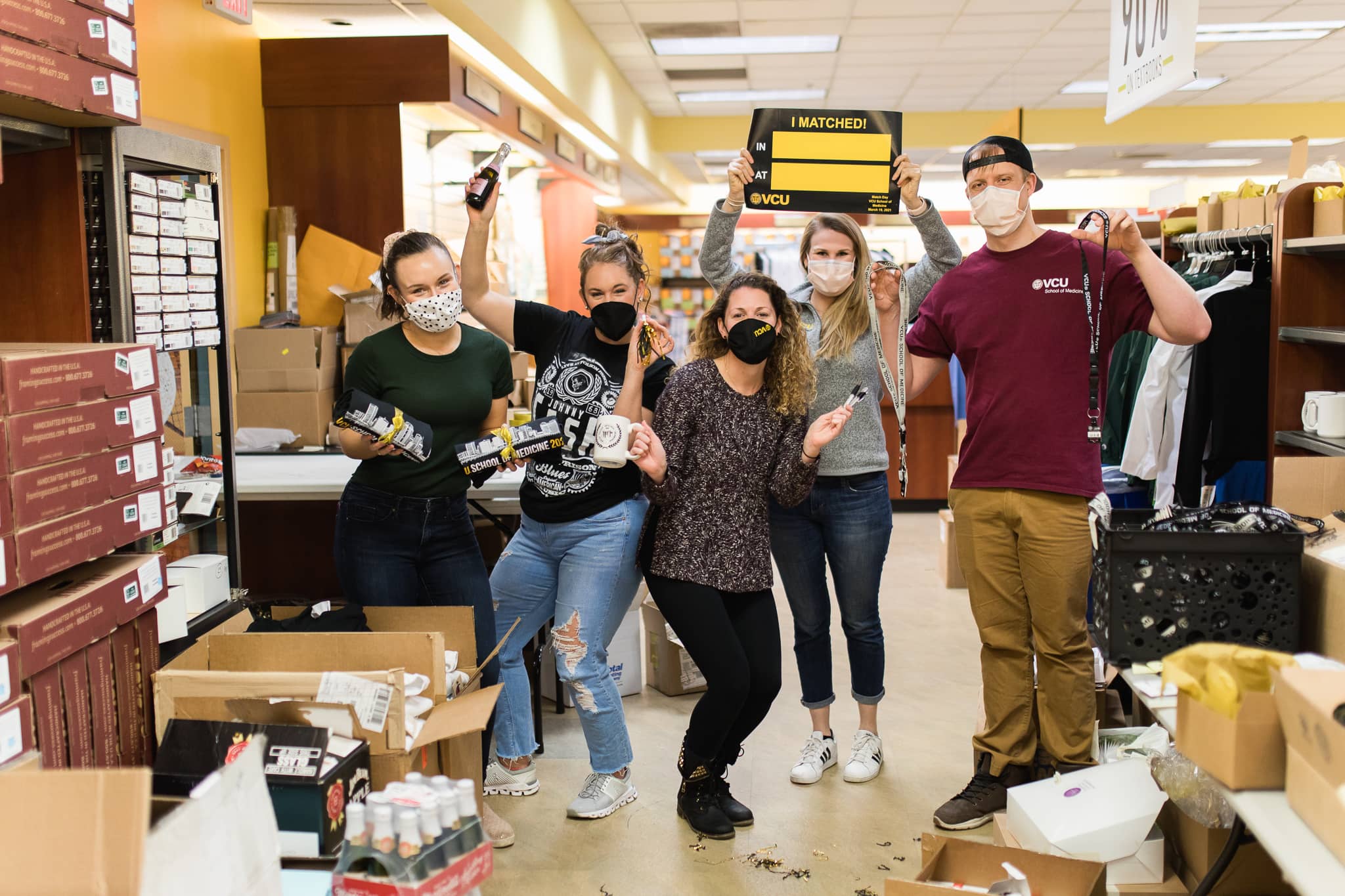 Fourth-year students Madeline Stovall, Lindsay Sterling, Erika Lutins, Courtney Woods and Brady Ernst (left to right) assembled a 'party in a box' for each of their classmates, helping them create their own Match Day celebration at home.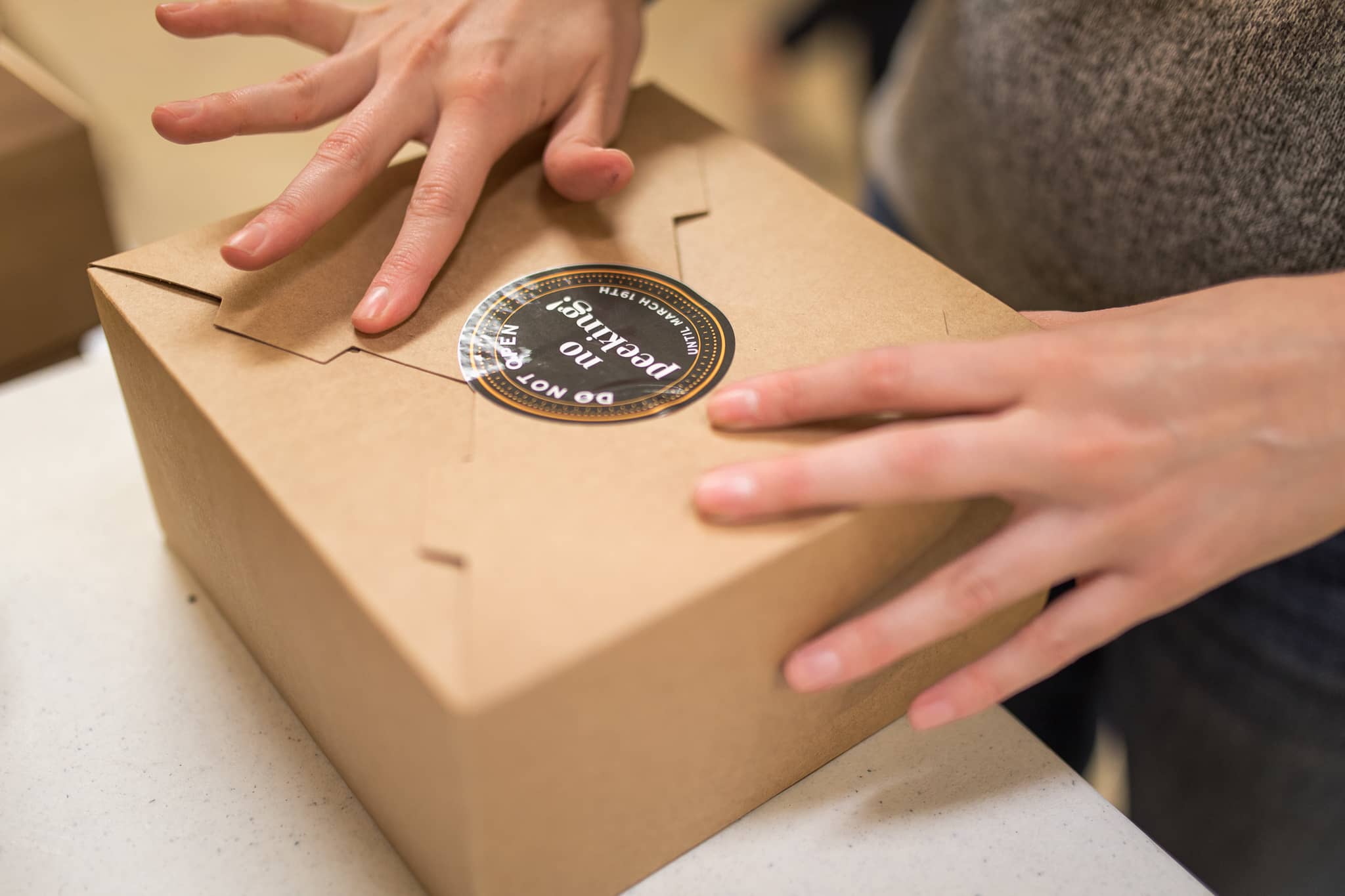 On Match Day, the Class of 2021 opened their boxes to find confetti poppers, balloons, banners, snacks, VCU memorabilia and congratulatory letters from alumni.