View the photo gallery of Reunion Weekend.

The MCV Campus celebrated its first in-person Reunion Weekend since 2019 with beautiful weather and hundreds of alumni eager to connect with classmates, faculty and students at the place where they became physicians.
Alumni from classes ending in '2 and '7 gathered together April 21-24 for a weekend filled with catching up and reminiscing about medical school days, along with a chance to see what the VCU School of Medicine looks like today.
Dermatologist Seth Forman, M'02, H'06, made the trip from Tampa, Florida, to mark two occasions — his 20th Reunion and the 50th Reunion of his late father Arthur Forman, M'72. On Sunday, he and his wife Hannah attended the 50-year memorial service at Monumental Church to hear his father's name read aloud by a classmate.
Seth Forman, M'02, H'06 (left), and professor emeritus Kenneth Blaylock, M'58 Contributed photo
"I can't put into words how my wife and I felt," Forman says. "If anyone has the opportunity to experience that — unfortunately, it wasn't for the best reason — but they should certainly observe that ceremony. It was very moving."
Forman connected across generations of classmates at the 2002 class party and later at the 50-year Grand Alumni Society Induction Brunch. He started Reunion Weekend with a tour of the dermatology department where he was thrilled to see professor emeritus Kenneth Blaylock, M'58, continuing to make an impact for today's residents and patients.
In recent years, Hannah and Seth Forman established an endowed fund in dermatology to be used at the chair's discretion for the department's most pressing needs. They've also named the department in a planned gift and supported scholarships through the School of Medicine Annual Fund with a gift in honor of the Class of 1972 and Seth's father Arthur Forman, M'72. At Reunion Weekend, they were inspired to begin planning for yet another gift.
"Our institution needs us," Seth Forman says. "Medical school is not just a four-year relationship; we must not short-change our alma mater and ourselves. We must continue to nurture our medical school. The excellence that began with MCV must be maintained. Medical education must be accessible and affordable for the next generation who will care for us. And we must be an example to others to demonstrate appreciation. Hannah and I are thankful for and appreciative of MCV for my experience and that of my father."
Changing lives through scholarships
The Class of 1972 marked their 50th Reunion by endowing their class scholarship fund. Photo by Skip Rowland Photography
The Class of 1972 marked their 50th Reunion by endowing their class scholarship fund, leading the way as nine of the classes celebrating Reunion directed their gifts to scholarships. Early estimates from the weekend indicate almost a half million dollars in new gifts and pledges have been committed for scholarships and other needs in the medical school.
In addition, Reunion Weekend served as the venue for celebrating the 1838 Scholarship Campaign that raised $27 million for endowed scholarships over seven years. This spring, a donor wall will be installed on the ground floor of the McGlothlin Medical Education Center, paying tribute to the generosity of the campaign's leadership donors.
On Saturday afternoon, the medical school had a chance to thank some of those donors in person and introduce them to their student recipients.
The Class of 2023's Rachel Easter, the inaugural holder of the Drs. Julie C. Møller and John B. Sanford Endowed Scholarship and recipient of the Joseph Collins Foundation Scholarship, shared her gratitude. "For me, it's not about the money from the scholarships but how it has enabled me to pursue something I love, still provide for my family and make a lasting contribution to the community. It's been a blessing."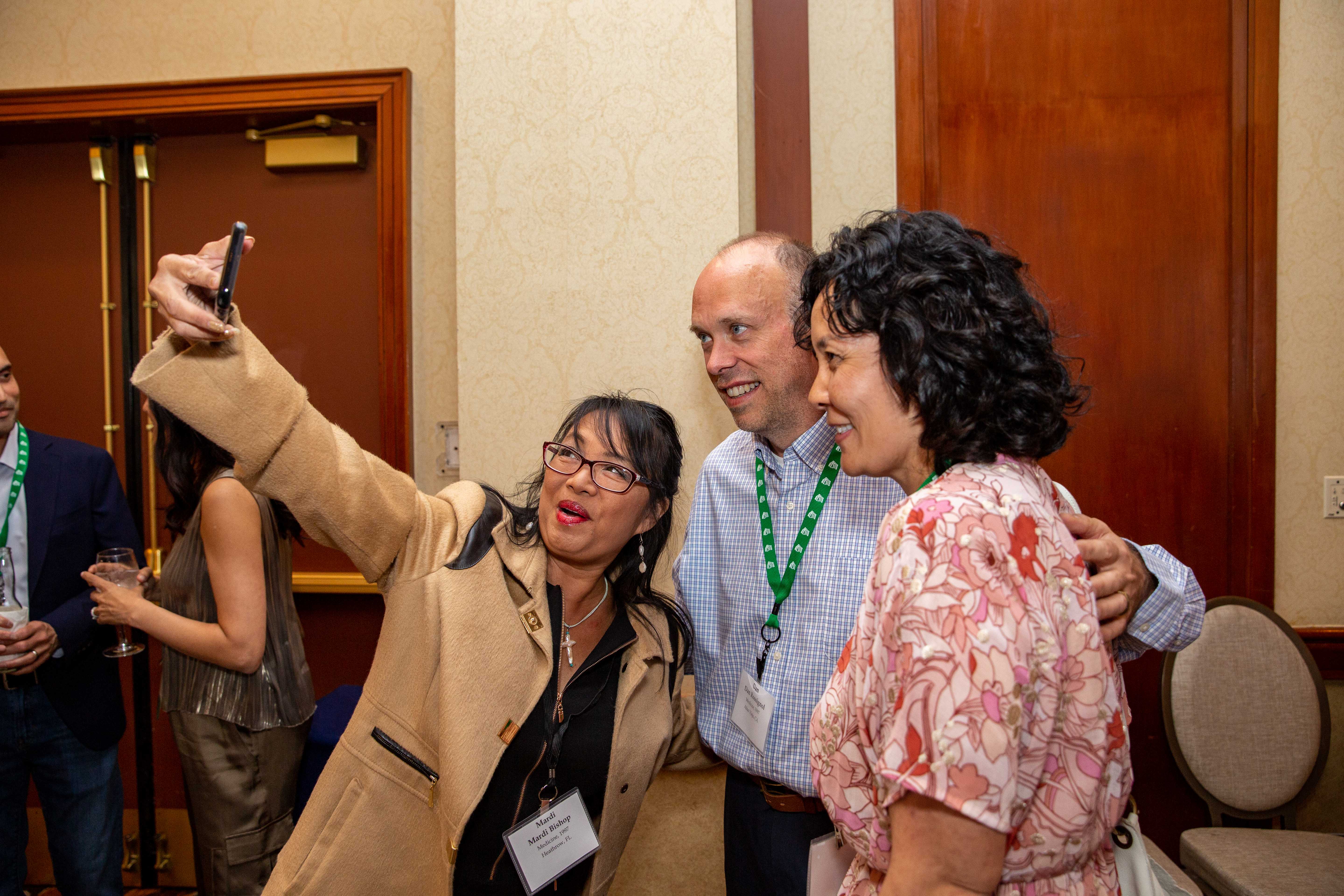 Alumni from classes ending in '2 and '7 gathered for a weekend to catch up and reminisce about medical school days. Photo by Skip Rowland Photography
The new look of medical education
Reunion Weekend kicked off with a tour of the Center for Human Simulation and Patient Safety. Alumni heard from faculty, students and trainees — and even had time for some hands-on experiences of their own. "How did we miss all this?" remarked one alumnus who came up in the age of "see one, do one, teach one."
Mini-Medical School provided an update on a host of topics including Anatomy Rounds, a program that is likely unique in the U.S. for its approach to a fundamental piece of the medical school's curriculum. The yearlong self-directed exercise merges anatomy lessons, clinical observations and CT scanning of cadavers to describe a plausible clinical condition the donor might have experienced. During Mini-Medical School, second-year students gave a grand rounds-style presentation of their findings.
Alumni also heard from Interim Dean David Chelmow, M.D., and other SOM faculty about the state of the school; a physician/medical student engagement panel complete with the ever-popular Dogs on Call; and a session on the M4 Capstone Course focused on the transition to residency.
Save the date and plan for future reunions
• 2023: April 21-23 for class years ending in '3 or '8
• 2024: April 19-21 for class years ending in '4 or '9

The weekend would not have been complete without Friday night class parties hosted all over town at classmates' homes and restaurants. Saturday's event offerings featured a mural walk, along with food and brewery tours, highlighting Richmond's thriving arts and culture scene.