The Class of 2022's Rahul Ramraj vividly recalls how he first learned he had received the Basil E. Smith Scholarship.
It was summer 2018, before he was about to start classes at the VCU School of Medicine. The now-M2 student checked his emails during a lunch break while finishing an oncology internship at Georgetown University Medical School. One email in particular caught his attention.
"I thought it was about a student loan," Ramraj says. "When I re-read it, I was shocked, to say the least."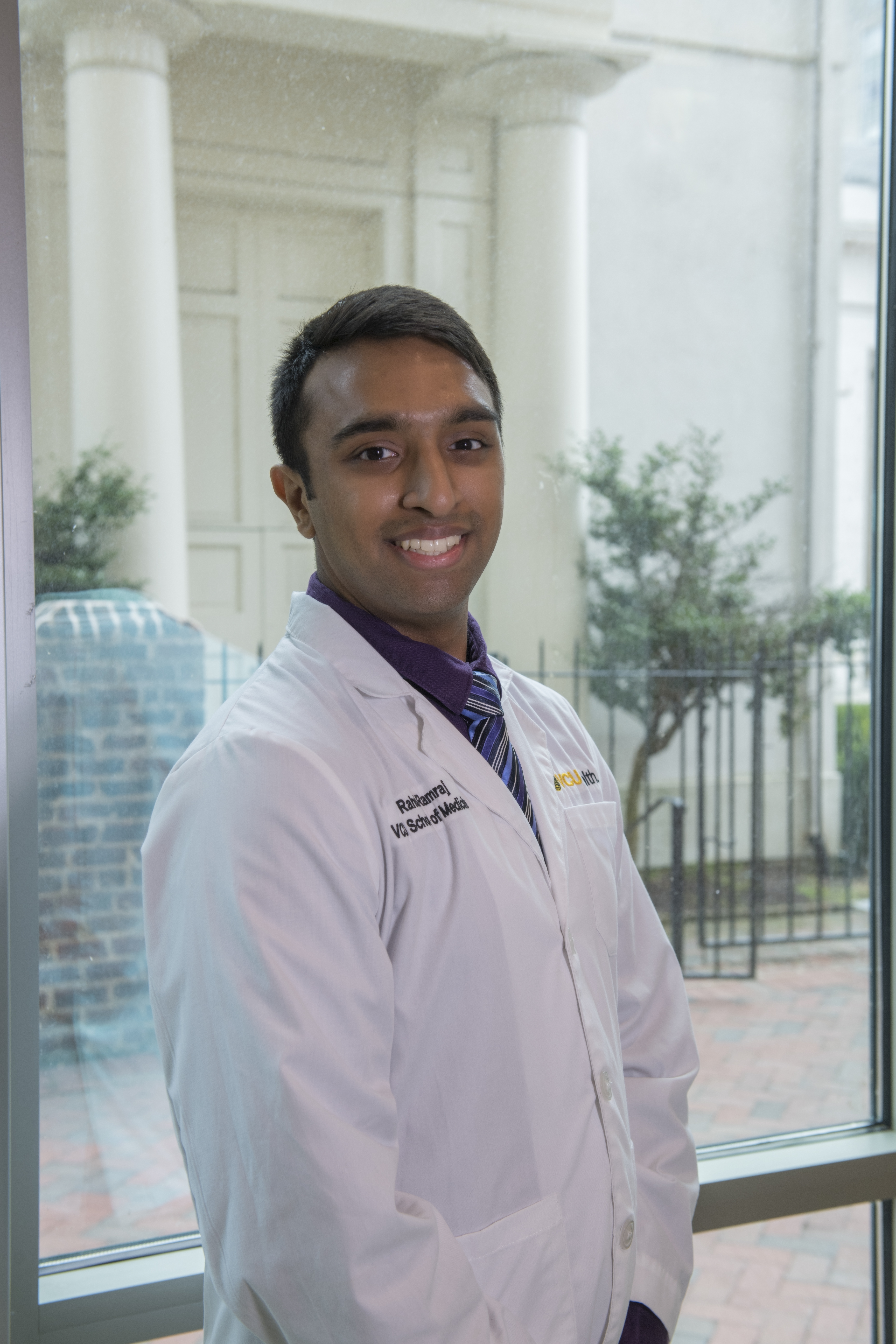 The Class of 2022's Rahul Ramraj, recipient of the Basil E. Smith Scholarship. Photography by Tom Kojcsich, VCU University Relations
He realized upon closer inspection that he was the recipient of the Basil E. Smith Scholarship, which would pay for more than half of his tuition. The endowed scholarship was created by members of the medical school's Class of 1982 in honor of their classmate Smith, an orthopaedic surgeon who was in private practice until he died of pancreatic cancer in 2014.
The School of Medicine Financial Aid Office had encouraged students seeking financial assistance to fill out the Free Application for Federal Student Aid (FAFSA) and create a College Scholarship Service profile in order to qualify for scholarships, so Ramraj had completed the forms.
"But I did not expect to receive any sort of scholarship, especially of that amount," he says. "I was blindsided by it."
Not wanting to startle others in the break room, Ramraj quickly ran outside to scream in excitement. He immediately called his parents, grandparents and younger brother to share the good news.
"It was one of the greatest moments of my life," he says. "They have put so much time and effort into helping me get where I am, so it's wonderful to have it paid back in this unexpected way."
Earning the scholarship has not only eased financial concerns, it has provided him the opportunity to explore his choices regarding areas of interest.
"When I have shadowed physicians, a lot of them decided what specialty to go into partially based on their financial situation," he says. "The scholarship has given me much more freedom to focus on activities that really interest me. Rather than working at a job or trying to find a summer internship that pays a lot more, I can find the better experience."
One opportunity Ramraj enjoys involves volunteering at the Mattaponi Healing Eagle Clinic, located 40 minutes away in King William, Virginia, near a Native American reservation. Every two to three months he visits the clinic, where he sees patients and takes their vital signs, records their medical histories and just talks with them.
"As a medical student, I have more time to sit and listen to their stories, and even if it doesn't contribute to the overall diagnosis and treatment, it still makes them feel that they are being heard," he says. "It's just a unique experience."
Diane Garrison, vice president of the clinic, says the facility relies on MCV Campus students like Ramraj to provide necessary services for its patients.
"It's so important for these students to help us," she says. "If they weren't here, we wouldn't be able to do it. And most of the students who come once, come back again."
When he is not attending classes or performing research in the lab, Ramraj soaks up the history and scenery that surrounds the VCU School of Medicine. Some favorite spots include the Egyptian Building ("It's beautiful to be near"), St. Philip Way ("The tunnel is filled with history of the medical school") and West Hospital ("The view from the 12th floor lounge is beautiful because you can see the James River and beyond").
"There are really cool historically significant areas on the medical school campus that are hidden gems," he says.
Over the next two years, Ramraj looks forward to third-year rotations, Grand Rounds, getting more hands-on instruction, seeing patients and, of course, deciding on a specialty. That process now seems less daunting thanks to the Basil E. Smith Scholarship.
"Receiving the scholarship has changed my life," he says. "It has made a big impact."