For a trio of alumni, a passion for the magic that happens when yeast and fermentation meet grain and grape has helped shape their lives.
The way Matthew Saady sees it, beer is science you can drink. And as a co-owner of Barrel of Monks Brewing in Boca Raton, Fla., Saady, M'94, H'04, has found a way to balance his busy practice in breast-imaging with a lifelong love of the laboratory. For Jacquelyn (Jacque) Hogge, H'94, also a radiologist specializing in breast imaging, a "part-time" venture into winemaking became a success beyond anything she anticipated. And for ophthalmologist Marvin Frank, M'65, and his wife Marsha, curiosity and a sense of adventure led to an early discovery and lifelong love of California wines. For all these alumni of the School of Medicine, a passion for the magic that happens when yeast and fermentation meet grain and grape has helped expand their experience and shape their lives in parallel with their medical careers.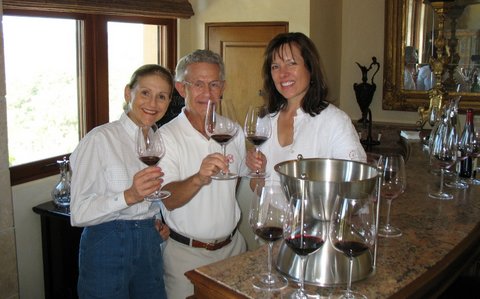 Marvin Frank, M'65 (center), and his wife Marsha (left) with Ann Colgin, a vintner who founded Colgin Cellars in Napa Valley. For years, the Franks would schedule their California trips to coincide with the harvest season, when the smell of the grape must was in the air.
In Vino, Adventure
For the Franks, a first trip to northern California in the mid-1970s introduced the couple to a wine-growing region then largely undiscovered by the rest of the world. In places like Napa and Sonoma that today are bywords for luxe wine-country living, they found instead rolling farmland, fresh food, free-flowing wines and, everywhere, a resolutely casual atmosphere.
"Everything was informal," says Marvin. "Napa city was nothing more than a few rustic homes. You could walk into a restaurant without a reservation, walk into the storeroom where they kept the wines, you picked the wine you wanted and it was yours."
It was the perfect time and place, say the Franks, to nurture a growing interest in wine.
"There were fledgling operations, people literally growing wines in their back yards," says Marsha. Winemakers "were always walking around with their samples, and they would sit down with you and let you try the wine."
They were eager to share knowledge, too, says Marvin. "They always showed you their process of collecting, harvesting, how to handle the pressing, how they left the wine berries sitting and everything that occurred after that."
"Every time we returned to the wine country, we learned that much more," adds Marsha.
They would schedule their trips to coincide with the harvest season, when the smell of the grape must was in the air. The most dedicated winegrowers plucked every cluster by hand, and "you could hear the trucks rolling by 24 hours a day," as the grapes were brought in.
Between visits, Marvin continued to build his knowledge through publications like Wine Spectator. The Franks got on winery mailing lists, and they established relationships with wineries and wines that would go on to develop coveted "cult" status – Harlan, Abreu, Colgin, Turley, and now-famed Screaming Eagle, which practically defined the concept of "cult wine."Many of these wines were otherwise difficult to come by on the East Coast where the Franks lived. "If you came to our house, you were lucky enough to get great wine," says Marsha.Today, the Franks, enjoying retirement in Florida, maintain their interest in wine, but have pared their collection down mostly to Pinot Noir and Chardonnay, and the wineries of Walter Hansell and Peter Michael. For others who may be just discovering an interest in wine, however, they recommend following the same path they did: read, visit, taste, explore and seize every opportunity to learn.
"Educate your palate," advises Marvin. "Wherever you can, go on the tours. Taste. And listen."
"It's a festival atmosphere almost everyday," at Cooper Vinyeards. That has helped Jacquelyn (Jacque) Hogge, H'94, balance the gravity of her work in breast imaging, where patients' lives are at stake."
A Harvest of Success
Jacque Hogge, too, learned everything she could about wine, even when it meant getting elbow-deep in the dirt.
In 1999, in partnership with Jeff Cooper, H'87, and with help from a few friends, she planted the first vines for what would become Cooper Vineyards in Louisa, Virginia. At the time, Virginia was encouraging the development of small wineries that – so the pitch went – two people working together could easily manage on the weekends while maintaining their primary careers. A visit to the Napa vineyard of a California stockbroker who ran his winery on the side helped convince the future business partners.
"We decided that if he could do it, we could do it," says Jacque.And over the next 16 years, they did. Even as both Jacque and Jeff, an ophthalmologist, maintained busy medical careers, Cooper Vineyards grew from those first vines to an award-winning winery with a devoted customer base — and into considerably more than a weekend hobby.They knew almost nothing when they started. The pair took "a lot of courses," says Jacque. She even completed the Introductory Sommelier course. "You have to drink a lot to pass that exam," she says. "You sipped wine all day."After their vines began producing, in 2002 they brought in a professional winemaker, and, soon enough, Jacque and Jeff were promoting their wines at events all over the state. "There was a point when we had 52 events a year," says Jacque.
They also offered tastings straight out of their winery building. "We were there pouring every weekend, and we got a lot of customers out of the personal touch," says Jacque. And their wines – which today range from cabernet and chardonnay to decadent dessert wines – began garnering awards.
In 2011, Jacque and Jeff realized their goal of opening their own custom-designed tasting room, an environmentally friendly building with soaring glass walls overlooking the vineyard grounds.
"Since then, the business has taken off," says Jacque. "It's packed every weekend."
With that success, though, came the realization that "we couldn't manage it on the side and keep our real jobs," says Jacque. This summer, a new owner stepped in, offering Jacque the luxury of time off "after working every single day for 16 years."
What she has loved about her years with Cooper Vineyards is all the people she has met, particularly the long-term customers and the fellow winemakers.
And the winery, where "it's a festival atmosphere every day," has helped balance the gravity of her work
in breast imaging, where patients' lives sometimes hang in the balance.
She's deeply satisfied, too, with all that Cooper Vineyards has become. "We wanted to grow the business and to produce good wine that people enjoy," she says. "We really met our goals."
Radiologist Matthew Saady, M'94, H'04, moonlights as a sort of laboratory scientist. He's a co-owner at Barrel of Monks Brewing, which is producing 15 variations of Belgian-style beer in its first year of operation.
Brewing Up Balance
A light-hearted spirit informs Matthew Saady's Barrel of Monks Brewing, too, where the motto is "serious beers for those who don't take themselves too seriously."
"We are incredibly serious about what we do here," says Matthew Saady, "and we are pretty geeky about it." But, he adds, "It is supposed to be fun. We are making something that we like and that people like to drink."
Like Jacque Hogge, Matthew — whose brewing partners include a fellow radiologist — appreciates the contrast that atmosphere provides to medical practice. "We have other jobs that in some cases are life and death," he says. But at the brewery, "If worst comes to worst, we do a bad job, we make a bad beer, we just dump it down the drain. But no one gets hurt."Matthew, who anticipated becoming a research scientist before eventually deciding on medicine, has been interested in beer-making as science since he and a fellow chemistry major did some basement brewing during their undergraduate days at the University of Virginia. After joining Boca Radiology Group, Matthew found himself once again homebrewing, this time on the back patio of radiology partner and future Barrel of Monks co-owner Bill McFee, M.D.Their focus was Belgian-style beer, and even in that informal setting, "We were very particular about the chemistry. I brought that expertise to the table, cell culture and yeast growth and so forth — yeast is of primary importance particularly in Belgian beer."
Their enthusiasm soon outgrew Bill's patio; this past March, Barrel of Monks held its grand opening, with a custom-designed brew house, sophisticated lab equipment and processes, a beautiful tasting room and an anticipated first-year's production of as much as 35,000 gallons and 15 variations of Belgian-style beer.
"Both Bill and I have a tendency to overdo it," Matthew admits. "This is full-in."
At the brewery, Matthew continues to play the role of the laboratory scientist, working particularly with the yeast cultures that are essential to the flavor profiles of the different beers. And his Monks work, far from wearing him out with its demands, has brought a satisfying balance to his days. "It's probably a bit more consuming than we intended," he admits. "Sometimes, yes, I find myself wondering, 'What have I gotten into?'"
Still, he says, it's satisfying to have a creative outlet beyond his medical practice. "I didn't have to be a one-trick pony," he says. "I am proud to make these beers."