Could scholarships and targeted preceptorships address the physician shortage?
"Go where the need is."
This story first appeared in the fall 2017 issue of the medical school's alumni magazine, 12th & Marshall. You can flip through the whole issue online.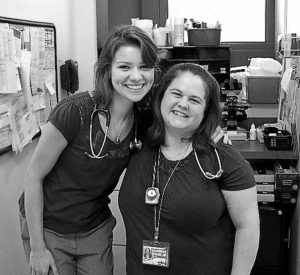 Katherine Mullins, M'07 (right), with one of her students in Memphis, Tennessee, where Mullins provides care to inner-city underserved patients.
That's the motto of Katherine Mullins, M'07, and what led her to Memphis, Tennessee, a city where she says, "the need is all around me." Mullins arrived in Memphis post-residency to provide primary care to inner-city, underserved patients who otherwise wouldn't have access to medical services. Patients like "Mama Amina," a Somalian refugee whose first time in an American doctor's office was at the clinic where Mullins worked. Over the next six months, Mullins diagnosed her with a foot deformity, thyroid cancer and heart failure.
It's the kind of work that Mullins, a self-described "relationship-driven" physician, feels called to do. And thanks to the full-tuition scholarship she received while in medical school, she can make caring for Memphis' neediest patients her top priority without worrying about repaying student debt.
"It has been an incredible factor in my life," says Mullins, who held the Harry and Harriet Grandis Scholarship for four years.
Privately endowed and housed at the MCV Foundation, the Grandis Scholarship Fund was the medical school's first full-tuition scholarship. Mullins says the scholarship allowed her to take a position that paid "significantly less" than other career paths.
"Many of my colleagues have had to make decisions based on salary," Mullins says. "I was free to make choices based on what was the right decision for myself to follow a path to serve others who are in need of compassionate medical care."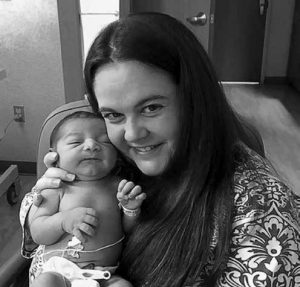 Katherine Mullins, M'07, works in a clinic offering free prenatal care. "These were women who would simply show up at the hospital and deliver."
She points out that many of her classmates still carry as much as $100,000 of debt — even a decade after graduation. In the Class of 2017, only 39 students graduated debt-free. The rest carried an average debt of more than $190,000.
This is troubling news to Mark Ryan, M'00, H'03, associate professor, VCU Department of Family Medicine and Population Health. He's noted that the burden of medical school debt plays a defining role in the number of medical students who choose a primary care specialty.
"Primary care doctors are paid 60 to 70 percent of an average specialist's salary," he explains. "Every year that salary separation grows, our family medicine matches slow; when it narrows, family medicine matches rise. It's a near two-decade long trend." By 2030, the U.S. could see a shortfall of as many as 43,100 primary care physicians, according to the latest research from the Association of American Medical Colleges. That's not even taking into account the doctors who are already needed to treat patients in medically underserved areas. Meeting their needs would require even more doctors, bringing the shortfall closer to 100,000 physicians — with nearly three-quarters of those doctors needed in urban areas.
The medical school is doing its part to answer the call through the International/Inner City/Rural Preceptorship, a four-year program for students who declare an interest in and commitment to working with medically underserved populations in urban, rural or international settings. Ryan serves as the I2CRP's medical director and says the program's goal is to increase the number of students selecting primary care careers with a focus on underserved communities.
A recent study reveals the program has done just that. Yeri Park, M'17, conducted research showing I2CRP graduates are more likely to match to primary care specialties than their classmates — 79 percent compared to 44 percent. She presented her findings at the 2017 Society of Teachers of Family Medicine Conference on Medical Student Education in Anaheim, California. She was one of 20 students across the country chosen for a national scholarship award to attend the conference.
"From the time the program's first participants graduated in 2000 to 2016, about 37 percent of I2CRP graduates entered family medicine compared to 10 percent for graduates across the medical school," says Park, now in family medicine residency training at Greater Lawrence Family Health Center in Massachusetts. "In other primary care fields, 14 percent of I2CRP graduates went into pediatrics compared to 10 percent of all graduates and 4 percent compared to 2 percent for med/peds."
The research also showed that of the I2CRP graduates who have completed residency training, 36 percent are working in medically underserved areas and/or health professional shortage areas.
"We think that's a robust number," Ryan says. If medical schools nationwide put up similar numbers, he adds, a workforce shortage in underserved areas likely wouldn't exist.
As I2CRP enters its 20th year, program director Mary Lee Magee says next steps include working to understand physicians' long-term investment in primary care. "We know our graduates are out there carrying forward their vision to make a difference,"
she says. "We'd like to know more about what makes it possible to sustain this important and challenging work for the long run."
Yet a program like I2CRP can't completely solve the looming physician shortage. While Park had dreamed of pursuing family medicine since she was a young girl, at times she worried about the financial implications of her career path. Even as a recipient of multiple scholarships during her medical school career, the partial scholarships did not fully fund her tuition and fees.
"Financial hardship was always on my mind at the beginning of each school year," Park says. "Knowing that I wanted to pursue primary care, this was a constant conversation between myself and my colleagues — whether I would still be happy with my choice still being in debt many years post-residency."
Of course, graduates who choose primary care are not the only ones who face a heavy burden of debt. And so, to help recruit and reward deserving students, the medical school launched the 1838 Campaign with the goal of providing meaningful scholarship support for students, regardless of what specialty they pursue.
The $25 million campaign will build the medical school's scholarship endowment into a resource on par with peer schools.
Already since the 1838 Campaign's launch, donors have made gifts creating or expanding more than 50 scholarships. In accord with the donors' wishes, those scholarships carry a variety of award criteria such as supporting students with financial need, students who have experienced adversity or students who are headed into primary care or another field.
"If medical students are making decisions about the future based on debt, they are not going to choose primary care," Mullins says. "Having scholarships available for people interested in primary care gives them that option — that freedom to choose otherwise."
The gift of a scholarship not only benefits students and future physicians. It could be the difference in the lives of future patients as well.
Earlier this year in Memphis, Mullins began working in a clinic offering free prenatal care to women who previously had little or no access to medical care. "These were women who would simply show up at the hospital and deliver," she says.
Now Mullins provides concentrated care over nine months, building relationships with women who face additional challenges such as domestic violence and other situations that may have gone unnoticed during a brief hospital stay.
"We get a chance to really see what they need and find resources for them," Mullins says. "Getting to know them, what they're going through, the things that they have on their mind — that's my favorite thing about family medicine. Those longstanding relationships. Patients open up their lives."
A scholarship made it possible for Mullins to go where the need is and, she says, "I'm exactly where I'm supposed to be."
By Polly Roberts
WANT TO HAVE AN IMPACT?
1 – Recruit top students.
2 – Reward student excellence.
3 – Reduce the burden of debt.
Those are the goals of the $25 million 1838 Campaign to build the medical school's scholarship endowment into a resource on par with our peers.
For the campaign's inaugural 1838 Fund scholar, it means even more. "It allows me to continue to follow my dream," says the Class of 2019's Jessica Mace.
ONE SCHOLARSHIP, A LIFE CHANGED
The 1838 Fund is an endowed scholarship established from the pooled resources of the
medical school's alumni and friends. This and other endowed scholarships exist in perpetuity and provide annual tuition support for deserving students. The school encourages gifts of $25,000 and up to the endowment.
Named endowments are established with gifts of $50,000 or more and housed at the MCV Foundation. An endowed scholarship carries the name of its creator or the name of an honoree the donor chooses. Full- and half-tuition scholarships are most urgently needed and are created with a commitment of $750,000 or $375,000.
—
Learn more at 1838 Scholarship Campaign.