Distinguished transplant surgeon Francis Delmonico, H'78, helps lead global fight against human-organ trafficking for profit.
In 1957, the Medical College of Virginia's legendary "restless genius," David Hume, M.D., performed the first organ transplant in Virginia – a kidney donated between twins. Hume's pioneering work in transplant medicine helped usher in a new era of hope for patients and laid the foundation for what today is VCU Health's Hume-Lee Transplant Center, named in honor of Hume and his colleague and longtime chief of transplantation for the medical center, H.M. Lee, H'61.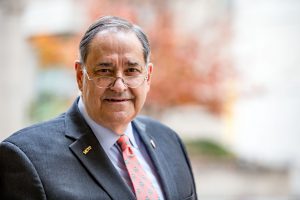 Francis Delmonico, H'78, has been called both a respected elder statesman as well as a respected trailblazer. "No other transplant professional has done so much or worked so hard to insist on fair and ethical treatment of the live-organ donor and ethical use of the donated organ." Photo Credit: Skip Rowland
Yet the medical breakthroughs that made organ transplantation possible also inadvertently spawned a darker legacy. Worldwide, the need for human organs for transplant – particularly kidneys – greatly exceeds the number that become available each year from living and deceased donors; in the U.S. alone, more than 100,000 people on the organ-transplant waiting list need a kidney. This stark disparity, coupled with the fact that kidneys can be taken from living donors, has fueled the rise in a lucrative international black market – the trafficking of human organs for profit.
During a December 2017 weekend celebrating the 60th anniversary of the Hume-Lee Transplant Center, Francis Delmonico, H'78, presented a keynote address on organ trafficking and the international effort – in which he's played a leadership role – to fight it.
Organ trafficking is a complex global business and a "microcosm of social dysfunction," said Delmonico. At one end of the transaction are people with money and the need for an organ. At the other end are the impoverished and vulnerable – migrants seeking passage to Europe, persecuted minorities, individuals ensnared in human-trafficking. The traffickers lure donors with promises of money, jobs or other opportunities, and sell the organs for amounts that can exceed $200,000 for a kidney. "Transplant tourism" results when recipients travel to another country for the surgery.
"The levels of corruption get so disgraceful that it staggers you," said Delmonico, "but it is all about money."
In some cases donors in desperate need actively seek to sell a kidney. In other cases, donors are solicited with sometimes false or misleading information. And in even more horrifying situations, unwitting victims have been imprisoned or held captive and forced to submit to kidney removal. The fate of these donors is often unknown, but some have shared stories of promised payments that never come, of failing health, of being unable to work anymore.
Recipients too are vulnerable. They may be extorted for an ever-increasing fee, may receive a compromised or even non-functioning organ, may be provided with inadequate care, and sometimes suffer serious medical complications or even death.
In his presentation, Delmonico outlined this portrait of human misery exploited for profit and spoke of how he came to be involved in the fight against organ trafficking. His inspiration, he said, reaches back to his days among one of the last cohorts of residents to study under Hume before the physician's untimely death in a plane crash. The exacting, patient-focused training Delmonico received under Hume, Lee and the other surgeons here, he said, set the standard he has practiced through his own long and distinguished surgical career at Massachusetts General Hospital, where he continues to serve as emeritus director of transplantation and as professor of surgery for Harvard Medical School.
Delmonico's prominence and accomplishments in his field led in 2005 to his election as president of UNOS (the United Network for Organ Sharing), which manages the organ-transplant system in the United States. A year later in 2006, he was appointed as advisor to the World Health Organization (WHO) on transplantation matters and accepted the position of director of medical affairs for the international Transplantation Society.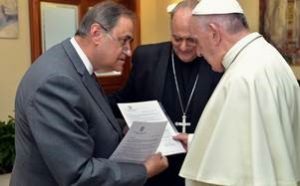 In 2016, Francis Delmonico, H'78, was appointed by Pope Francis to the Pontifical Academy of Sciences, which last year held a summit calling on the world to repudiate the practices of organ trafficking and human trafficking for organ removal and to promote ethical principles of transplantation.
In 2004, the WHO had called on its member states to address the problem of international organ trafficking and transplant tourism. For his leadership role in the transplant community, Delmonico travelled all over the world, in collaboration with the WHO, to gather a deep understanding of the problem. What he saw was profoundly disturbing, intolerable for a surgeon whose principles were shaped by the pioneers under whom he had learned during his residency.
"There is a regard for the nobility and science of organ transplantation derived from Dr. Hume," said Delmonico, "that must not be prostituted by organ sales."
In 2008, Delmonico was instrumental in helping convene an international gathering – the Istanbul Summit – where more than 150 medical leaders, scientists, public-policy experts, ethicists, legal scholars and others together worked to draft what would become known as the Declaration of Istanbul. The landmark statement called for all countries to establish a "legal and professional framework" for organ donation and transplantation that safeguards donors and recipients, enforces standards and prohibits unethical practices, including the financial exploitation of donors through buying and selling organs.
Delmonico continues to serve as senior advisor to the volunteer Declaration of Istanbul Custodian Group to promote, implement and uphold the Declaration across the globe. More recently, in 2016, Delmonico was appointed by Pope Francis to the Pontifical Academy of Sciences, which this past year held its own summit, calling organ trafficking and human trafficking for organ removal "crimes against humanity" and calling on the world to repudiate these practices and promote ethical principles of transplantation.
By Caroline Kettlewell
A "respected trailblazer": Francis Delmonico, H'78
In 1971, Francis Delmonico came to Richmond to begin his residency in surgery, aspiring to a career in the still-young field of organ transplantation. More than 45 years later, he still recalls with appreciation the qualities of the surgeons who trained him, like H.M. Lee, H'61, ("a great teacher"), B.W. Haynes, H'46, ("so exhilarating to watch"), and the legendary chairman of the Department of Surgery, David Hume, M.D., who, Delmonico remembers, was unpretentious enough to repair a shoe by wrapping it in tape, but exacting and unyielding in what he expected of his residents.
At the Hume-Lee Transplant Center's 60th Anniversary, Francis Delmonico, H'78, reunited with Kyung Ok C. Lee, M.D., the widow of transplant pioneer H.M. Lee, M.D., for whom the center is named. Photo Credit: Kevin Morley
When Hume died at the end of Delmonico's second year, though, the young resident's future was thrown into uncertainty. Delmonico had been slated to complete a research fellowship in transplantation under Hume's direction, but now, "There was no guarantee that there would be the opportunity," says Delmonico.
Fortunately, a place was found for Delmonico at Massachusetts General Hospital both to participate in research and to continue clinical service. He took with him the standards of excellence in which he'd trained in Richmond; "I knew how to take care of patients," says Delmonico.
After two years in Boston, Delmonico returned to Richmond to complete his residency, serving the final year as chief resident. But the professional relationship formed with the chief of surgery while in Boston would lead to him being invited back to join the staff at Massachusetts General.
Delmonico practiced surgery at Massachusetts General until 2005, achieving an impressive list of accomplishments and earning broad recognition, including the National Kidney Foundation's David M. Hume Award for exemplifying "high ideals of scholarship and humanitarianism."
"He truly is both a respected elder statesman as well as a respected trailblazer," notes Marlon Levy, M.D., chair of the Division of Transplant Surgery and director of the VCU Hume-Lee Transplant Center. "No other transplant professional has done so much or worked so hard to insist on fair and ethical treatment of the live-organ donor and ethical use of the donated organ."
By Caroline Kettlewell