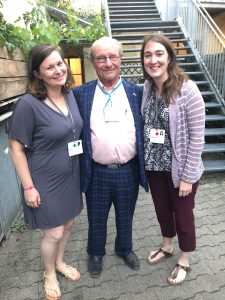 M.D.-Ph.D student Chelsea Cockburn (left) and Ph.D. candidate Katie Schwienteck (right) with Nobel Laureate Walter Gilbert, Ph.D., at the 68th Lindau Nobel Laureate Meeting in Lindau, Germany.
Katie Schwienteck set a goal several years ago to one day attend the Lindau Nobel Laureate Meeting in Lindau, Germany.
"I had heard how wonderful it was," she says. "I thought it would be an awesome experience. As it turns out, it most definitely was."
A Ph.D. candidate in the medical school's Pharmacology and Toxicology Department who's already earned an advanced degree from the School of Pharmacy, Schwienteck, Pharm.D., was one of two students from the School of Medicine to be selected to attend this year's event. Dedicated to physiology and medicine, the 68th Lindau Nobel Laureate Meeting was held in June.
"It was a once-in-a-lifetime opportunity," says M.D.-Ph.D. student Chelsea Cockburn, who also was selected to attend. "Just to meet all the laureates and hear their stories was incredible."
Schwienteck and Cockburn were among 600 international students from 84 countries. Only 30 were from the U.S.
"I think that speaks highly of our graduate trainees," says Mike Grotewiel, Ph.D., associate dean for graduate education in the School of Medicine. "There is no other gathering that comes close to this one, so this is extremely special for these students. We are very proud of them."
The annual summer meeting gathered an all-time record 43 Nobel Laureates. They presented lectures on their scientific research, broke into smaller groups to discuss topics such as science diplomacy and careers in biomedical research and took students on "science walks" for more casual conversations.
"These Laureates are considered celebrities," Cockburn says. "What was wonderful is how normal they really are and how willing they are to sit down with young scientists."
Cockburn took a science walk with Nobel Laureate Randy Schekman, Ph.D., and the two discussed publishing scientific research. He stressed the importance of the quality of the research, not the size and prestige of a particular journal.
"It was really cool to get his perspective," Cockburn says. "It should all be about the quality of your work, about good science."
Cockburn, who earned a bachelor's degree in biology from James Madison University, is on track to complete her Ph.D. in microbiology and immunology along with her M.D. in 2021. She plans to focus her career on infectious diseases and global health.
"Going to Germany really rejuvenated me," she says. "As great as it was meeting the Laureates, getting to meet other young scientists from around the world was also invaluable. These people will be my future colleagues. They already are becoming my friends."
Students exchanged ideas and discussed how medicine is practiced in their home country. They brainstormed solutions to roadblocks they face in their own research.
"You need diverse backgrounds, ideas and thought processes to produce the best science," Cockburn says. "I think we sometimes forget that because we get caught up in our own bubble. But collaboration is so important."
Schwienteck, who holds a bachelor's degree in neuroscience from the University of Pittsburgh, also bonded with other young scientists while in Germany.
"There are so many dedicated people out there doing remarkable work," she says. "It's not just about what I'm doing."
Schwienteck's research is focused on studying potential treatments for opioid substance use disorder in the lab of Matthew Banks, Ph.D. Her science walk with Nobel Laureate Robert Lefkowitz, M.D., was perfect timing.
"I'm studying drugs that he helped develop," she says. "That was pretty cool. He offered me very good advice related to career planning."
Because of that advice, Schwienteck now plans to pursue a post-doctorate after completing her Ph.D. next year.
"Never be afraid to take risks because it is OK to fail," she says. "It was so reassuring to hear how even Nobel Prize winners faced their own failures along the way."
The key is to never stop trying.
"One common theme at the meeting was to never make winning a Nobel Prize the goal of your career," Cockburn says. "Do what you love that will benefit humanity. That is more important than any award."
By Janet Showalter