Bob Dylan's classic "The Times They Are A-Changin'" resonates with Larry Schlesinger, M'71 — so much so the lyrics are on a plaque outside his office to remind him how far he has come.
The last student accepted to the Medical College of Virginia's Class of 1971, Schlesinger graduated tied for first. He credits former admissions dean Miles Hench, Ph.D., for taking a chance on him and, in 2001, Schlesinger endowed a scholarship in Hench's name.
Today, the scholarship is awarded to the last student admitted to the incoming medical school class each year.
"Miles Hench took the least likely person to finish medical school and gave him a chance, and it turns out, this guy did a decent job," says Schlesinger, who has owned a plastic surgery practice for more than 25 years. "I felt like the most important thing I could do for future students is say 'every one of you is important.' The last person is lucky enough to be ahead of thousands and thousands of applicants who will never help people die with grace or deliver babies."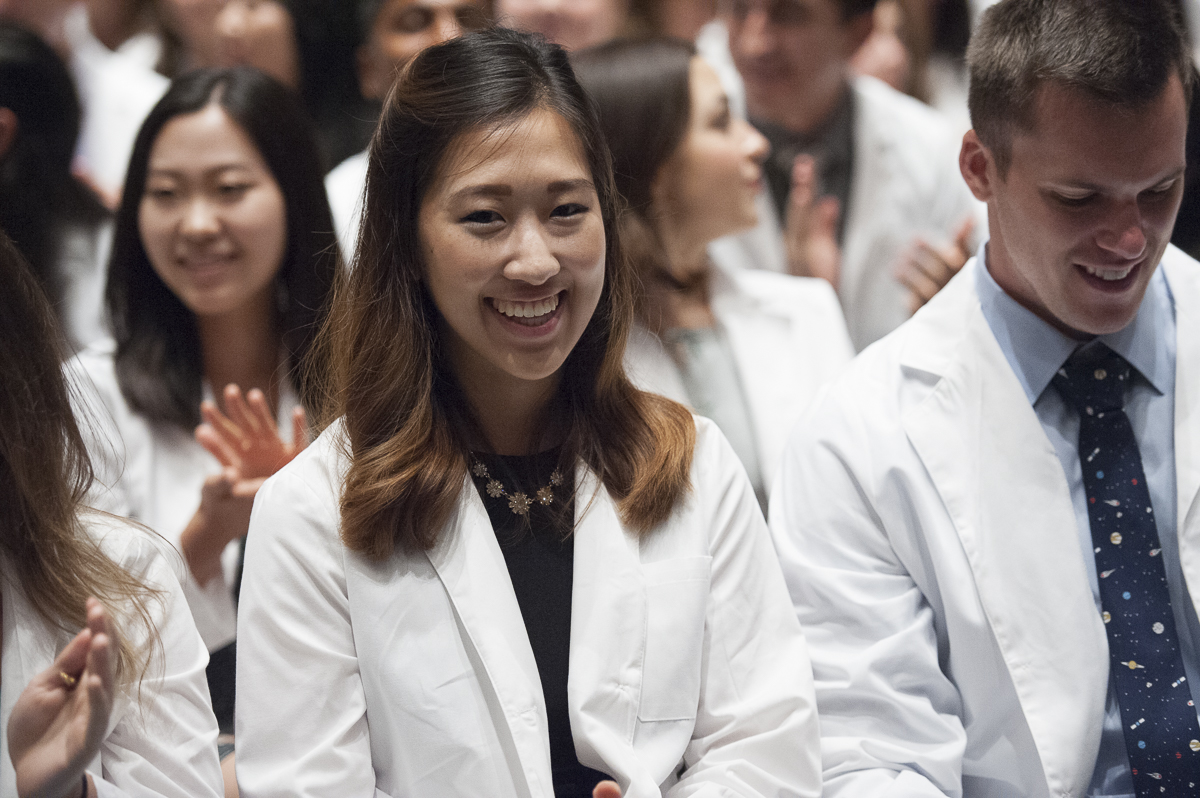 The Class of 2022's Joanna Choi, the 2018 recipient of the Dr. Miles Hench Scholarship. "Being informed that I was the recipient was incredibly overwhelming and emotional as I was just thankful to be standing at VCU."
The Class of 2022's Joanna Choi received the Hench Scholarship in 2018.
"Being informed that I was the recipient was incredibly overwhelming and emotional as I was just thankful to be standing at VCU," she says. "It's a story of grace upon grace."
One week prior, she was at a farewell dinner with friends in Northern Virginia as she prepared to move to Iowa for medical school. Then her phone rang.
"I saw the area code and thought, 'if that was VCU, that would be a miracle,'" she says. "As soon as I said 'yes,' everything seemed to blur as I was standing in the restaurant in disbelief. I would imagine it's like a marriage proposal. After I said yes, everything went fuzzy."
On the first day of orientation, after roll call in the Egyptian Building, Choi called Schlesinger to express her gratitude. The conversation is a tradition for Hench Scholarship recipients.
"I want to congratulate them and let them know there's no reason the last can't be the first," Schlesinger says. "No one is better than them."
It's the type of encouragement Hench would have echoed as well.
"My father was very pleased with the scholarship," says his daughter, Carol Valentine. "The fact that he knew about it before he passed makes it mean even more. It's a wonderful thing to see it continue. We're so very grateful."
Each summer, Schlesinger adds to the fund with an additional gift, and he also has included a $100,000 bequest in his will to further grow the Hench Scholarship. Moreover, he has earmarked a $1 million bequest for the VCU Division of Plastic and Reconstructive Surgery.
"It was the right thing to do to give back to my specialty," says Schlesinger, who returns to the MCV Campus from his home in Hawaii every five years for Reunion Weekend and to serve as a guest lecturer in plastic surgery. "My 'aloha' for MCV has no bounds. I wish I could do more."
Electing to make both outright and planned gifts to the School of Medicine gave Schlesinger the opportunity to support today's students while also supporting the long-term growth and success in his chosen division.
Fans of Miles Hench, Ph.D., can make a gift to the Dr. Miles Hench Scholarship or the School of Medicine. Visit support.vcu.edu/medicine or call (804) 828-4800 to learn more about your options.
"Blended gifts are a creative way for alumni and donors to make an impact with a gift today and also provide for the future by establishing a planned gift in your will, trust or by naming the medical school as a beneficiary of a retirement plan or life insurance policy," says Brian Thomas, vice president and chief development officer at the MCV Foundation. "These gifts can be transformational for alumni like Dr. Schlesinger who want to see the results of their giving during their lifetime and who, at the same time, want to leave building blocks for the future."
Blended gifts are one way to support the School of Medicine's 1838 Campaign, which aims to increase the number and size of scholarships to students. Full- and half-tuition scholarships, created with a commitment of $750,000 or $375,000, respectively, are most urgently needed and serve as one of the medical school's best resources for recruiting and rewarding top students.
The MCV Foundation houses the medical school's endowment funds and offers planned giving expertise to our alumni and donors. If you want to begin a conversation about how to make a blended gift, please call Brian Thomas at (804) 828-0067. If you are already speaking with a representative from the School of Medicine about making a gift, please let them know you've seen this article and would like more information.