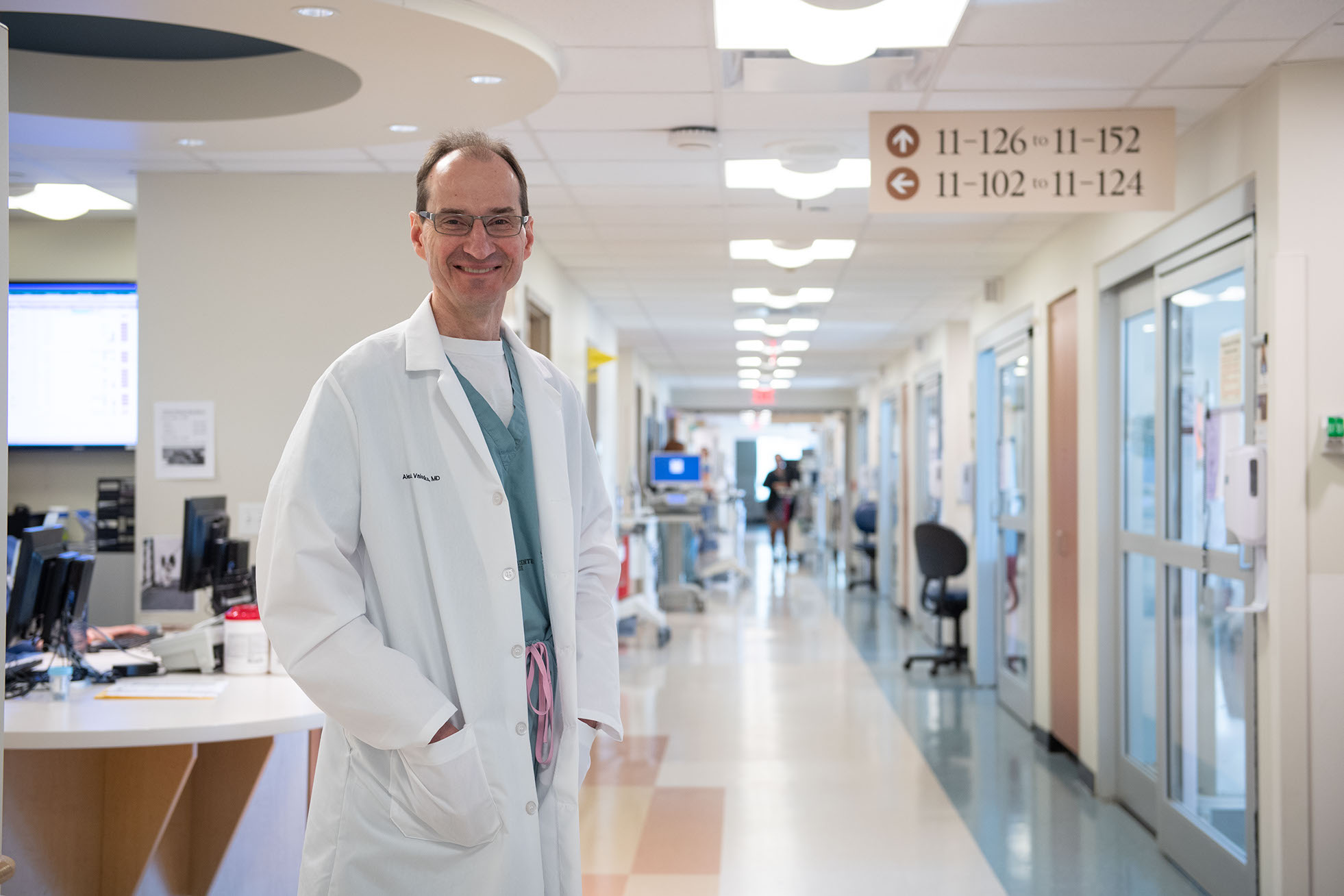 Alex B. Valadka, M.D., H'93
Academic medicine has a long-held commitment to its "triple threat," three key roles believed to embody a successful professional within its ranks: clinician, educator and researcher.
At the School of Medicine's Department of Neurosurgery, there's a new spin on that concept. The department's chair, Alex B. Valadka, M.D., H'93, has conceived what he calls a new triple threat, three qualities that complement the originals.
As the MCV Campus commemorates 100 years in the ever-evolving field of neurosurgery – and looks forward to a second century that promises to be equally rife with challenge and opportunity – those qualities are particularly salient: administration, advocacy and altruism.
From the operating room to the boardroom to the baseball diamond, Valadka is a triple threat in his own right, and he's taking those values – and the department he chairs – along with him into the future of neurosurgery.
"Giving back, and giving back to your alma mater – and for me that's VCU – is something you have to do to keep you whole," Valadka says. "Once you realize that, the ways to do it are limitless."
Administration
Valadka's commitment to leadership was evident in his days as a resident on the MCV Campus, where he completed training in 1993. Even then, Harold Young, M.D., who oversaw the Department of Neurosurgery for 30 years before handing the reins to Valadka, saw the resident's potential.
"A good doctor takes care of the disease," Young says. "A great doctor takes care of the person. That is Alex. He's a wonderful person and he became a master surgeon."
Kathryn Holloway, M.D., H'90, who served as chief resident during Valadka's residency, had a similar recollection – and a pithy summation of what set Valadka apart.
"He was wicked smart," she says. "He knew not only neurosurgery but general medicine. He was always available to help out his partners. There was no such thing as intensivists back then, so we had to make decisions on ventilators or the best antibiotics. He was always the best resource with those kinds of questions."
Young knows as much as anyone what it takes to succeed in the challenging, ever-changing world of neurosurgery. So influential on campus and in his field that the Harold F. Young Neurosurgical Center at VCU Health bears his name, Young observed key leadership qualities in Valadka.
"He's a very fair, kind, compassionate leader," Young says. "I've never seen him raise his voice. He's always thoughtful, logical. He knows where to point leadership's flashlight."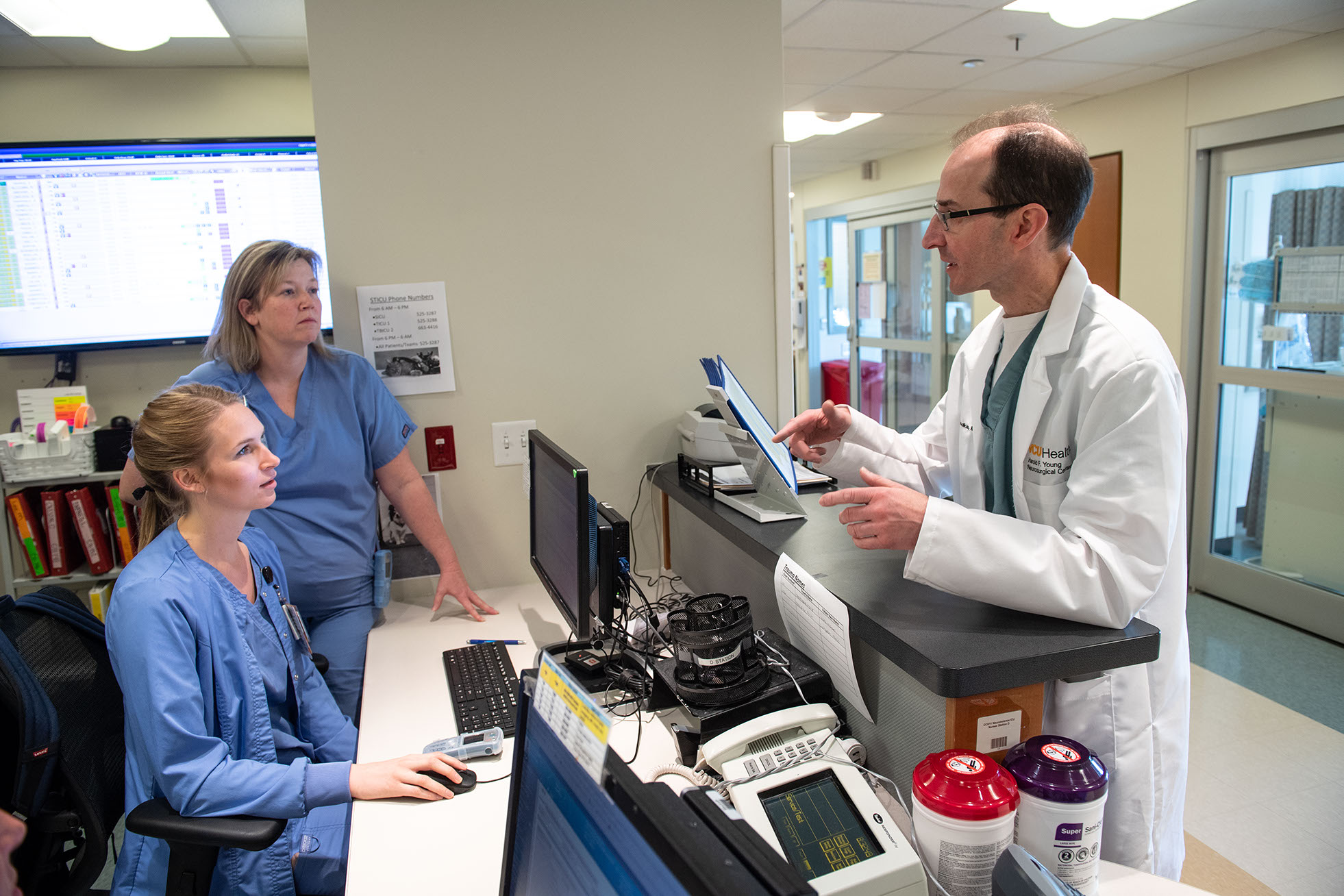 In the Intensive Care Unit, Valadka is known for a collaborative spirit, forming partnerships with nurses and other care team members to improve the quality of care and facilitate future studies.
Thanks to Young, the department was in good shape when Valadka returned to the MCV Campus after serving as chair and chief executive officer of the Seton Brain and Spine Institute in Austin, Texas. Under Young's watch, the Department of Neurosurgery had grown into one of the nation's leading head-trauma programs, generating more than $25 million in sponsored research from the National Institutes of Health.
It's a legacy Young says Valadka has advanced in his relatively new tenure as chair, now in its fourth year.
"More people recognize the excellence of VCU's Department of Neurosurgery. It's helping to carry VCU's flag," Young says. "Before we were more of a well-kept local secret. Now Alex has given us much more national and international recognition."
That style of leadership permeates the walls of the operating room, where Valadka is known for a collaborative spirit. In the Intensive Care Unit as well Valadka has formed partnerships with nurses and other care team members to improve the quality of care and facilitate future studies.
"He always got along with the nurses and everyone else," Holloway says. "He married a nurse. What else do you need to know?"
Advocacy
Several national roles have helped Valadka raise the profile of the Department of Neurosurgery. He has embraced service in a variety of professional organizations, and those positions offer strong opportunities for advocacy.
"He has really put VCU back on the map in terms of leadership at national organizations for neurosurgery," Holloway says.
Valadka is currently past president of the American Association of Neurological Surgeons. He is a director of the American Board of Neurological Surgery and deputy editor of the high-impact Journal of Neurotrauma, for which School of Medicine's longtime Anatomy and Neurobiology Chair John T. Povlishock, Ph.D., is editor-in-chief. Valadka has served as investigator or co-investigator on 18 research grants, including as initiating investigator on a $33.7 million U.S. Department of Defense research consortium on mild traumatic brain injury.
The advocacy role that catches the general public's attention, however, is his involvement with Major League Baseball. Concern over brain trauma has steadily grown in recent years, particularly in the context of athletic competition. Valadka, as the consultant to MLB on traumatic brain injury, helped institute major rules changes including mandatory neuropsychological testing, new evaluation protocols for players and umpires, and a seven-day disabled list (now called injured list) designed to prevent players from returning to action prematurely following a concussion.
"I believe that Major League Baseball is taking a major step forward on a vital shared goal with the MLB Players Association," Allan "Bud" Selig, who was MLB's commissioner at the time of the rules changes, said in a statement. "This policy, which reflects the collective expertise of many of the foremost authorities in the field, will benefit players, umpires and clubs alike, and I am proud of the spirit of cooperation that has led us to this result."
These changes, Valadka says, have the power to make baseball safer not only for MLB but for leagues and players at all levels.
"The changes made a big impact on player safety," Valadka says. "And that goes for the majors and the minors and everyone else." He and his collaborators have begun publishing the outcomes of these changes in medical journals.
As with other corners of society, technology has shaped the field of neurosurgery. Futuristic-sounding advances such as brain-computer interfaces are no longer so futuristic at all. However, without a commitment to the patient, such changes are not ultimately as effective as they might otherwise be. That's one area where Valadka views himself as an advocate.
"Certainly the department has evolved and adapted with technology advancement in subspecialty areas like movement disorders, cerebrovascular care and pediatrics. We've kept up with and even led some of those changes," Valadka says. "What has changed the most is advancements in technology that have made it all so much easier. Years ago, we'd treat head trauma in someone working on a farm or a traffic accident, but we didn't understand the big picture. Now technology has given us a greater sense of what's going on with the patient."
Altruism
As critical as it is to adapt to and lead evolutions in care delivery, and to advocate for patients and science, equally important to Valadka is the idea of service.
"He really cares," Young says, "about service to patients, people and to the university. He doesn't think about himself or focus on himself. He thinks about patients and the staff. His altruism protects him and those around him from becoming cynics."
In delivering his 2018 Presidential Address to the AANS, Valadka detailed the rewards – and challenges – of the neurosurgery profession.
"We are blessed to be able to practice neurosurgery," Valadka said in his speech. "But it is often far too easy for us to get worn down by the hassles of daily life … . Despite these hassles, or perhaps because of them, it is important that we come up for air every once in a while and appreciate the wonder of what we do. We relieve pain and restore function. We give our patients the opportunity to reclaim their lives."
In Valadka's view, altruism can have a practical effect in the day-to-day world of neurosurgery and beyond.
"Heeding the call of service may help to combat burnout, which has emerged as a huge problem for those in the medical field, as well as for the medical care system as a whole," Valadka said in his address. "Recommendations about preventing burnout emphasize the importance of volunteering, of serving, of looking outward."
In bringing together the qualities of administration, advocacy and altruism, Valadka says the new triple threat helps address challenges in a tumultuous – but endlessly promising – era in neurosurgery overall and in the Department of Neurosurgery he leads.
"Service is the core of our profession and of our humanity," Valadka says. "We as individuals and as a profession need to embrace the idea of a new triple threat, someone who excels as an administrator, advocate, and altruist. … A mindset focused on service to others is a type of activity that flows continuously and is always humming in the background of a well-ordered life. Seen in this context, the costs of service are miniscule compared to its benefits."