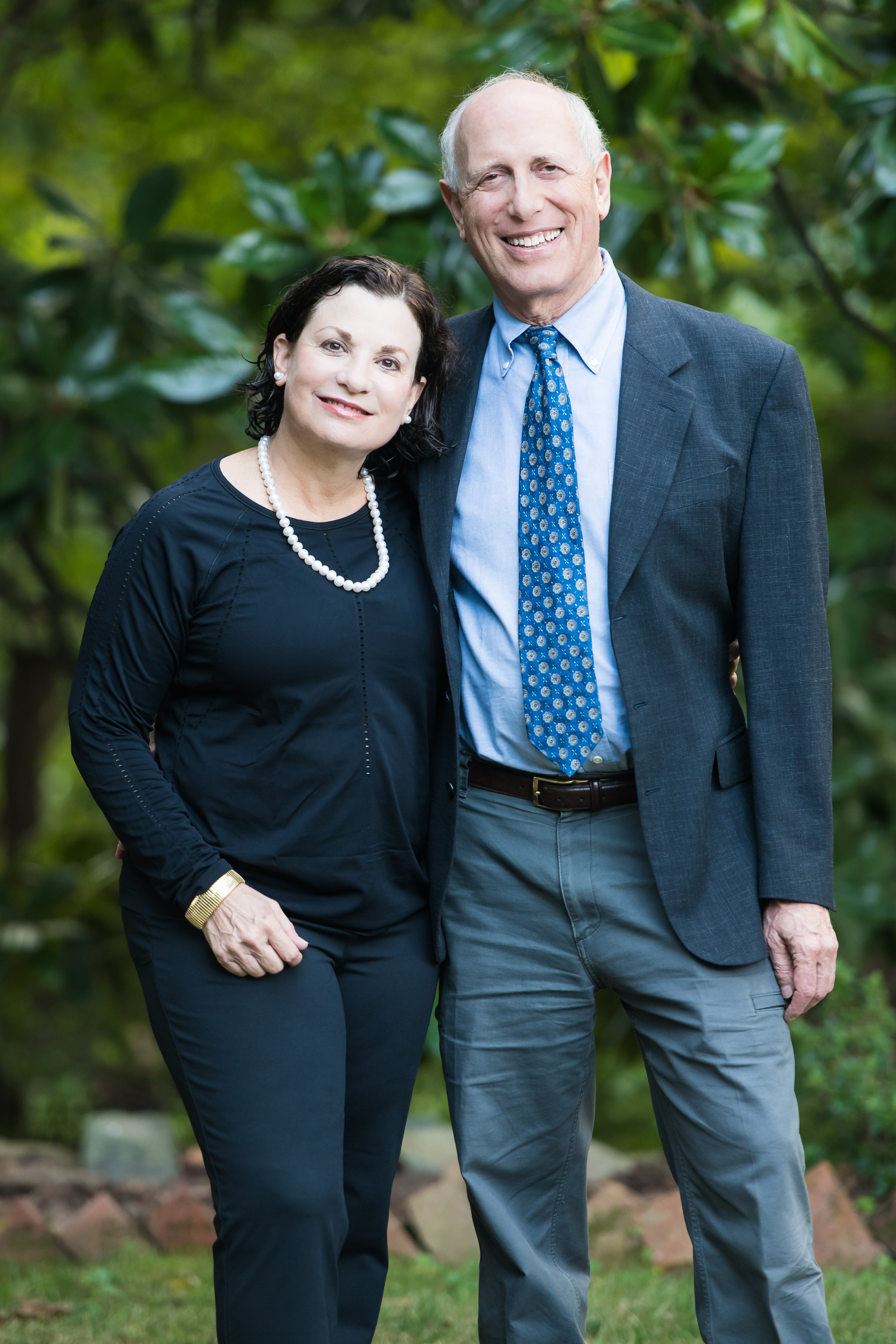 Annie and David Greenblum, M'76, established a charitable gift annuity that will ultimately provide scholarships to future psychiatrists. Photography by Ashley Hoffmann/Ashley Michelle Photography
In the spring of 1976, a scholarship award gave fourth-year medical student David Greenblum the extra pluck of encouragement he needed as he prepared to embark on a career in psychiatry.
"The award was given to the top psychiatric students on the MCV Campus," Greenblum says. "To be recognized and receive a small cash award made a world of difference to me, as someone who didn't have a lot of money. It let me know people truly appreciated my hard work and wanted to give me that extra boost to succeed."
Greenblum always remembered how the award inspired confidence when he needed it most, and he resolved to give back to his specialty and the MCV Campus. He and his wife, Annie, made plans to include the MCV Foundation in their will.
However, when the couple met with the School of Medicine's Amy Lane, Ph.D., in the Office of Alumni and Development, they learned about the benefits of charitable gift annuities and soon changed course. In 2014, they established a charitable gift annuity at the MCV Foundation that will be used to create a medical student scholarship for the two highest scoring fourth-year students who match in psychiatry.
"I've been on board since David suggested we do this," says Annie, who holds a master's degree in social work. "With my background in mental health and with mental illness so prevalent in our society, it's of the utmost importance to support those who are also wishing to go in this direction. We're hoping this money will make the recipients' lives a little easier during their time in medical school. This way they may not have to worry about the burden of accumulating debt that is so often associated with becoming a physician."
Brian Thomas, vice president and chief development officer at the MCV Foundation, says charitable gift annuities are one of the most impactful and mutually beneficial gifts for donors and for the School of Medicine.
5 things to know about establishing a charitable gift annuity
Minimum gift: Charitable gift annuities may be funded with a minimum gift of $25,000 in cash or securities.
Tax benefit: You will qualify for a charitable income tax deduction. "If donors are funding the annuity with highly appreciated stocks, the gift also allows them to avoid much of the capital gains they would have paid if the stocks were sold," says Brian Thomas, vice president and chief development officer at the MCV Foundation.
Lifetime annual revenue: Establishing a charitable gift annuity with the MCV Foundation provides lifetime fixed payments to you and/or your spouse or other beneficiary you choose. Rates vary with age. The MCV Foundation has a reserve fund set aside to specifically meet its annuity contract obligations, and those obligations are backed by the foundation's full financial assets.
Low interest rates: "Now is a particularly beneficial time to take advantage of this type of giving arrangement because payment rates for donors increased in 2018 for the first time in six years," Thomas says.
Deferred gift annuity option: You still receive income payments for life and an immediate tax deduction; the difference is in the timing of the payments. With a deferred gift annuity, you pick a date one year or more in the future to begin receiving payments. By deferring payments, you receive a larger income payment and a larger charitable deduction.
"Establishing a charitable gift annuity allows donors to give back during their lifetime, and provides them with the tax and income benefits that come with making a gift sooner," he says. "The School of Medicine receives the gift now and pays a fixed percentage of the gift annually for the donor's life."
Donors contribute a gift of cash, appreciated stocks, bonds or other assets to create a charitable gift annuity. They, in return, receive lifetime fixed payments for themselves and/or another beneficiary, with a portion of the income tax-free. When the annuity matures, the principal balance is used to fund the donors' passion.
"Making this legacy contribution is a way of donating funds to MCV that we had planned to give anyway; in the meantime, we can enjoy some of the interest that it gives," David Greenblum says. "
The scholarship he and his wife envisioned holds special meaning beyond supporting his alma mater and his specialty. It's named for his maternal grandparents, Ella and Otto Sachs, who were victims of the Holocaust, and for Annie's late mother, Helen Trockman. "It's a wonderful thing to memorialize their names with this award," David Greenblum says.
He also hopes it will encourage the next generation of psychiatrists to further their knowledge and experience in psychiatry, as it did for him. "I couldn't have asked for a better place to learn about psychiatry," says Greenblum, whose interest in the field peaked during his third year when he spent every Wednesday morning on rotation at the Richmond City Jail. The experience led him to pursue a sub-specialty in forensic psychiatry.
If you are already speaking with a representative from the School of Medicine about making a gift, please let them know you've seen this article and would like more information. To begin a conversation about establishing a charitable gift annuity, please talk to a gift officer you know or call the MCV Foundation's Director of Gift Planning Jenny Ramey at (804) 828-4599. The MCV Foundation issues charitable gift annuities for the benefit of the medical school and offers planned giving expertise to our alumni and donors. VCU and its affiliated foundations do not provide legal or tax advice; we recommend you consult your own legal and tax advisers.
Greenblum completed his adult psychiatry residency at New York University, where he met Annie, and the couple then moved to Titusville, Florida. They raised three children there until moving to Kensington, Maryland, in 2013 to be closer to their children and grandchildren.
"One thing I think about often is that the people I went to medical school with were an extremely inspiring group," Greenblum says. "Extremely hard-working, filled with integrity, not competitive, supportive, cooperative, helpful when somebody had a problem. That's how I remember my colleagues at MCV."
Thanks to their generosity, David and Annie Greenblum will now be remembered in the same way.