Celebrate the Class of 2022
Honor our graduates and make a gift to support medical student scholarships. Give back by Friday, March 18, and you'll help us reach our goal of 250 gifts.
OnOn Dec. 8, 2021, a group of fourth-year students at VCU School of Medicine learned what most of their classmates would still wait another three months to find out — where they're going for residency training.
"Results were expected to be released at noon that day, so I pretty much just obsessively checked my email starting at 11:50 a.m., in case they came early," said M4 Melissa Burns. "They didn't, but came out right at noon."
That is the kind of structure and reliability Burns and her peers can expect in the coming years. She is one of five students in the Class of 2022 attending VCU School of Medicine with the support of the Health Professions Scholarship Program, or HPSP, which covers the cost of tuition, fees and a living stipend for students who commit to serving in the military after residency training.
Now armed with their Match results, the HPSP recipients are reflecting on their time at VCU, soaking in their final weeks in Richmond and eagerly looking ahead to their specialty training at military and civilian hospitals across the U.S.
Melissa Burns
Navy, General Surgery
Beginning medical school at age 27 was "slightly terrifying," said Melissa Burns, who worked as an industrial engineer for an airline before deciding to become a doctor. She dealt with imposter syndrome when she started at VCU School of Medicine in 2018, but gradually came to realize that her unconventional route would serve her well.
"I kind of hit my stride and realized that I had a lot of advantages and different life experiences that allowed me to bring different things to the table," she said. "Plus, there are a lot of parallels between engineering and medicine, and especially surgery."
Applying for HPSP funding was a no-brainer for Burns, and she views the opportunity as "a way to serve people who serve our country." Now that she's matched into the general surgery residency program at Walter Reed National Military Medical Center in Bethesda, Maryland, her first choice, Burns is eager to move on to the next chapter in her new career. She's also looking forward to sharing her specialty with one of her favorite people.
"My dad is a surgeon and he's someone I've always looked up to," Burns said. "He never pushed me into medicine, and always made it clear that whatever I go into, at the end of the day as long as it made me happy that was the most important thing. But now that I've chosen surgery, I think he's really excited."
Morgan Denecke
Army, Emergency Medicine
Both of Morgan Denecke's parents served in the military, and he spent the first part of his childhood in Japan, South Korea, Germany, Kansas and Hawaii before the family settled in Northern Virginia. He applied for the HPSP while finishing his master's degree in biomedical science and was thrilled to begin medical school knowing he had a future in the Army.
Denecke's volunteer EMS experience in high school and college shaped his perception of medicine early on, and he gravitated toward "intense, high-speed" specialties during his clinical rotations as a medical student. He said he enjoyed each field for different reasons, and ultimately landed on emergency medicine as the right fit.
"I'm looking forward to really applying what I've learned over the last four years, facing real-world problems and being able to actually solve those problems," he said.
The military remains a family affair for Denecke — this summer he'll move to the Seattle, Washington area, where his sister was stationed during her service, to begin his residency at Madigan Army Medical Center.
Victoria Harrison
Navy, Family Medicine
Working in health care was always on Victoria Harrison's radar. While studying biology as an undergraduate at VCU and earning a master's degree in physiology at Georgetown University, she considered going into public health or pursuing a research career. But it was a part-time job at a doctor's office during a gap year that solidified her decision to become a physician.
"Seeing patients day in and day out, developing those relationships — that made me realize that this is what I want to do," she said. "Getting to know people was the part of medicine that definitely drew me in."
Driven and inspired by the service of several family members, Harrison said she knew she wanted to join the military long before applying to medical school, and the scholarship created the perfect confluence of the two. She matched into family medicine at Naval Hospital Camp Pendleton, in Southern California, and has already met about half of her intern class through officer training and her acting internship.
"From the perspective of how best to serve, family medicine takes on a little bit of that role of preventative health and population health," she said. "I really appreciate that being incorporated into my practice, rather than being solely clinical or solely procedural. I'll be able to help anywhere I go, which seems fitting for someone joining the military."
Brayden Payne
Air Force, General Surgery
Successfully completing medical school with HPSP support means graduating debt-free. And for Brayden Payne, an M4 and father of two young kids, that financial relief is the cherry on top as he pursues a career in surgery through the Air Force.
"I'm more than happy to do the payback time," said Payne, who will spend four years on active-duty service after completing his residency. "My wife and I come from pretty patriotic lines, so for us, doing those four years is not a huge deal. And the Air Force is notorious for being more amendable for families."
Payne and his family will soon move to Las Vegas, where he'll be a general surgery intern at the University Medical Center of Southern Nevada, which partners with Nellis Air Force Base to provide both military and civilian training. His goal is to later match into a urology residency and specialize in men's sexual health and fertility, inspired by his brother's diagnosis of testicular cancer four years ago.
"In medical school when I started going into the OR with urologists, it just made the most sense with my personality," Payne said. "It's a little more lighthearted, which I found to be true everywhere I rotated. Obviously, surgery is serious, but based on the nature of the work, you have to be able to not take yourself too seriously."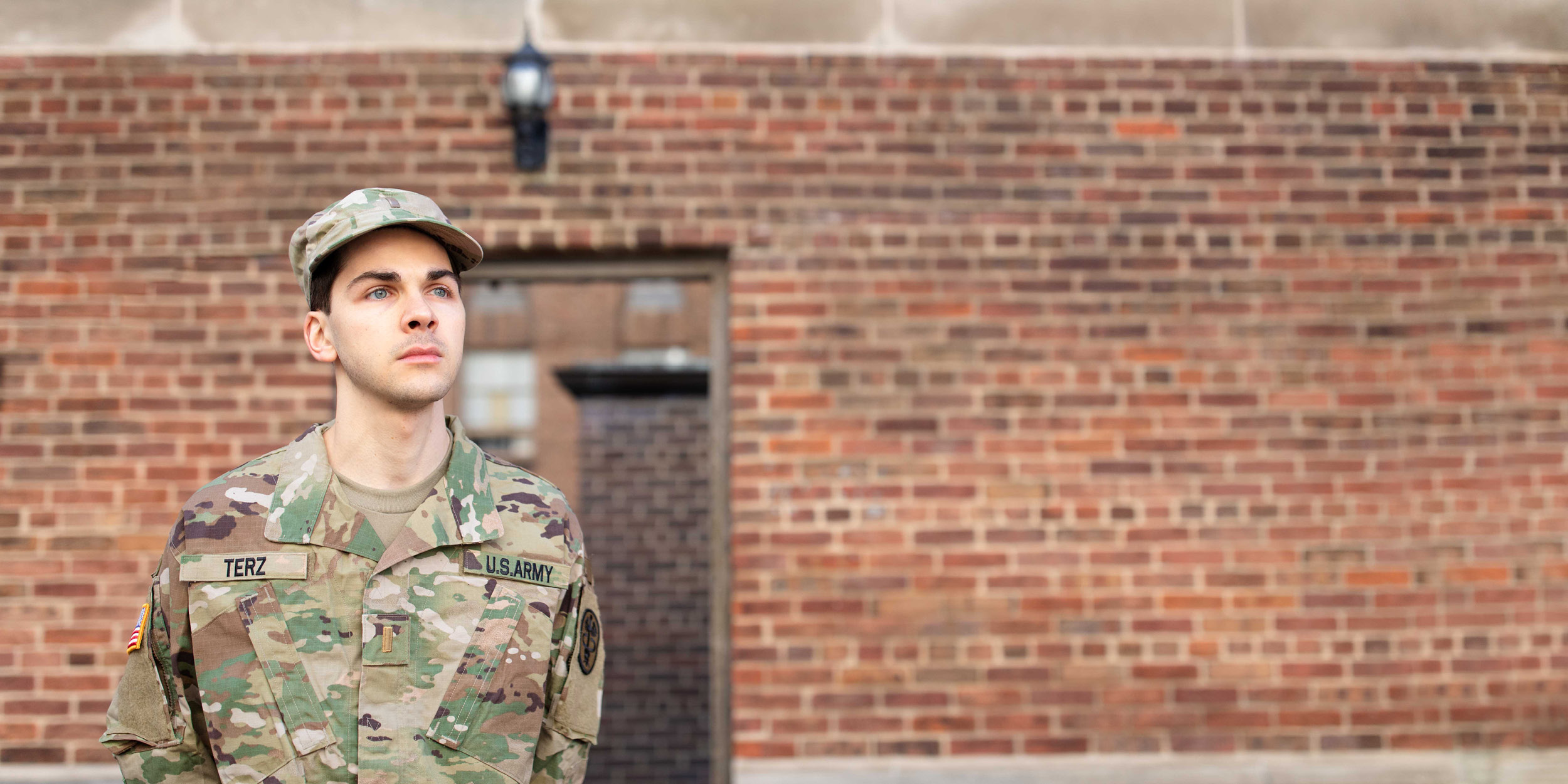 Nick Terz
Army, Internal Medicine
Nick Terz was a freshman in college when he set his sights on medical school, but that didn't stop him from pursuing other interests in the meantime. He majored in history, while still taking enough math and science electives for the premed track, and after graduating from Juniata College he spent a year in Los Angeles teaching high school through Americorps. Now embarking on a career in internal medicine, Terz said he wouldn't have done it any other way.
"I like how history is a story of us, the people who came before us and everything we have to be thankful for because of them, and medicine is an extension of that," he said. "And there are a lot of parallels between teaching and medicine. You're forming relationships that are pivotal, and if you don't have those relationships, the outcomes are not going to be too great."
Terz matched into the internal medicine program at Walter Reed National Military Medical Center, and while he'll miss Richmond, he's looking forward to delving into more facets of medical care.
"Because I liked so many different areas of medicine, I knew internal medicine would provide me with a wide variety of patients and conditions," he said. "I really haven't found one specific area of medicine that I love to the exclusion of all others, so I'm excited to explore things further."
Photography by Sha Aguado