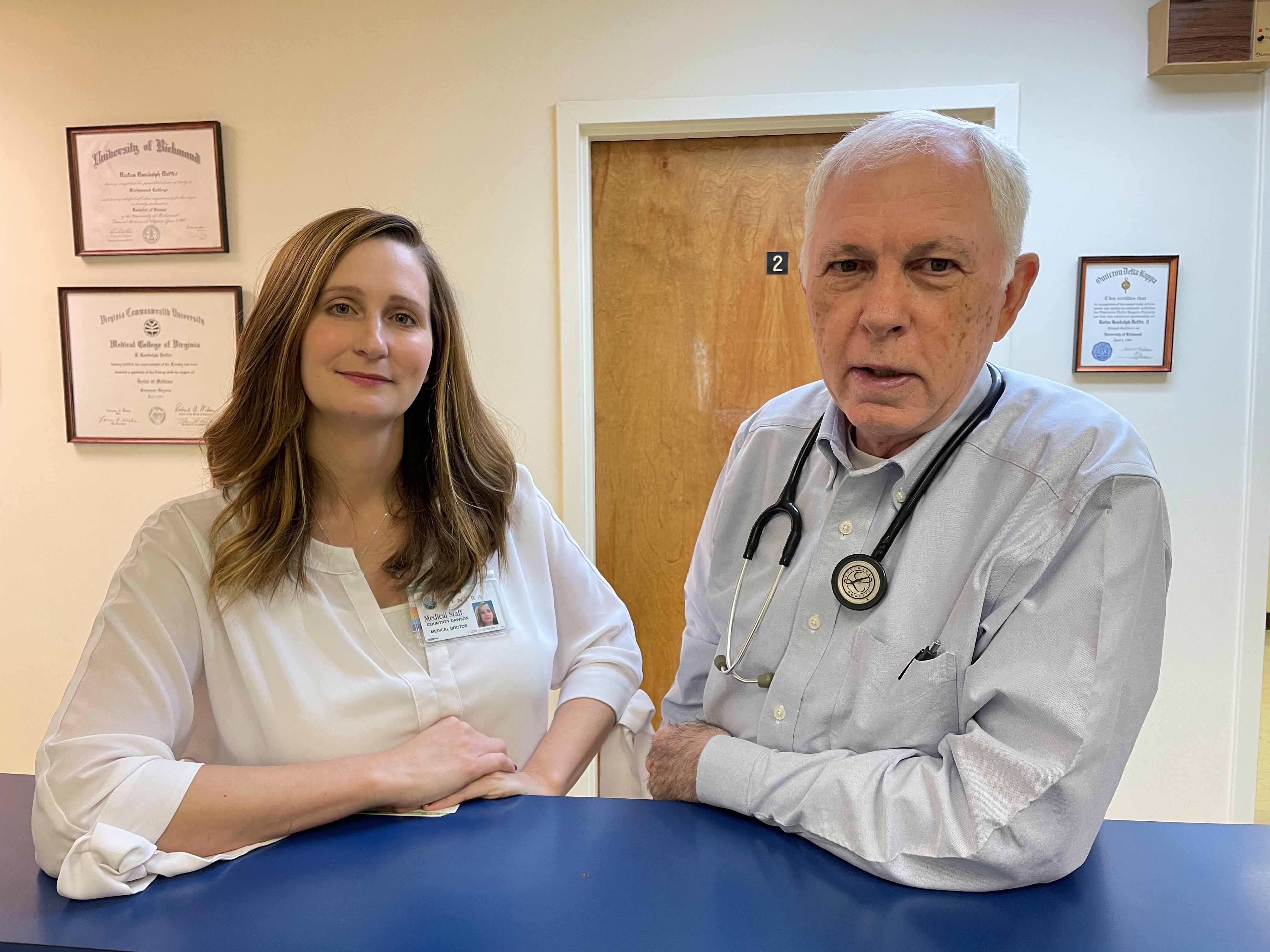 Courtney Dawson, M'18, will care for the patients of her mentor R. Randolph Duffer, M'72, H'75, after his retirement from his rural family medicine practice in Gretna, Virginia.
During college, Courtney Dawson, M'18, took her grandmother to medical appointments related to a knee surgery. Then an aspiring physical therapist, Dawson started sensing a shift toward a dream she once held in kindergarten: to become a doctor.
Dawson never could have known then that her grandmother's primary care physician, R. Randolph Duffer, M'72, H'75, would later become her mentor and eventually leave his patients in her care after his retirement.
This is the story of two young people from rural Virginia: one from Charlotte County who came of age in the 1960s; the other, from 40 miles west near Gladys, followed in his footsteps about 45 years later. Both attended medical school on the MCV Campus and would go on to practice family medicine in the rural community of Gretna, near where they grew up.
Duffer and Dawson reconnected several years after their first meeting thanks to Judy Gary, M.Ed., assistant director of medical education in the Department of Family Medicine and Population Health. When Dawson wanted a fourth-year family medicine elective close to home, Gary had the perfect fit in Duffer. Dawson remembered him, too.
Coming together
"I was impressed with Courtney and her knowledge," Duffer says of that fourth-year elective. "VCU was training her well. So I told her, 'I think I can hang on till you graduate. You come to town. I'll retire. You can have all my patients.'"
And that's exactly what happened.
While in training with Centra Lynchburg Family Medicine Residency, Dawson went back to Duffer's office for her rural elective.
"It was fun to watch him interact with patients," Dawson says. "He writes all over the exam paper to explain things to patients. He helped me see a different side of care and is great at cost-effective medicine. Many of his patients don't have insurance or extra income for medical expenses. Operating with that level of care with limited resources is an art."
When her residency ended in July, Dawson went back to Gretna — this time for good. Together, she and Duffer began transitioning his more than 2,000 patients to her. He expects to officially retire in early 2022.
"I have enormous shoes to fill," Dawson says. "He's such a cornerstone. Everyone knows Dr. Duffer. He's thought of as a great doctor, great person, great friend. That he trusts me to take over his patients who feel like family is an incredible honor. I don't want to disappoint the patients, and I want to do the best I can."
Coming to the country
Attracting new physicians to rural medicine can be difficult, but the need is significant. Duffer says that he believes part of the solution is a diverse medical school class that includes students from rural areas.
"Courtney grew up here. She can communicate with the people here," says Duffer, who remembers when he got his start. "When I landed in Gretna, it was a natural fit for me. And it's the same for her."
Duffer has precepted dozens of students over the years, inspiring many to follow his path to rural medicine. "We are tremendously grateful for Dr. Duffer's mentorship and dedication to rural medicine, and couldn't be more proud to see him passing the reins to one of our own," says Dean of Medicine Peter F. Buckley, M.D. "The health care needs in rural areas are great, and the commitment of Dr. Duffer both to his patients and to the next generation ensures his compassionate care will continue."
In her fourth year of medical school, Dawson received the Henry Clay Smith, M.D., Memorial Scholarship, awarded annually to a graduating student interested in providing health care to rural Virginians.
"It pleases me to hear that Dr. Dawson is willing to go back to her rural community and provide medical care," says Joe Smith, grandson of the late Henry Clay Smith, M'1911, a longtime physician in Burkeville, Virginia. His family established the scholarship in the 1970s in his memory.
"There are many small towns around Virginia and the rest of the country who don't have a doctor," Smith adds. "This sounds like a perfect fit. I'm very pleased that this scholarship program continues to help and inspire students."
The mentor becomes the patient
In retirement, Duffer says he'll spend more time at his vacation home in North Dakota and will continue building log cabins.
"I expect I'll see Courtney as my own doctor," Duffer says. "I've told my patients that I'll be sitting in the waiting room with them to see Courtney."
In addition to her adult patients, soon, she will be the only Gretna physician who treats pediatric patients and provides prenatal care.
"We feel very settled here," Dawson says of her family — her husband, a Gretna native, and their daughter Ava. "We don't anticipate leaving. One day if I'm lucky, I will be the one retiring and giving my patients to someone in Gretna."
Duffer says his story – their story – is one that doesn't happen often. "I have a long story – almost 50 years of practicing medicine – with a really great ending. I thank VCU very much for sending this young doctor to me. Having Courtney here is a real godsend for me and the community."