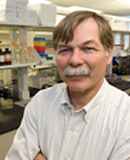 The new Molecular Medicine Research Building is like a blank slate to medicine professor Norbert Voelkel, M.D., who was recruited to boost pulmonary research on VCU's MCV Campus. With a trusty piece of chalk and a career's worth of experience in translational research, Voelkel is sketching out the components of a new collaborative research group to study the interactions between the heart and the lung. The lung, Voelkel explains, is regulated independently of the general circulation. That results in a specific set of challenges, leading him to ask, "How does the sick lung affect the heart? How does the sick heart affect the lung?"
One disease of the heart-lung interface is pulmonary hypertension. The heart pumps blood through the lung to oxygenate it before sending it out to the rest of the body. When blood pressure is high in the lung circulation, the right ventricle of the heart – the chamber that's doing the work – is overtaxed and can fail.
"If it's severe, then the disease is deadly," says Voelkel. "A big part of my laboratory work is to understand the mechanisms of pulmonary hypertension and how we can soften the blow for the right ventricle."
Voelkel has preclinical evidence that a drug widely used in heart failure might also protect the right side of the heart in pulmonary hypertension. He is in the process of designing clinical studies to test his theory in patients.
Another area of interest is emphysema, a progressive disease in which damage to the tiny air sacs of the lung contribute to shortness of breath. Emphysema is a well-known consequence of smoking, but it also occurs in nonsmokers. Voelkel says some 15 percent of emphysema patients have never smoked a cigarette. Very little is known about emphysema in nonsmokers, but it's thought to be an epigenetic phenomenon – "factors that are not strictly explained by the genetic makeup of the person." Instead, the disease may be triggered by environmental factors such as air pollution or diet.
Voelkel, who now holds the E. Raymond Fenton, M.D., Chair in Pulmonary Diseases, arrived at VCU in the summer of 2007 after having spent nearly 30 years at the University of Colorado in Denver. He was attracted by Dean Jerry Strauss' commitment to the science behind medicine.
Voelkel looks forward to capitalizing on the openness of the new building's space.
"The idea is to bundle different kinds of investigators to come up with a critical mass," he says.
Starting with a cardiologist, an endocrinologist, a lipid biochemist and a still-to-be-recruited immunologist, his group will explore the "border zones" between different specialties. By working together, talking and meeting on an ongoing basis, Voelkel says, "We can come up with solutions that an individual investigator in isolation would not come up with."
By Jill U. Adams, for the Dean's Discovery Report