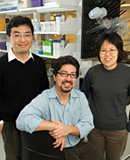 Physiology – the study of how the body works – has traditionally been at the levels of tissues and systems. When Diomedes Logothetis, Ph.D., professor and John D. Bower, M.D. Endowed Chair in Physiology and Biophysics, came to VCU's MCV Campus a year ago, he aspired to expand the department's existing strengths to include a new specialty – molecular biophysics. The field has the same basic philosophy as the discipline of physiology, just on the tiniest of scales. Molecular biophysics zooms in to examine the structure and function of the smallest working parts of the body, such as proteins and other macromolecules.
Logothetis's plan is taking shape with the recruitment of a number of new faculty members, three of whom will be housed in the new Molecular Medicine Research Building. Assistant professors Qinglian Liu, Ph.D., Carlos Escalante, Ph.D., and Meng Cui, Ph.D., will occupy new laboratories designed with an open floor plan to enhance interactions among them. Further, they will create what Logothetis calls a "critical mass" in structural and computational biology, with enough overlap to feel like a group and enough expertise in their specialties to stand on their own feet.
Qinglian Liu, Ph.D. is a biochemist and X-ray crystallographer who uses the method to study protein folding and movement within the cell.
Logothetis describes the technique as, "Once you have a structure from crystallography it's like having a snapshot of a molecule in 3-D."
And while the linear sequence of proteins is encoded by our genes, their 3-D shapes are guided by regulatory molecules known as chaperones. When proteins don't fold properly, neurodegenerative diseases such as Alzheimer's and Parkinson's can result.
Carlos Escalante, Ph.D. is also a chemist who uses X-ray crystallography to capture the structure of multi-protein-DNA complexes. His research focuses on how the genes are expressed. In order to make the specific working cogs in our cells, our genes must first be read. That action, called transcription, is highly regulated by cellular machinery that interacts directly with the DNA molecule that makes up our genetic code. Escalante's work contributes to better understanding the immune system, because sometimes viruses co-opt the transcriptional machinery for their own purposes when they infect a cell.
Meng Cui, Ph.D. has a degree in physical chemistry and studies macromolecules known as G-protein coupled receptors, which are the proteins that are targeted by neurotransmitters and hormones, as well as a large proportion of pharmaceuticals. He also brings the power of computational biology to the group, which Logothetis says fills the gap between the structure and the function.
Crystallography gives you the 3-D snapshot of the molecule, he explains. "But then, you want to know how that molecule works, how it moves and does the things that it does."
In addition to becoming a core group of the new research program in molecular biophysics, the three new faculty members will complement nicely the department's traditional strengths in the cardiovascular and digestive functions, as well as the chemical senses.
By Jill U. Adams, for the Dean's Discovery Report