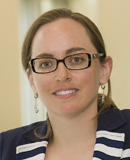 Irby-James Award for Excellence in Clinical Teaching
Associate Professor of Internal Medicine in the VCU SOM Division of Pulmonary and Critical Care Medicine, Dr. Cathy Grossman came to Richmond in 2000 for her residency and pulmonary fellowship training and joined the faculty in 2006. Katie Muzevich, Pharm.D., BCPS, a clinical pharmacist on the Medical Respiratory Intensive Care Unit (MRICU) remembers, "Rarely have I witnessed a teacher so gifted as Dr. Grossman, who routinely identifies opportunities to incorporate teaching into the daily practice of intensive care medicine." Dr. Grossman creates a safe learning environment for her team, encouraging questions and discussion to support learning.
MRICU patients are extremely ill and their treatment is very complex. Even in this intimidating environment, Dr. Grossman teaches housestaff about ventilators, central venous catheters and chest tubes during rounds, building their proficiency with these tools. She provides an effective balance of independence and guidance to her trainees. Former student Gary Simmons, D.O., recalls working with a critically ill patient when Dr. Grossman collected supplies for him to place a central line and stayed with him to observe — rather than the more common situation, where the student would gather supplies for the attending to do the procedure. "To this day I remember this experience and how it impacted me." Deborah Stahlnecker, D.O., FCCP, trained with Dr. Grossman. "I am amazed by her ability to analyze and explore even the most complex concepts … she also shared her knowledge with her patients, creating a very trusting and collaborative relationship with them."
Dr. Grossman is dedicated to enhancing her teaching skills. She was an early adopter of team-based learning and the audience response system. She pursued professional education to learn to effectively use simulation mannequins, teach evidence-based medicine, use Process-Oriented Guided Inquiry Learning (POGIL), completed the Stanford Clinical Teaching course, trained in InQuiry Based Problem Based Learning, and completed an intensive medical simulation teaching workshop. Dr. Grossman recently began taking an acting improvisation class. She explains, "I was looking to find and employ different ideas for teaching the dry topics of teamwork and communication skills. Improv pushes the skills of communication and teamwork in an non-medicine framework but has clearly defined principles which can be moved into the medical venue." Dr. Grossman has designed a two hour workshop for second year residents to work with a local improv group to learn this new approach to communication, teamwork and situational awareness.
Lisa K. Brath, M.D., Professor of Medicine and Program Director for the Pulmonary-Critical Care Fellowship, has seen Dr. Grossman develop as an educational leader. "One mark of a dedicated educator is that they seek new opportunities, challenges and venues in which to practice and expand their skills. Dr. Grossman has certainly done this as evidenced by her leadership roles in our PCCM Journal Club, the VCUHS Walk the Walk conference, and the ACLS Code Simulation sessions."
Dr. Grossman develops a relationship with each of her team members and pushes each to achieve their potential. Former trainees describe a lasting impact. Former fellow Henry Ostman, M.D., FCCP, declares, "Dr. Grossman's instruction was central to my development of sound reasoning, critical thinking, and integrative skill." Former resident Joseph H. Pitcher, M.D., recalls Dr. Grossman's honest but fair feedback, remembering a fellow resident stating, "She gave me the hardest evaluations I have received all year, but they were absolutely true, and it is exactly what I needed to hear."
Dr. Grossman is cited as a role model for humanism and professionalism. As Dr. Muzevich explains, "In the MRICU we are faced with difficult families, emotional reactions and sad circumstances. Dr. Grossman leads our team with dignity and addresses each patient and family with respect. Her dedication to professionalism ensures that our future physicians are taught good bedside manner, compassion, and respect for all."
Dr. M. Thure Caire, PGY5 gastroenterology fellow, eloquently summarizes Dr. Grossman's impact. "Cathy sets an example that transcends medicine: having worked with her inspires us to not only be better doctors but also to be better people. She is a synergy of art and science, of humanism and empiricism, of the traditions and the future of medicine."