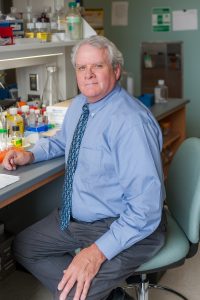 Distinguished Mentor Award
In his 35 years of service at VCU, Alpha A. "Berry" Fowler, M.D., Professor of Medicine and Director, VCU Johnson Center for Critical Care and Pulmonary Research, has had a profound influence at VCU and beyond. Considering his robust grant support and over 300 publications and abstracts in clinical areas including adult respiratory distress syndrome (ARDS) and sepsis, he might well be lauded for that alone. Likewise, with over 16 years as Pulmonary Disease and Critical Care Medicine (PDCCM) Division Chair, with numerous "Top Doc" awards and other honors, his pursuit of excellence in clinical care, impacting thousands of patients and their families, might well be the highlight of most careers. Today, we honor Dr. Fowler for the countless students, residents, fellows, and interdisciplinary colleagues he has mentored and continues to mentor.
Dr. Fowler's seemingly natural ability to recognize a person's areas of strength and what is needed to develop further, combined with his genuine personal interest and dedication, has elevated the careers of a generation of learners, many of whom now work with Dr. Fowler as colleagues. His support continues beyond
graduation, or promotion, throughout his mentees' careers.
Julia A. Messina, M.D., M.Sc., currently Transplant Infectious Diseases Fellow at Duke University, met Dr. Fowler in 2004, when she was applying to medical school, but was not invited to interview at her schools of choice. Dr. Fowler recommended she attend graduate school, offered her a position in his lab during her program, and has advised and encouraged her through admission to VCU SOM, residency, and fellowship to her current junior faculty position. "Dr. Fowler has been one of the most important mentors in my career, second only to my own father."
Dr. Fowler makes a difference every day, sometimes with just a well-timed phone call. "Just after I graduated my fellowship, I was on weekend call as the attending physician in our busy, challenging, and invigorating MRICU. I was caring for several critically ill patients with complex medical problems, and it was a daunting feeling. Dr. Fowler had heard that I was working, and he called me…He let me know that he had confidence in me, but if I needed anything, he was spending the weekend in his office working on a grant, and was only a phone call away," recalls Kristin Miller, M.D. Assistant Professor, VCU PDCCM.
Dr. Fowler is well-known for his dedication to developing his Division as a team and is extremely proud that Pulmonary and Critical Care Medicine has won the Best Internal Medicine Faculty Teaching Division Award for 11 years in a row. He shows an interest in everyone in the Division, in every role, by helping them be the best they can be, personally and professionally. "In the 10 years that he served as my boss, I never once had to wonder if he supported me, if he wanted me to succeed, if he would go the extra step to get me where I wanted to go," states division colleague Daniel C. Grinnan, Associate Professor of Medicine.
Lori Sweeney, M.D., Associate Professor of Medicine, VCUHS and Hunter Holmes McGuire VA Medical Center, keeps Dr. Fowler's "pearls," shared over nearly two decades, close to heart and says, "I think Dr. Fowler's success in mentoring centers around his essence as a humanistic doctor. He is inherently selfless, ethical, and loving."
Ramesh Natarajan, Ph.D. Professor of Medicine, PDCCM, agrees. "Another aspect of his mentorship is more subtle. This has to do with the way he leads his life, with the way he deals with obstacles that come his way and the gracious manner with which he respects all, regardless of skill or ability. And unlike a career path, this path deals with life itself and the way to conduct oneself. In this aspect, I believe Dr. Fowler is unsurpassed."