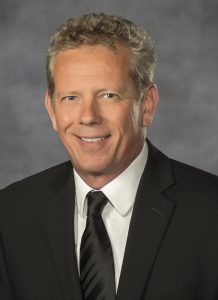 Distinguished Scholarship Award
Making the connection between how genetic, environmental and behavioral factors interact and contribute to illnesses such as substance abuse and psychiatric disorders is no small task.
However, doing so is crucial to elevating human health around the world. Michael Neale, Ph.D., professor of psychiatry, human genetics and psychology in the VCU School of Medicine, and associate director of the Virginia Institute for Psychiatric and Behavioral Genetics, has dedicated his research efforts to utilizing data to make these connections possible.
Neale's research has been published hundreds of times over, and he has written dozens of book chapters expanding the knowledge base in the field. In addition, he created an open-source computer program that is used widely by researchers in modeling data to determine whether genetic variants are linked to outcome variables such as substance abuse, its risk factors and indices.
The program has had a profound impact on genetic scholarship by eliminating barriers in building evidence in the field. It has afforded researchers the opportunity to test their hypotheses about the relationships in complex family data sets freely. In fact, the program has been cited more than 3,000 times in scientific literature.
"In addition to his remarkable level of productivity, Dr. Neale is an outstanding teacher and mentor," says Peter F. Buckley, M.D., dean of the School of Medicine. "It is estimated that over 2,000 researchers in his field have been trained by Dr. Neale … significantly influencing the next generation of researchers."
Neale has received several awards for his scholarship and service to the field, and has shared his expertise while serving as president of the Behavioral Genetics Association, board member of the Society for Multivariate Experimental Psychology and reviewer for multiple scholarly journals.
The Distinguished Scholarship Award recognizes an outstanding scholar who has demonstrated a pattern of productive scholarly activity, which has been recognized nationally or internationally, as appropriate. Traditional research, creative endeavors and other scholarly activity are included in this category. Neale received the award at the university's 2017 Faculty Convocation.