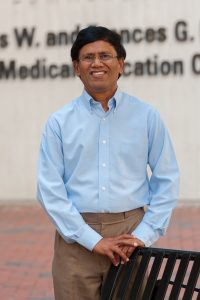 Distinguished Mentor Award
Brilliant. Accomplished. Dedicated. Smiling. Warm. Generous. Humble. These are the words you hear over and over from those describing S. Murthy Karnam, Ph.D., currently Professor of Physiology & Biophysics. Dr. Karnam came to VCU as a postdoctoral scholar in 1988. He also holds an appointment in the Department of Medicine, Division of Gastroenterology. He is universally known for his open door, welcoming smile, and willingness to make time to discuss a question, concern, or discovery.
Dr. Karnam's guidance has significantly contributed to developing scientists; he has served as primary mentor for 9 Ph.D. students, one M.D-Ph.D. student, and 6 M.S. students. He has been on the thesis committees of 28 M.S. and Ph.D. students and has trained 17 Ph.D. and M.D. postdoctoral fellows. Dr. Karnam's students have gone on to medical and dental school, highly prestigious postdoctoral positions, and faculty positions in universities and medical schools worldwide, becoming accomplished investigators, faculty members and clinicians in their own right.
Dr. Karnam is a world-renowned expert in the field of gastrointestinal smooth muscle physiology and cell biology, and has published over 150 articles and reviews in peer-reviewed journals. He is faculty on several NIH T32 Training Grants and lectures in the M-1 curriculum. He lectures, and has served as course director, for advanced graduate courses in the Department of Physiology and Biophysics, and the School of Dentistry. VCU undergraduate students who are interested in exploring research during the summer are welcome in Dr. Karnam's lab. He has been recognized with the VCU SOM Research Recognition Award (2005) and the VCU SOM Teaching Recognition Award (2008).
Liya Qiao, Ph.D., Associate Professor of Physiology & Biophysics, recalls that Murthy is known for his quiet manner, but "I still recall when I first heard his "loud" voice from the hallway many years ago, I was eager to rush into the room to check on him… I found that he was with his student and giving a 'lecture" on research projects with great excitement."
"He broke all the barriers from the first day I joined the lab, the thing that gave me the freedom to do my own work with great flexibility and much respect. He considered my family as part of his lab, and his warmth and kindness made our long journey short and helped overcome homesickness." Explains Othman Al-Shboul, Ph.D., Associate Professor, Department of Physiology, Jordan University of Science and Technology.
Mentee Wenhui Hu, MD, PhD, Associate Professor, Department of Pathology and Lab Medicine, Center for Metabolic Disease Research, Temple University, describes, "With his strong support and outstanding mentorship, my first NIH-R01 grant was funded in 2006. Since then, he has continuously mentored me…encouraging me work harder and better for my career development. In the past 8 years, my research was funded by 3 NIH-R01s, 1 NIHR21, and 1 DOD grant. In addition, I published 35 articles and built up several novel interesting projects for further extramural funding support. I believe that my career success in the past years is significantly attributed to Dr. Karnam's excellent mentorship"
Sometimes something as simple as a smile can make a big difference. Charles Anderson, Jr. Ph.D., Assistant Professor, Department of Physiology and Biophysics, recalls starting to tire during his dissertation defense, which was otherwise going well. He was asked a question, and wearily picked up a marker to draw a diagram. Dr. Murthy rose from his chair, smiling. "(He) knew I was flagging, took the marker from my hand, and said, 'Andy, you're going to get your Ph.D. You're doing great.' When he placed that marker back in my hand, and patted my shoulder, I knew how to answer the question. And I smiled while I answered it." Dr. Karnam has helped many young scientists know how to answer questions, to our great benefit.