University Award of Excellence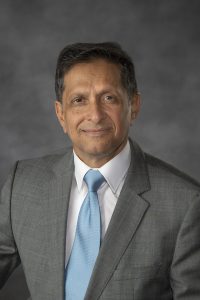 Arun J. Sanyal, M.D., is the education core director at VCU's C. Kenneth and Dianne Wright Center for Clinical and Translational Research and a professor in the gastroenterology division of the Department of Internal Medicine at the VCU School of Medicine.
He has published more than 300 scholarly papers, has been continuously funded by the National Institutes of Health for more than 17 years and has won numerous awards for his research and leadership. Earlier this year, he was selected for the Virginia Outstanding Scientist award for his deep commitment to the betterment of human health globally via science, education and public policy.
Sanyal is a leader in training future medical researchers and in identifying the mechanisms and clinical outcomes and developing effective management for nonalcoholic fatty liver disease and metabolic syndrome. He has developed training programs to address these major public health challenges.
Through his service on several committees, editorial boards and in leadership positions such as president of the American Society for the Study of Liver Disease, as well as chair of the NASH Research Network and the Liver Study Section at the NIH, Sanyal has had a significant impact on VCU and the professional community. His work led to the development of a curriculum for hepatologists that has established national training standards.
To add to the diversity of the scientific workforce, he also designed a program to bring trainees from underrepresented minority groups to VCU for rotations in academic gastroenterology to encourage them to seek a health care research career. He has mentored more than 85 trainees, 80 percent of whom have gone on to pursue careers in academic research.
"Dr. Sanyal's exceptional work advances all aspects of the stated mission of VCU and represents our university with excellence in teaching, scholarship and service," says Peter Buckley, M.D., dean of the VCU School of Medicine. "Through his own work, and by igniting a passion for discovery and a commitment to humanity in his students worldwide, Dr. Sanyal has made a significant contribution to improved human health for future generations across the globe."
The University Award of Excellence recognizes a faculty member who has performed in a superior manner in teaching, scholarly activity and service as described above. This award is one of the highest honors the university can bestow on one of its faculty and is awarded only to an exceptional individual. Sanyal received the award at the university's 2018 Faculty Convocation.