What's in a name?
Endowed professorships and chairs represent the highest academic honor a university can bestow on a faculty member. The newly awarded Hugo R. Seibel, Ph.D., Teaching Professorship is one of more than 120 endowed professorships and chairs based at the MCV Foundation helping the School of Medicine recruit and retain the brightest teachers, researchers and clinicians, enriching the academic and clinical environment for students and patients alike.
---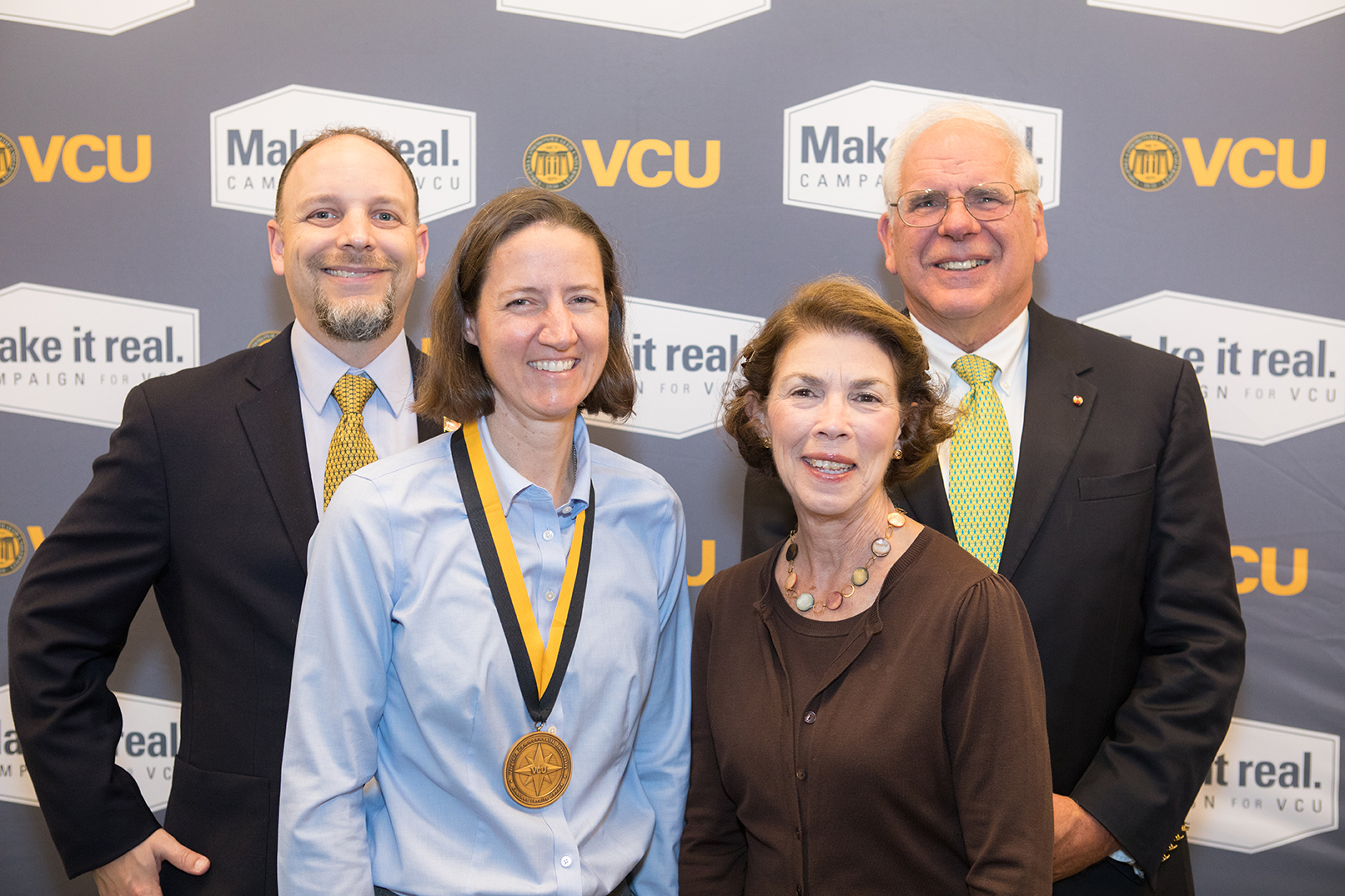 ---
This story was published in the fall 2022 issue of 12th & Marshall. You can find the current and past issues online.

Say the name Hugo R. Seibel, Ph.D., on the MCV Campus and certain descriptors are sure to follow. Mentor. Always smiling. One-of-a-kind. Big-hearted. Compassionate.
"Everybody should have been fortunate enough to have someone like him for a teacher," says retired family medicine physician Janice E. Ragland, M'92, H'95.
Her voice catches as she reflects on what Seibel meant to her. A mother and the oldest student in her class (graduating at age 43), she at times wondered how she would make it through the grueling years of medical school. The late Seibel, a longtime anatomy professor and associate dean for student activities, wouldn't hear of it.
"When I was down on myself, he picked me up," Ragland says. "His enthusiasm and passion were absolutely contagious. Other than my family, he was my biggest cheerleader."
During M1 year, Ragland went home to Northern Virginia every Friday to spend the weekends with her family. Seibel lent her a microscope so she could review histology slides even when she was away from campus. The following year brought new challenges, including a divorce and becoming a single parent. Ragland came close to quitting the career she had longed for since she was a little girl.
"Had it not been for Dr. Seibel, I would never have become a physician," she says. "He helped me persevere. I have had many fulfilling years in a profession that I love, making a difference in people's lives. Knowing how much I have helped others gives me great satisfaction. I have Dr. Seibel to thank for all of this."
Experiences similar to Ragland's are described repeatedly by School of Medicine alumni who crossed paths with Seibel during his three decades on the MCV Campus.
"Hugo Seibel is a name that comes up time and time again when I meet with alumni across the country," says Jodi T. Smith, director of development, VCU Office of Medical Philanthropy and Alumni Relations. "They've shared stories of how he sat at their hospital bed when they were ill or made accommodations that allowed them to finish medical school or simply told them everything would be OK after a rough day or low test score. Somehow, he made time for each of them just when they needed it most."
Upon his retirement in 2004, Seibel wanted to ensure that teaching excellence in the medical school would be preserved and rewarded, especially as faculty faced increasing demands to become more productive in research and clinical endeavors. That inspired him to make a significant lead commitment of $100,000, fulfilled through provisions in his estate plans after his death in 2020, to establish an endowment at the MCV Foundation that created the school's first teaching professorship.
Former students and colleagues joined him in the effort, attracting the broadest base of alumni support of any of the medical school's scholarship campaigns and inspiring just under 100 first-time donors to the medical school.
"Dr. Seibel has shaped the lives of countless physicians and scientists," Smith says. "For so many of our alumni, he was more than a teacher. He was a mentor and a friend. Making a gift to help endow the professorship in his name helped extend his legacy by rewarding and inspiring faculty who possess similar qualities: a passion for communication, the generosity to share themselves with our students and the skill to excite others to go beyond the basics."
'He got me into medical school and he got me out'
Earlier this year, Christopher M. Woleben, M'97, H'01, was named the Hugo R. Seibel, Ph.D., Teaching Professorship's inaugural holder.
Woleben counts himself as one of the thousands who benefited from Seibel's mentorship. The two met during his medical school interview—"It felt like I was talking with a family member I had known my whole life"—and he later relied on him for guidance during the residency match process. "He got me into medical school and he got me out as well," says Woleben, associate dean for student affairs in the VCU School of Medicine and a pediatric emergency physician.
"It is an honor to follow in his footsteps."
Throughout medical school, Woleben says Seibel created a safe place for him to go and served as a confidante. Most notably, when he faced personal struggles that affected his performance during his M2 year, Seibel made sure he was referred to the counseling center for support.
"He demonstrated to me the power a faculty member can have in helping students achieve their goals. To know I'm carrying on the legacy of someone who did it so well, for so long, motivates me to strive for excellence and honor him in all that I do."
In the eyes of one former student, Woleben has already succeeded.
"Dr. Woleben always served as a beacon of hope and positivity even when I was at some of the lowest points in my life," says Kevin A. Ghaffari, M'22. "It's hard to imagine what the medical school journey would have been like without his support. The encouraging words he provided during those times will stay with me throughout my career in medicine, and in life."
Now an emergency medicine resident at University of Buffalo School of Medicine, Ghaffari credits his successful residency match to Woleben, who steered him through the process as the first physician in his family. He was "elated" to hear of Woleben's recognition through the awarding of the professorship.
"When it comes to personal character, kindness, empathy and other qualities he possesses and shares through leading by example—that is who we all want teaching the future generation of physicians," Ghaffari says.
An endowed professorship supplements the holder's salary in order to preserve and protect time spent on non-clinical activities. For Woleben, this means teaching and mentoring students will remain at the forefront of his day-to-day responsibilities.
"The Seibel Professorship gives me space to develop career advising programs and additional support services to help our students be more successful and overcome obstacles along the way," he says.
In 2021, Woleben was one of just four nationwide recipients of the Association of American Medical College's Careers in Medical Excellence in Medical Student Career Advising Award. The honor reflects his contributions through service as chair of the national advisory committee for the Electronic Residency Application Service, where he wants to make the interview process smoother and more equitable for both students and programs.
In addition, the AAMC asked Woleben to share his approach to guiding students through the residency match process, specifically a survey he created for fourth-year students that's now part of the association's toolkit.
"Dr. Seibel has big shoes to fill," Woleben says. "I don't want to disappoint him."
The power of endowments
Endowed professorships have a vital role to play in attracting and retaining exceptional faculty. Leslie M. Randall, M.D., joined the School of Medicine in 2019 as division chair of gynecologic oncology and Dianne Harris Wright Professor of Gynecologic Oncology Research at VCU Massey Cancer Center.
"The professorship was a big part of why I came here," Randall says. "Endowed professorships tell me an institution is committed to providing its leaders with the time that they need to develop the programs they are hired to lead."
Years ago, physician-researchers could treat patients during the day and still find time to oversee clinical trial work. Yet as research has become more sophisticated, Randall explains, there's been a corresponding increase in oversight and safeguards around enrollment and participation in studies—as well as developing time-intensive grants proposals and publishing results.
"Clinical trials used to not take as much time," she says. "In the past, there were not as many medicines to test. Now there are thousands. It's an exciting time to be a cancer researcher, but that means we need protected time. Endowments are one way to do that."
The investment is paying off. In her three-year tenure, Randall has helped triple the number of clinical trials in women's cancer from roughly half a dozen to more than 20. And that's during a pandemic. "When the rest of the world was at a standstill, we were growing at a really fast rate."
In fact, COVID-19 fueled the work of Daniel H. Coelho, M.D., the G. Douglas Hayden Professor in the Department of Otolaryngology/Head and Neck Surgery. Since 2020, his team at the Smell and Taste Disorders Center at VCU Health has published five articles related to a longitudinal study of smell and taste recovery related to COVID-19.
"To our knowledge, the ongoing longitudinal database is the largest cohort study of its kind in the U.S.," Coelho says.
He also continues to care for the patients of his professorship's namesake. Established at the MCV Foundation in 1999, the professorship fund honors a 1945 MCV graduate who went on to complete otolaryngology training before becoming a longtime member of the clinical faculty.
"Dr. Hayden's patients continue to speak highly of his outstanding surgical techniques and even better patient dedication and bedside manner," Coelho says. "And while I never had the pleasure of knowing Dr. Hayden, I think about him every time I send an email or hand out my business card—because his name is right there below mine.
"On a practical level, the funds from this professorship allow me to maximize my attention on non-clinical activities. Through these activities, I hope to bring credit to the department and institution for the exact same qualities that Dr. Hayden so well embodied himself."
Massey's Randall also never had the opportunity to meet her professorship's namesake, but she often thinks of Dianne Harris Wright and her generosity. "I wish she were alive today to see all the advancements that have been made since the time she battled ovarian cancer. Even though she's not here, she's contributing to this fight. She's a part of these new developments. An endowment at the MCV Foundation is an enduring legacy."
A permanent legacy of support
The School of Medicine currently has more than 120 endowed faculty positions that span the basic science and clinical departments. These endowments carry the names of outstanding alumni, faculty and friends who have led and benefited from the school's work.
"I can think of no finer way to honor the memory of a dedicated physician and teacher than a named professorship," says Richard M. Clary, M'74. "Aside from the honor associated with holding the named professorship, the endowment makes it possible to attract superior talent to the MCV Campus. It's a win-win."
Clary and his family established a chair to honor the memory of his late father Beverley Boyden Clary, M'39, who stayed on faculty for 50 years as a pediatric orthopaedic surgeon. "Endowing the Beverley B. Clary Chair of Pediatric Orthopaedics combined his love of the children's hospital, where he served as chief of surgery, and his love for MCV."
Victoria Kuester, M.D., H'06, holds the Clary Chair in her role as associate professor of orthopaedic surgery for the Children's Hospital of Richmond at VCU. She says the chair gives her time to focus on growing the pediatric orthopaedic service as a whole, including improving clinical care through the Enhanced Recovery After Surgery program for scoliosis patients and refining the pediatric orthopaedic curriculum for residents.
"Supporting physicians through endowed chairs allows them to put more time and energy into being great physicians themselves, in addition to improving the future of resident education and research," she says. "The Clary family and their generous gift is an encouragement to me and my work."
In addition, the endowment serves as a permanent, self-sustaining source of revenue for the department, bringing increased prestige and financial stability to the broader institution—regardless of fluctuations in federal or state funding and financial challenges of the health care industry.
"With a named endowed fund, the principal of your gift is invested and grows over time while a percentage of the income growth is distributed annually to support the purpose you have specified," says Margaret Ann Bollmeier, president and CEO of the MCV Foundation. "In this way, an endowed fund can grow and provide support for its designated purpose in perpetuity. When you establish an endowed fund, you create a permanent legacy of support."
Partnerships bring transformative change
Over the years, Judy and Harry Wason watched as family members and friends succumbed to cancer. Then the Williamsburg, Virginia, couple decided to act.
They attended a Discovery Series program, an initiative launched by the MCV Foundation and VCU Health to provide event guests with access to the work of scholars, researchers and clinicians.
"Featuring panel discussions and a context for informal conversations, the Discovery Series provides an intimate setting for exchanging ideas about the latest medical advancements," Bollmeier says. "Since its inception in 2013, the VCU Medical Center has received hundreds of new patient referrals as a direct result of these events."
The Wasons followed that event with a tour of Massey Cancer Center, where they left impressed with its immunotherapy program. That ultimately led to their decision to endow the Harry and Judy Wason Distinguished Professorship.
Because immunotherapy remains such a promising area, researchers and experts in the field are in high demand across the country. The Wason Professorship helped Massey retain Xiang-Yang "Shawn" Wang, Ph.D., a top immunotherapy researcher who was actively being recruited by another institution. He co-leads the cancer center's Development Therapeutics Research Program and serves as professor in the Department of Human and Molecular Genetics as well as associate director of immunology for the Institute of Molecular Medicine.
"It is our hope that the endowed professorship will be a meaningful addition to the valuable research being conducted at Massey Cancer Center helping find the information necessary to cure and, even more importantly, prevent cancer," Judy Wason says.
The Wasons are proud to be associated with Wang's successes, including a $2.3 million, five-year R01 grant from the National Cancer Institute that will allow him to investigate treatment options for advanced prostate cancer. He's also part of the research team that discovered that T cells—immune cells that help fight cancer—can be armed with a gene to broadly attack solid tumors and survive better in the tumor microenvironment.
Pulmonologist and physician-scientist Patrick Nana-Sinkam, M.D., who holds the Linda Grandis Blatt Endowed Chair in Cancer Research, says it's the partnerships with patients, alumni and the community that make lifesaving work possible in academic medicine.
"We all have to come together to create transformative change," he says. "An endowed chair demonstrates a real commitment to our patients that they have supporters in the community."
Sisters Nancy Grandis White and Betty Sue Grandis LePage established the Linda Grandis Blatt Endowed Chair to support lung cancer research in honor of their sister, who died of the disease in 2006. That commitment, says Nana-Sinkam, is "100%" what contributed to his leaving another institution to come to the MCV Campus and become division chair of pulmonary disease and critical care medicine in the Department of Internal Medicine.
"It means a tremendous amount to me to carry on the family's wishes," he says. "We have a shared dedication to reducing mortality in lung cancer. Sadly, Betty Sue also passed of lung cancer in 2021. It makes it more profound for me to sit in this chair and it highlights the true gift she and the family made—for something much bigger than any of us—finding a cure for lung cancer."
Nana-Sinkam has devoted 20 years to researching lung cancer with a specific focus on early detection through blood-based biomarkers. With the endowment, he has dedicated time to pursue these novel diagnostics as well as serve in national leadership roles including the American Society for Clinical Investigation's inaugural Diversity, Inclusion and Equity Committee and the American Lung Association's Scientific Advisory Committee.
"Endowments are extremely important in building the quality of clinical programs, student experiences and faculty leadership on the MCV Campus," Bollmeier says. "Donor investments significantly enhance VCU Health's ability to provide life-changing education, conduct world-renowned research and advance lifesaving clinical care."
These investments also nurture physicians and scientists like Nana-Sinkam and others as they pursue the ultimate goal: preserving and restoring health for all.
To learn more about establishing or expanding the impact of an endowed professorship or chair, contact Jodi T. Smith, director of development, at jodi.smith@vcuhealth.org or (804) 628-2248.