Why she does it
To honor a beloved mentor. To join forces with classmates. To make a lasting impact on the school that shaped her career, and who she grew to be. To reduce debt for the next generation. And more ...
---
---
This story was published in the spring 2022 issue of 12th & Marshall. You can find the current and past issues online.

Growing up in the Philadelphia suburbs Dawn G. Mueller, M'72, H'75, F'77, worked hard toward the goal of becoming the first in her family to attend college. The daughter of a stay-at-home mom and salesman thought she might become a history professor.
During Mueller's middle school years, her parents noticed her academic spark and began to plan for how they would pay for her higher education. Her mother took a job as a secretary for a pharmaceutical company while her father sold women's hosiery to department stores ("I never had to buy a pair of stockings during college or medical school," Mueller laughs).
High school brought an interest in biology and the human body, and Mueller set her sights on medical school — without fully understanding the financial implications.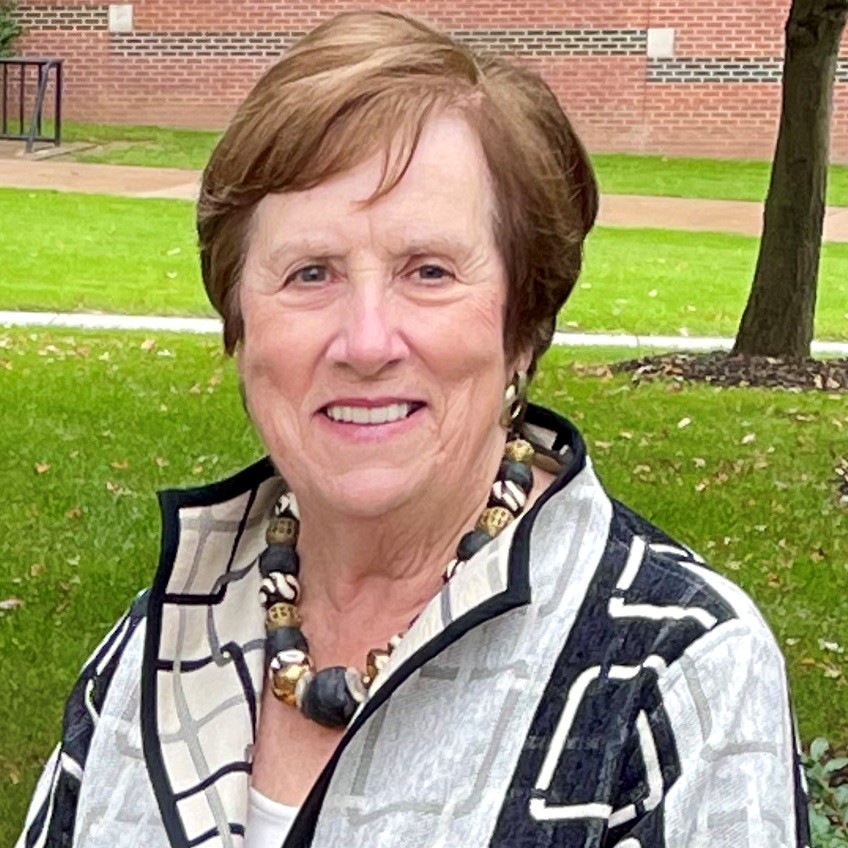 Dawn G. Mueller, M'72, H'75, F'77, has found motivation in a host of past experiences. As she's moved through life, her ability to make an impact has grown and evolved. In the process, she's left a legacy of generosity that will live on at her alma mater.
"As a first-generation college student, I was very fortunate that my family was able to scrimp and save," she says. "I had friends in medical school who weren't as lucky. I still remember the celebrations 10 to 15 years after graduation when they paid off their student loans."
Mueller enjoyed a decades-long career as a neonatologist on the MCV Campus, where she worked alongside her mentor Barry Kirkpatrick, M'66, H'71, and together they advanced the emerging specialty.
"It was a gift for me to be able to practice medicine and to be able to help families, particularly in the NICU," Mueller says. "When I look back on medical school and the training that set me on my path as a physician, I realized I wouldn't be who I am without it."
She wondered how she and her classmates would have fared in today's medical school climate of rising costs and increased expectations. Now students are expected to fill their free time with research projects and internships, not moonlighting or working summers to earn extra income.
"I would never want someone's financial situation to be what holds them back if they have the drive and desire to become a physician," says Mueller, a longtime donor to the VCU School of Medicine Annual Fund.
As the years went by, she felt the calling to do something more. In 2012, she and her late husband Alan G. Fleischer made a leadership gift in support of the McGlothlin Medical Education Center. She also rallied her 1972 classmates to, first, band together to participate in the MMEC building campaign, which resulted in the naming of a classroom in their honor. More recently she's led the effort to create a Class of 1972 Scholarship fund. Mueller also encouraged her fellow trainees to support a professorship named for Kirkpatrick.
Now, in honor of her 50th medical school reunion year, she's planning a new gift to endow a scholarship that will ultimately provide full-tuition assistance to deserving medical students.
"We all make our journey to giving in different ways," Mueller says. "I had no role models for giving or philanthropy in my family of modest means. In the beginning, I was giving because I thought I should. Most recently I'm inspired by the importance of education and wanting to give thanks to an institution that provided the basis for my professional success.
"Though physicians have given so much to their patients and communities through their life's work, I feel today's students need our help more than ever. Support from the medical school's alumni can make an important difference for future physicians."
Doubling the average scholarship award … and we're not done yet
Thanks to the generosity of alumni and friends, the School of Medicine's 1838 Campaign that ended in 2020 created or expanded 128 scholarships providing annual tuition support for students in perpetuity. The momentum has continued over the past two years, and today the average scholarship award has more than doubled since the campaign began in 2013.
"At the start of the 1838 Campaign, the average scholarship award was $6,840," says Jodi T. Smith, director of development in the VCU School of Medicine Office of Development and Alumni Relations. "In the 2021-22 academic year, it grew to $13,735 per awardee. This growth is vital for reducing the amount of debt our graduating students carry."
Dawn G. Mueller, M'72, H'75, F'77 (far left), encouraged her fellow trainees to support a professorship named for Barry Kirkpatrick, M'66, H'71 (center in yellow tie).
Alumni like Mueller who have given at different levels and to different initiatives over several decades demonstrate how a powerful impact can be made at any stage of life. The Office of Development and Alumni Relations is experienced in helping alumni find the opportunity that's right for them.
"Dr. Mueller has made her gifts in a variety of ways with the one constant being a desire to give back to the causes that she finds most meaningful — whether they're in honor of a beloved mentor, her medical school class or the next generation," Smith says.
The variety of giving options — from current to endowed funds — provides avenues for Mueller and others to bring benefit to the medical school. "Annual giving — where 100% of the Annual Fund is put to use each fall to create scholarships — makes an immediate impact for students," explains Margaret Ann Bollmeier, president and CEO, MCV Foundation. "It helps those who most need it, when they need it."
Mueller set up a donor-advised fund for her annual giving, including pledge payments. As a separate entity, the DAF allows her to take an immediate tax deduction for the amount of the gift. DAFs can be funded through a variety of assets such as cash, appreciated stock or insurance proceeds.
"Donor-advised funds are easier and less expensive than establishing a private foundation," Bollmeier says. "They also allow you to get started with a relatively small amount of money — as low as a $500 gift — and still receive the tax benefits. It's a particularly smart approach for those donors who are bunching their charitable deductions together under new tax laws."
A labor of love
When Dawn G. Mueller, M'72, H'75, F'77, learned of the campaign to endow the professorship named for her mentor Barry Kirkpatrick, M'66, H'71, she volunteered to help without a moment's hesitation.

The first of Kirkpatrick's seven fellows, Mueller turned her appreciation for her mentor into action — writing letters and making calls to former students and residents to give to the effort. Kirkpatrick established the first neonatal intensive care unit at MCV Hospitals in 1973 and ultimately was named vice chair for education in the Department of Pediatrics.

The campaign enjoyed one of the broadest bases of support of any in the School of Medicine and in 2021, the Barry V. Kirkpatrick, M.D., Professorship was awarded for the first time to Michael S. Ryan, M.D.

"It was truly a labor of love because Dr. Kirkpatrick was my mentor and is just an incredible man," Mueller says. "He helped me realize my interest in pursuing neonatology as a specialty. As his first fellow, we worked closely together for many years. What always amazed me was his depth of knowledge across the entire field of pediatrics."
Finding a way to help students during her lifetime resonated with Mueller.
"It may be a trite phrase to say 'give while you live,' but it's been really wonderful to see the impact of my gifts, meet current medical students and feel that I'm really involved in helping lighten their load," she says.
At her 45th Reunion in 2017, longtime class chair Mueller spearheaded a project to endow the Class of 1972 Scholarship by their 50th Reunion. An endowed fund housed at the MCV Foundation differs from a current fund in that it is invested and grows over time. Each year, the MCV Foundation pays out a portion of the investment earnings, in perpetuity.
"In April, the Class of '72 met their goal, ensuring the legacy of their generosity will live on for future generations of medical students following in their footsteps," Smith says.
Maximizing the impact of every dollar
The milestone of her 50th Reunion also inspired Mueller to plan for a blended gift to endow a scholarship that will ultimately provide full-tuition assistance to deserving medical students. In addition to setting in motion an outright gift, she's also made provisions for a bequest to the medical school through her estate.
"Blended gifts are a creative way for alumni and donors to make an impact with a gift today and also provide for the future by establishing a planned gift in their will, trust or by naming the medical school as a beneficiary of a retirement plan or life insurance policy," Bollmeier says. "These gifts can be transformational for alumni like Dr. Mueller who want to see the results of their giving during their lifetime and who, at the same time, want to leave building blocks for the future."
Mueller's scholarship will be housed at the MCV Foundation along with 1,900 funds that provide scholarships, professorships, research and program funds to support the life-saving and life-changing work on the MCV Campus. Those funds make up more than $900 million in total assets that the foundation stewards and invests to maximize the impact of every dollar.
"We are committed to wise stewardship and to honoring donors' wishes in the use of donated funds," Bollmeier says. "The MCV Foundation supports the School of Medicine and all of our MCV Campus partners by ensuring that VCU Health remains at the forefront of excellence and innovation in patient care, education and research."
If you would like to talk with someone about making a gift, contact the Office of Development and Alumni Relations at (800) 332-8813 or MedAlum@vcu.edu.