Neuroscience
Ph.D. Program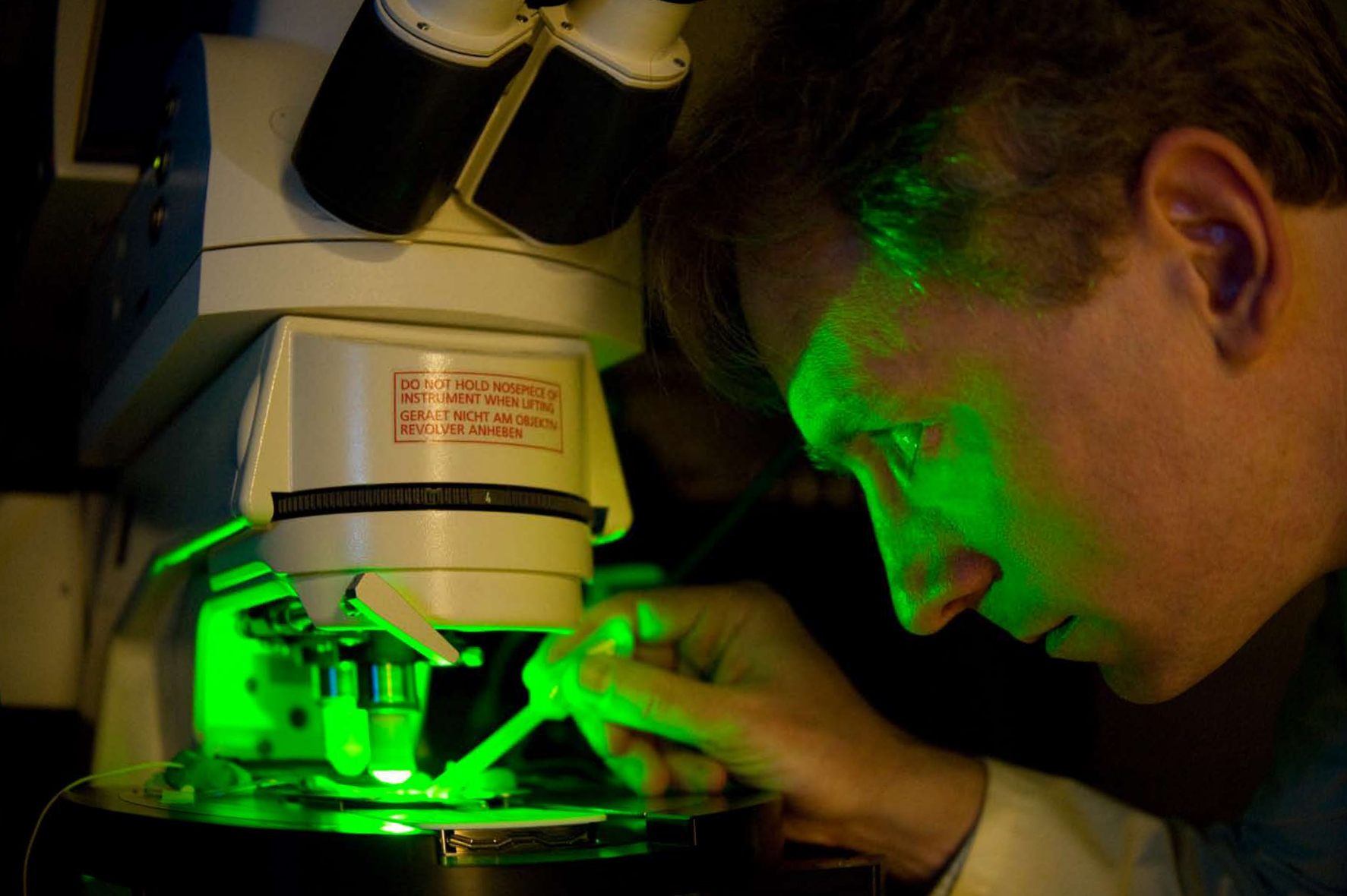 Fostering collaboration and creativity, the Neuroscience Ph.D. program at VCU is an opportunity for students to explore a broad range of disciplines related to neuroscience.
Our uniquely interdepartmental, integrated curriculum provides students with a core of knowledge of the basic structure and function of the central nervous system while allowing flexibility in choosing their advisors, electives and specialized areas of research.
Students function as independent research investigators after completing their required didactics, and upon graduation will be equipped to conduct independent research and teach in the neuroscience disciplines at a university or academic health center.
Research
We encourage our students to explore a variety of neuroscience research areas before committing to a mentor and a research laboratory. Research groups include:
Drug

a

buse and

m

ental

i

llness

Glial cell biology

Injury,

r

epair and

d

egeneration

Plasticity and

d

evelopment

Channels,

r

eceptors and

t

ransporters
Learn more about our research groups
Students enter doctoral training via the Biomedical Sciences Doctoral Portal, which allows them to remain uncommitted to a department or program until transitioning at the end of the first year of study. Students may choose to concentrate in neuroscience from the beginning or select the doctoral program in neuroscience after exploring opportunities in other departments and programs.
Required courses
Cellular and Molecular Neuroscience
Systems Neuroscience
Biochemistry, Cell and Molecular Biology
Critical Thinking
Neuroscience Seminar
Research rotations
Under the guidance of an academic advisor, students select and complete three 10-week research rotations. By the end of the year, students choose faculty mentors and match with the lab in which they'll conduct their doctoral research.
During the summer following year one, students begin working in the research laboratory of their chosen thesis advisor.
Required courses
Techniques in Neuroscience and Cell Biology
Scientific Integrity
Scientific Writing and Grantsmanship
Neuroscience Seminar
Research Presentations and Journal Club
Directed Research
Electives (2)
Neuroscience

s

eminar

Research

p

resentations and

j

ournal

c

lub

Directed

r

esearch
The following courses are commonly incorporated into the neuroscience curriculum as electives:
Basic Concepts in Pharmacology
Behavioral Pharmacology
Cell Signaling and Growth Control
Functional and Clinical Neuroanatomy
Histology
Human Embryology
Immunobiology
Infection and Immunity
Integrated Bioinformatics
Introduction to Human Genetics
Ion Channels in Membranes
Mammalian Physiology
Mitochondrial Pathophysiology and Human Diseases
Molecular Basis for Disease
Neurobiology of CNS Diseases
Neurochemical Pharmacology
Pharmacology of Analgesics
Principles of Pharmacology
Statistical Methods
We are happy to work with students individually to identify relevant and appropriate elective courses.
Candidacy exams occur in two parts, typically after the second year for Ph.D. students and the first graduate year for those on the M.D./Ph.D. track. Students should complete both parts by the end of their third-year fall semester, and M.D./Ph.D. students should complete both parts by their second graduate year.
Part One
Students write a mini-review paper and defend it before their graduate advisory committee.
Part Two
In consultation with their advisors, students prepare an NIH-style grant proposal and oral defense before their graduate advisory committee. We strongly encourage students to submit their proposals for extramural funding, such as NIH predoctoral fellowships, when appropriate.
Life in Richmond
Urban life with a small-town feel
We encourage our graduate students to maintain a healthy work-life balance, and Richmond is a wonderful place to engage in that well-rounded lifestyle. As the capital of Virginia since 1779, Richmond attracts students, faculty and staff from around the globe. The city's location affords easy day trips to destinations like Washington, DC, Virginia Beach, Colonial Williamsburg and the Blue Ridge Mountains, among others.
As a mid-sized city with a metropolitan population of 1.3 million, Richmond provides stimulating activities while maintaining its intimate feel and unique vibe. Vibrant neighborhoods offer distinct, diverse experiences, with no shortage of art galleries, museums, music venues, restaurants, breweries and parks. For the outdoor enthusiast, you can't beat the offerings in the city's riverfront parks and urban wilderness areas such as white-water rafting, hiking, mountain biking and festivals.
Learn more about our community
The Neuroscience Ph.D. program typically admits five to seven students per year, with financial support including a living stipend plus tuition and fees for the duration of their training.
The application is available through the Biomedical Sciences Doctoral Portal. If you have any questions about the program or application requirements, please contact:
Contact Us
John Bigbee, Ph.D.
Neuroscience Graduate Program Director
Neuroscience Program Director
Email: john.bigbee@vcuhealth.org